Photo by Danny Wicentowski
Hand over hand, Adriana climbs the metal rungs of the smokestack.
The brick structure has been unused for years, but it still towers above a shuttered high school somewhere in Illinois. Wind buffets against Adriana's sweatshirt and tears at her grip. She swallows the creeping nausea, and holds on.
When she reaches the smokestack's gaping mouth, she swings her left leg over the edge. Comfortably perched, she retrieves her smartphone and begins recording video.
See also:
St. Louis Urban Explorers at Play in the Abandoned City (PHOTOS)


"Is there space for another?"
The shout belongs to Adriana's fiancé, Riley, who is watching from the school's roof some 50 or 60 feet below. Without hearing an answer, Riley waits a moment. Behind her, Nina, a more experienced member of the urban exploring crew, urges her on. "Go for it," she says.
Riley cups a hand over her eyes and cranes her neck to see Adriana's dangling left leg. "I want to try it," she murmurs to herself. She grasps a soot-covered rung and starts climbing.
Photo by Danny Wicentowski
I can't tell you Riley's or Adriana's real names. In fact, because of an agreement to protect the identity of their crew, I can't even tell you the name of the school. But with those conditions secured, this group of local urban explorers permitted me to document their forays into buildings normally barred from public access — not only by law, but in some cases with actual metal bars.
As for this particular school, the locked main entrance and warning signs might be enough to deter the everyday recreational trespasser, but not this crew. It took only minutes for them to find a way inside.
Photo by Danny Wicentowski
We pass through hallways strewn with long-forgotten report cards and peer into several ransacked classrooms before coming to a gymnasium. Time and water damage have warped the floorboards into rolling wooden waves.
Adriana clambers up a set of bleachers, and she eventually talks me through the process of wedging my foot into a railing, pushing myself through a window and (after some additional grunting) emerging onto the roof. Then comes Riley and other two members of the crew, Jessy and Nina.
From the moment she set eyes on the smokestack, Adriana insisted on climbing it. Ten minutes later, to my relief, both she and Riley hop safely off the ladder. They crouch/walk to another section of the roof and settle behind some brick cover, since they are utterly visible to the pedestrians and street traffic below.
"We all have some fear of heights," remarks Adriana. A white-collar professional in her mid-30s, she radiates a kind of manic energy when she talks about climbing.
"You definitely don't want to think about it too much when you're doing it, because you'll psych yourself out. I'm not going to lie, probably halfway up the smokestack, I kind of shat my pants."
We laugh. Sitting in a rough circle on the roof, the crew-members take turns recounting their biggest climbs. Nina, who wears a black denim jacket with 'Stop Snitching' written on the back, describes a terrifying experience involving a free-hanging ladder that wobbled with each step.
"I had a breakdown, a severe panic attack, worse than I've ever had," she says. "It took 40 minutes. Finally, I thought, what are the other options to get off the roof? None of them are as desirable as option A, which was climbing down."
We laugh again, and I find myself looking up at the smokestack, suddenly wondering if there is still time to climb it myself. But we're still too exposed on the roof, and I am coward at heart. So we clamber through a hatch leading back inside the school.
Two days later, across town at a shuttered church, I would get a second chance.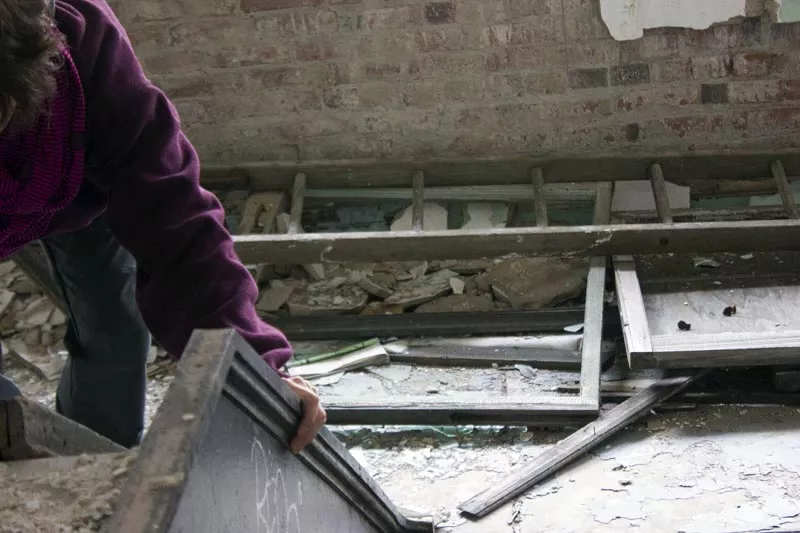 Photo by Danny Wicentowski
"These are puzzles," Adriana observes.
We are standing inside a cavernous auditorium on the second level of a condemned school in north St. Louis.
Adriana got her start in urban exploring by sneaking into subway tunnels, the kind of adventure where one miscalculation could get you plastered by oncoming trains. St. Louis' stock of brick factories and silent schools offer a much different kind of challenge.
"These are three-dimensional, real-life puzzles," she continues. "The idea is, how do you access a part of a building that not everyone can access, even among the exploring community? It's about that opportunity to test out hypotheses and finding strategies. It's also about the work that you're doing in your head with yourself."
And sometimes, she says, you decide the risk isn't worth it and walk away.
"There's no shame in that. But I think there's something sacred about the process of having the opportunity to assess a risk, to sit with yourself in that moment and figure out if this is something I'm going to do or not. We've really taken that opportunity away from people as a society. I think you lose a lot about what it means to be human when you take that away."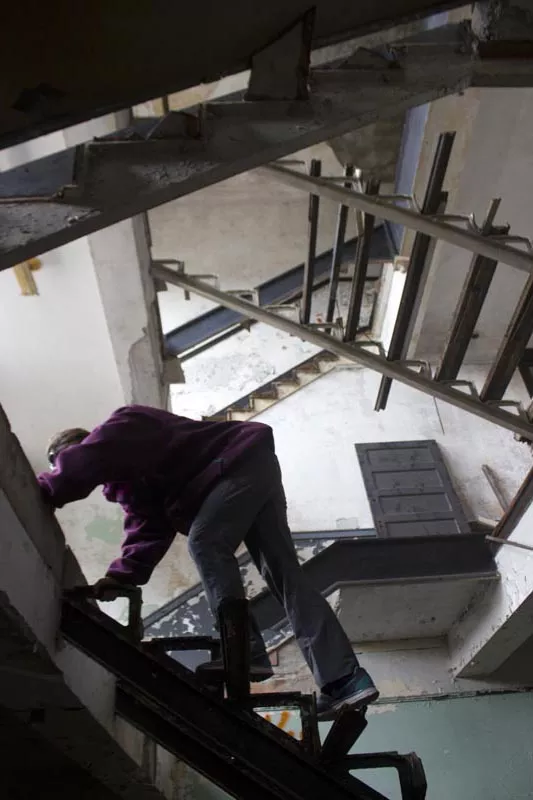 Photo by Danny Wicentowski
Her musing wasn't entirely hypothetical. The crew has explored this school several times before; on those visits, they placed metal bars and lengths of wood across a ruined staircase to ease the trip up. But those measures can only take them to the second story, which holds the auditorium.
Adriana wants to go higher.
At one point, the crew considers boosting Adriana from a door leaning against a wall. However, she's too short, and there's still the matter of getting back down. It won't work.
Photo by Danny Wicentowski
But there's also a ladder, a wooden and rickety thing discovered on the first floor, possibly left behind by another crew of urban explorers.
"We can use that to climb up!" Adriana insists. "If we pull it up with us we might even get to the tip top."
I volunteer to help, and we maneuver the ladder over the non-existent staircase and place it flush against a wall. Step after tentative step, I make my way across. We pull the ladder up behind us, rotate it gingerly and, after two or three failed attempts, place it over the next gap in the staircase.
This is what it looked like. (Video courtesy of Riley.)
Adriana is ecstatic when she reaches the third floor.
"I've never been this high before, it's crazy," she says, adding, "but that ladder is sketchy as fuck."
Near a stack of textbooks, we stumble into another staircase, perfectly preserved and seemingly untouched for decades. The stairs have been scribbled on in chalk with names of students and dates from the '60s and '70s. We climb higher.
This next level, some kind of attic, is covered in a layer of what appears to be sawdust and pigeon poop. Adriana straps on a painter's mask. Amazingly, we find another small ladder that leads through a crawlspace in the wall. She maneuvers through the hole and calls over her shoulder:
"Do you realize where we are? Look down! We're above the lights above the stage, dog!"
Indeed, we appear to have found a kind of walkway or scaffolding that stretches the length of the building. Below, I can make out parts of the auditorium where Adriana talked about risk and how buildings are like puzzles.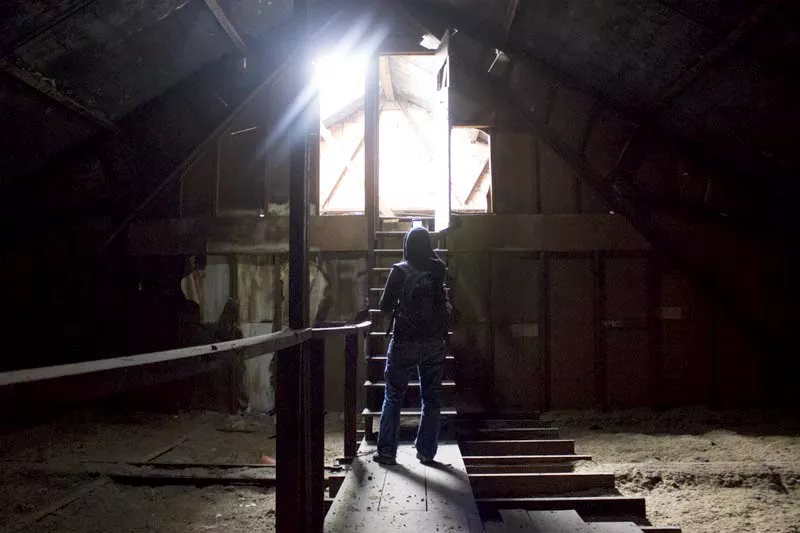 Photo by Danny Wicentowski
The overcast sunlight streaks through holes in the roof, giving the scene a church-like glow. Adriana walks along the scaffolding, narrating a video and snapping photos. It's not just for bragging-rights on Instagram, she says. She's trying to preserve these moments for an unknown future.
In 2007, she explains, she was diagnosed with a neurological disease. It took her doctors two years to stabilize her.
"I didn't have the use of my left leg, and I thought for real that I would never walk normally again, let alone run, climb, the shit you see me doing. I was walking with a cane. Part of the reason I take so much video is that I know that eventually I won't be able to do this. And I just know that when I can't do this anymore, I'm going to be able to watch the videos, and I'm going to be able to remember all the things I did and saw. It's really important for me to have a record of it. That I was here, and did this."
We make our way back to the rest of the crew. I step softly on splintered ladder rungs and try not to vomit at the thought of a certain-death drop below my feet. But the day is still young. There's another school, nearby, where a different group of urban explorers have been posting pictures to Instagram. Adriana says it looks dope as fuck. Nina says she knows a way in, but she cautions that the doors might be alarmed.
The crew decides to check it out anyway. The risk is worth it.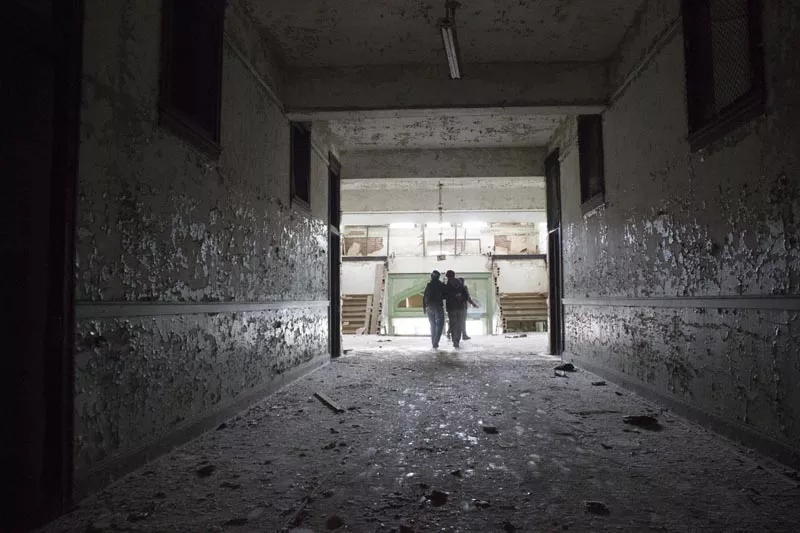 Photo by Danny Wicentowski
See also: St. Louis Urban Explorers at Play in the Abandoned City (PHOTOS)

<!—————StartFragment—————>
Follow Danny Wicentowski on Twitter at @D_
Towski. E-mail the author at Danny.Wicentowski@RiverfrontTimes.com