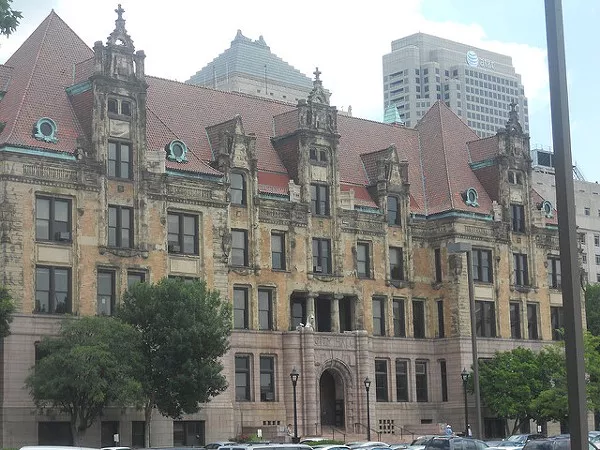 Photo courtesy of Flickr/Valerie
St. Louis City Hall is fighting back against a ballot measure that would eliminate one-third of the city's income.
A new campaign aims to take down St. Louis City's earnings tax, hoping to persuade city voters in April to eliminate the one percent income tax that provides one-third of the budget that funds essential city services every year.
Representatives of the Rex Sinquefield-funded Vote No on the E-Tax campaign declined to discuss their campaign strategy despite the RFT's repeated requests. But they have recently begun to release a flurry of Facebook, television, radio and mail advertisements, arguing the tax is unfair to "working families."
Stephanie Lewis, a spokeswoman for the campaign, brushes off questions about how the city would make up the lost
$164 million
in annual revenue (a number expected to grow over the next few years), noting that the tax would be phased out over a decade. She writes, "We have a lot of confidence in our local elected officials and believe they will come up with a plan over the next 10 years to fund City Govt without cutting essential city services."
Courtesy of Vote No on the E-Tax
An anti-tax mailer.
But Nahuel Fefer, special assistant to Mayor Francis Slay, says that's just "politically implausible."
He explains that the suggested ten-year plan is in part based on a
2011 study
conducted by the Missouri Council for a Better Economy (MCBE), an organization funded entirely by Sinquefield, the retired financier and conservative philanthropist. A long-time opponent of the earnings tax, Sinquefield is subsidizing the
anti-E Tax campaign
with $1 million. (Update: He's since kicked in another $1 million.)
The problem with the study's suggestions, Fefer says, is that 10 of the proposed budget replacements rely on tax increases that voters would need to approve. That's not likely to happen.
And if voters won't approve extra taxes, crucial services like the police and fire department will lose funding. "Everything takes a hit," Fefer says.


Anne Schweitzer, treasurer of ReInvest STL, the campaign in favor of the earnings tax, says that St. Louis is attracting many young entrepreneurs in part because of the city's low property tax, which makes it inexpensive to buy buildings and invest here. If voters want to keep the fire and police departments running absent the earnings tax, she says, they would have to approve a 56 percent increase in property taxes.
ReInvest STL
A pro-tax mailer.
"Those are the people we really don't want to lose because they're not able to afford these incredibly high property taxes," Schweitzer says.
And if St. Louis doesn't vote to increase the property tax, already underfunded police and fire departments would be in dire straits. "We're already having trouble getting things like updates to the fire and police department in terms of equipment," she says.
Even according to the MCBE estimates, new taxes won't make up the deficit. Fefer says, "Even within this political fantasy-land, they still can only get $91 million dollars in revenue, and then that $91 million in revenue that they do find would not have better economic impact" than the earnings tax.
The anti-tax campaign has taken issue with the fact that not every company pays the earning tax. Right now, six companies receive rebates that remit taxes back to them,
including at least one well-heeled law firm
. But advocates say those are only a tiny portion of the tax base —- according to Fefer, only one fifth of one percent of the earnings tax income in 2015.
The other argument being pushed by the anti-tax campaign is that the earnings tax is a regressive tax — in the words of spokeswoman Lewis, "it hurts the working poor by taking money directly out of their pockets."
Schweitzer, though, says that the real regressive taxes are property and sales taxes that would by necessity have to replace part of the earnings tax. After all, if you increase sales tax by 1 percent, a trip to grocery store increases by $1 for everyone. But for someone who makes $15,000 a year, that $1 is a much larger portion of their wealth. This, Schweitzer argues, "disproportionately impacts" lower income families.
ReInvest STL plans to combat the anti-tax initiative's advertisements with their own, which feature Mayor Slay speaking on behalf of the tax and provide statistics about the tax's services.
This year's battle has its roots in a 2010 ballot measure pushed by, yes, Rex Sinquefield. Approved statewide,
Proposition A
required voters in Kansas City and St. Louis to reauthorize their city's earnings taxes every five years or see them phased out. In 2011, the first time such a vote was required, both cities handily voted for reapproval.
Despite its paid blitz, the Vote No on the E-Tax campaign seemed a bit less interested in free media. The campaign declined to allow Lewis, the designated spokeswoman for the anti-tax group, to speak on the phone with the RFT. She also wouldn't answer any questions about how she got involved with the campaign and repeated the same three statements in response to seven of our ten questions.
Records show that Lewis runs a
public relations company
whose website
describes
services that include "experts in micro-targeted media buying to African American voters."
Editor's note: We slightly revised some language in this story to specify which budget this tax comprises one-third of a revenue within. We also updated to include another $1 million contribution from Rex Sinquefield.