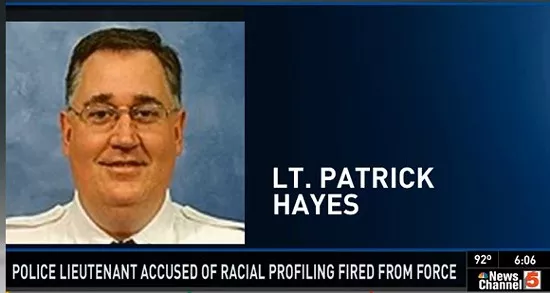 KSDK
Patrick Hayes.
In 2013, nine officers with the St. Louis County Police Department broke the blue wall of silence to expose a race-based system of targeted arrests. The architect of the system, they said, was a white lieutenant named Patrick Hayes.
Anonymous letters were delivered to the then-police chief Tim Fitch, and an internal investigation was launched. Based on the allegations — which included Hayes telling platoon members to "have a black day" and to "make the jail cells more colorful" – Fitch fired Hayes that same year.
At the time, the officers' actions
appeared courageous
. The NAACP got involved and
demanded
the U.S. Department of Justice investigate the allegations of racial profiling. Sergeant Daniel O'Neil, who authored the anonymous letters,
subsequently accused the department of retaliation
.
But now, nearly three years later, the case against Hayes has fallen apart. On Monday, the four-member St. Louis County police board voted unanimously to reinstate Hayes, although his rank has been busted down to patrolman.
And that demotion actually disregards the recommendation of the outside attorney who acted as hearing officer during an eleven-day "trial" weighing Hayes' 2014 appeal. In an 84-page document, Attorney Michael Flynn castigated the department for running a shoddy investigation and concluded that Fitch's firing of Hayes was "unconstitutional, an abuse of his discretion, and was arbitrary, capricious and unreasonable." He argued that the case against Hayes was so weak, the officer shouldn't even be demoted.
In his report, Flynn instead directed his ire at O'Neil, whom he characterized as a slacker and instigator inside the platoon. The other officers fared no better, as Flynn called them a "disorganized group of cub scouts" following the lead of the "Pied Piper of sergeants."
Flynn wrote, "They followed their roles and played their parts reciting for the Bureau of Professional Standards, what had been scripted for them by Sgt. O'Neil, the master playwright for this drama."
So what's changed since 2013? According to Flynn, several officers told different stories in successive interviews, and others claimed to be present at meetings in which Hayes made racially-charged comments but could not identify any other officers present.
Flynn blasted the investigation for its soft-handed treatment of the nine officers who brought accusations against Hayes. He noted that none could provide a specific time and date for the meeting (or meetings) in which Hayes ordered officers to arrest black people in the area of the South County Center.
"There was testimony to suggest that this investigation was conducted like a homicide investigation," Flynn wrote. "That certainly did not appear to be true. I found that for the most part, the questioning of witness[es] to be a bit tepid. Probing and challenging questioning appeared lacking. Instead, the questioning was more along the lines of tell what you know about this, and then accepting the responses being the gospel truth."
As for Hayes, he accused O'Neill, the whistleblower, of remarking that he'd spent a night "just arresting these city niggers."
Flynn's conclusion (which you can read in full below) spends considerable space arguing that the O'Neil and his platoon were an embarrassment to the department. The platoon members were close-knit would hang out at a "Lake House" – actually an abandoned military home just outside Jefferson Barracks — while on duty. The investigation uncovered evidence of ticket-fixing and other instances of alleged corruption.
It's worth pointing out that Flynn's document was not released by the police board. It came to light Monday afternoon after it was introduced as an exhibit in a lawsuit filed by Hayes seeking to appeal the decision to demote him.
At this point, the case against Hayes has been thoroughly muddied, if not debunked. With no recordings of Hayes' alleged statements, Flynn was able to effectively slash at O'Neil and other officers' credibility as witnesses, painting a picture of a platoon comprised of back-stabbing lazy cops who make the buffoons of
Police Academy
look like SEAL Team 6.
In a statement released Monday night, St. Louis County Police Chief John Belmar said he found the testimony of O'Neil and the other officers "deeply disturbing," and that he has ordered Deputy Chief Ken Cox to initiate a review of the findings submitted to the board.
Belmar also vowed to keep digging for truth, wherever that might lead.
"I do not tolerate racism or the appearance of such by any member of this police department," Belmar said. "Racial profiling is patently wrong and downright disgusting. The allegations from 2012 are troubling, and the St. Louis County Police Department will leave no stone unturned in our review."
Here's Flynn's document. (Turn to page 70 to read the blistering conclusion, which also summarizes some of the officers' testimony about Hayes.)