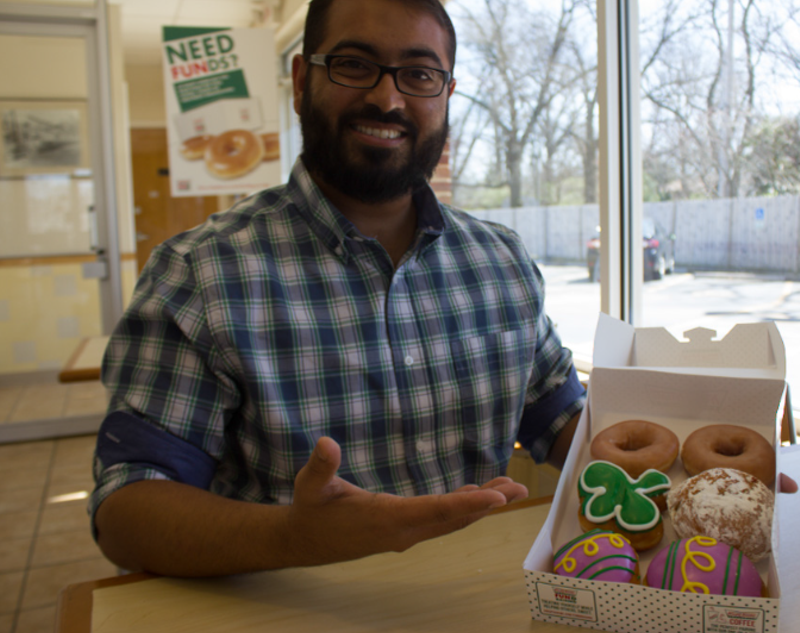 Photo by Danny Wicentowski
Faizan Syed, director of CAIR-St. Louis, chose to meet Trump supporters with doughnuts, not protests.
Only minutes after embarking on his mission of doughnut diplomacy, Faizan Syed stumbled into a showdown.
On one side, furious Donald Trump supporters chanted "USA! USA!" On the other, just a few feet away from the crowded line snaking around the Peabody Opera House,
a masked protester wearing a Fuck the Police shirt stomped and dragged an American flag
. Syed, the bearded and affable director of St. Louis' chapter of CAIR, the Council on American–Islamic Relations, clutched his box of doughnuts as the two sides hurled invective. This was no spontaneous act of pastry-related goodwill. It was March 11, a day when Trump's campaign arrived in St. Louis to find not only
thousands of supporters
, but also a battle-tested protest community
ready to mobilize
against the Drumph circus act. That day, 30 protesters would be arrested inside the Peabody after bringing Trump's speech to a standstill.
See also: Inside the Nightmarish Hellscape That Was Donald Trump's St. Louis Rally

Protest wasn't Syed's goal, although he'd momentarily entertained the idea of leading a sidewalk demonstration against Trump. Instead, he grabbed 300 Krispy Kreme doughnuts and marshaled a group of some two dozen Muslims and interfaith activists. From there, they set out to change hearts and minds.
At first, Syed could only watch as those hearts and minds shouted at each other from across a police barricade. So Syed and his group walked down the line, past the protesters, proffering doughnuts and introducing themselves as Muslims along the way.
Muslim Wielding Doughnuts Fight Hate at STL Trump Rally. We gave away over 300 doughnuts & met 1,000 + people. Please Like & Share 2 Min Video.

Posted by Faizan Syed on Friday, March 11, 2016
Out of the crowd, a bearded man approached Syed. He was wearing sunglasses and a black sweatshirt with the hood up, and the back of his sweatshirt bore an illustration of a cigar-chomping, gun-toting patriot draped in an American flag, along with the admonishment, "Careful with that flag son/Obamacare doesn't cover an ass whoopin."
The grizzled-looking Trump supporter neared one of Syed's doughnut-wielding counterparts. "You're from the Muslim community, right?"
They shook hands. The man explained that the young boy with him was his grandson.
"His dad died in Afghanistan," the man continued. He asked Syed if he disagrees with "the ones who are over there killing, killing your people too" — meaning, likely, ISIS.
Absolutely, Syed said, quickly adding, "In fact, if you go to Arlington cemetery, you'll see Muslims buried there as well."
The exchange between Syed and the Trump supporter (which you can watch in full below) lasted less than two minutes, but it managed to provide a remarkably comprehensive tour of the talking points deployed by those who view Muslims with suspicion bordering on paranoia.
"You're not saying what they need to hear," said the Trump supporter, urging Syed to openly denounce the aforementioned killers. "You need to say that, 'We don't agree with what they're doing.' The doughnuts is a good way to do it."
Attempting to get a word in edgewise, Syed told the man that he hoped Trump supporters would assist the Muslim community in opposing the kind of hatred that led a troubled Iraq War veteran
to burn down an Islamic center in Joplin
.
But Syed didn't get the chance to connect his point directly to Trump, because the Trump supporter did it for him.
"Wait a minute," the flag-loving grandfather interjected. "I don't think that Trump is, I think what he's doing is he's trying to protect America. I understand if some of the rhetoric he says scares you. But if you really look into it, he's a really loving man. Should it be handled maybe a little differently? When you're in the type of situation he's in and you've got all these billions of dollars of business, it's hard to do that. You have to get right to the point. But we can't be offended by everything. I'm not offended by everything. I came up to you and said, 'Hey, I'll talk to you.' That's what we need."
As far as cathartic moments go, this one was somewhat lacking. Trump has made numerous statements targeting Muslims – among other things, he once told Anderson Cooper that
"Islam hates us."
At the very least,
evidence suggests
the mogul-turned-politician is more than willing to play to his audience's prejudices if it means a bump in his poll numbers.
But at least they were talking — and for the Trump supporter, it was a chance to meet a real Muslim, seeing "the other" as something more than an abstraction. That was Syed's goal: By way of doughnuts and conversation, he hoped to cut through a haze of prejudice and fear that's festered since the 9/11 attacks.
By the day's end, Syed and his colleagues distributed their entire cache of doughnuts. And while some Trump supporters responded with bigotry (one man repeatedly chanted "Allah is a pig!" at Syed) that wasn't the whole story.
Six days after Trump departed St. Louis
, Syed agrees to sit down with
Riverfront Times
(over Krispy Kreme doughnuts, of course) to discuss the rally. The videos produced from Syed's doughnut outing have reached millions of viewers and yielded plenty of digital goodwill, but the 27-year-old CAIR director says he was saddened by the actions of some Trump supporters.
"A lot of people told us to go away, or go back home. Some people came to us and basically said, your people want to infiltrate the country and destroy America."
Along with the "Allah is a Pig" guy, Syed's videos also feature a man telling the Muslim group that they wouldn't be welcome at his business.
"That goes against everything that America stands for," Syed says. "That is literally a whites-only counter at a diner."
Born in Lahore, Pakistan, Syed's family immigrated to America – to Kirkwood — when he was four years old. Syed later enrolled in Drake University, where he spent two years studying astronomy, physics and math before switching to political science. He attributes the change to witnessing the rising tide of American Islamophobia.
Those same forces are at play across the state. As Syed mentioned to the friendly (relatively speaking) Trump supporter,
a Joplin mosque was set aflame in 2013 and burned to the ground
. Last summer, anti-Muslim commentator Pamela Geller paid for
100 billboards
to be erected in St. Louis displaying a drawing of Mohammed swinging a sword.
Trump, Syed believes, is tapping into fear to shore up his own political fortunes. It's a time-honored gambit. "That is what a nationalist leader does," Syed says. "That's what they've done in the Middle East, that's what they've done in Latin America, that's what they've done all across the world."
Fighting that message, Syed continues, requires waging war on multiple fronts. If Trump's fear-mongering is working with people who have never interacted with Muslims, then it's incumbent on Muslims themselves to remedy that situation.
"A portion of the hate that exists against Muslims is because we're not doing enough to reach these people," Syed observes. "We are Americans who live in this county. But you cannot expect other people to change if you don't do the bare minimum of trying to get them to change. You cannot expect people to be better if you do not at least engage with them."
Syed isn't naïve. He marks 2008 as the year things changed for the worse, when politicians realized they could make political hay by accusing Barack Obama of being a crypto-Muslim or whipping up panic about the so-called Ground-Zero Mosque in New York City.
A Trump presidency is terrifying for Muslims, Syed acknowledges, not to mention other immigrants and minorities. And he says it will take every resource, major and minor — protests and doughnuts — to disrupt Trump's beguiling momentum.
"Within that four hours, I spoke with almost 1,000 people. We had a lot of people who gave us hugs, they gave us high-fives. They gave us handshakes. One random guy donated $5. He said, I love what you're doing, here's five bucks."
Syed's eyes seem to twinkle at the memory, the pitch-perfect
Americanness
of that gesture. He grins over a box of fresh doughnuts.
"I took that money and donated it to the Islamic center."
<!——————StartFragment——————>
Follow Danny Wicentowski on Twitter at @D_
Towski. E-mail the author at Danny.Wicentowski@RiverfrontTimes.com