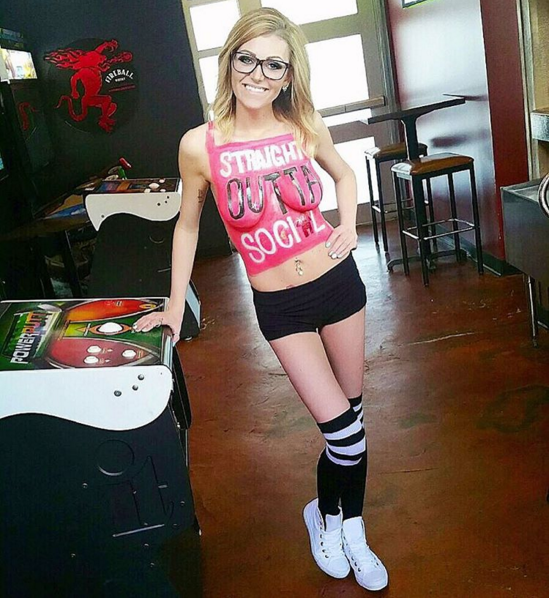 Let the good times roll!
Just in time for the weekend, St. Louis County Circuit Court Judge Michael D. Burton has issued a stay in rolling battle between University City and Social House II. The stay requires the city to return the liquor license they stripped from the two-week-old bar, which features servers wearing only pasties and paint from the waist up. Attorney Albert Watkins, who represents the bar, assures us the booze is once again flowing.
"Drinks are flowing, toasts are being made, and there's a light at the end of this tunnel," he says.
The city
stripped the bar of its liquor license one week ago
, and Social House II promptly appealed, asking for a stay as well as its liquor license reinstatement. Judge Burton issued his ruling this morning.
The stay only grants the bar its liquor license while the court battle is continuing. But in granting it, the judge found a reasonable likelihood that Social House II would ultimately succeed on the merits.
Indeed, the bar has long argued that it has all the necessary licenses. The same owners previously operated Market Pub House at 6665 Delmar Boulevard; they believe they're within their rights to change their name and body-painted servers.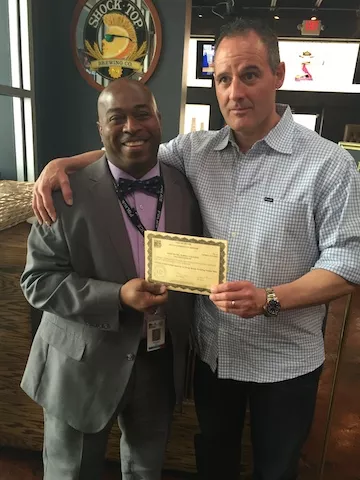 Photo courtesy of John Racanelli
John Racanelli, owner of Social House II, gets his liquor license returned to him by a University City staffer.
But the city has vigorously contested that claim. The city council has not only stripped the bar of its license, but also, last Monday, passed a new ordinance regulating "sexually suggestive businesses."
This battle isn't over. Far from it. But for now, at least, you should be able to get a drink along with your viewing of body art.
UPDATE at 4 p.m.
University City Manager Lehman Walker stresses that the fight is not over, but he also made it clear that the city will not be making any more attempts to halt sales of liquor while the court battle is still underway.
And while the city's new ordinance restricting sexually oriented businesses has gone into effect, he said it won't be enforced against Social House II while things play out in court. Ultimately, that matter is one more thing for the judge to sort through.
We welcome tips and feedback. Email the author at sarah.fenske@riverfronttimes.com