An ice cream truck swiped on Cherokee Street is now safe and sound.
Kerry Soraci, owner of I Scream Cakes, was reunited with her one-of-a-kind "trucklet" one night after a pair of cold-hearted crooks snatched it from in front of her store at 2641 Cherokee Street.
Soraci was serving a big group of kids — some as young as eight or nine, some more like fourteen or fifteen — on Wednesday night when the thieves struck, she says.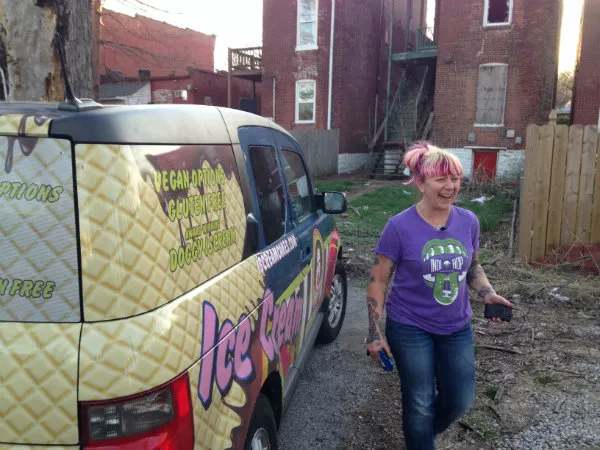 Doyle Murphy
Kerry Soraci is thrilled to be reunited with her ice cream "trucklet" a day after it was stolen.
While Soraci doled out free samples and quizzed a couple of the young ones with math problems, an older kid snagged her keys from behind the counter and slipped out the door. Once outside, he handed them off to two young men, who hopped in the brightly painted SUV and sped off. Soraci didn't even know it was gone until the youngest of the kids turned to leave, and she looked outside at her empty parking spot.
Doyle Murphy
Kerry Soraci and a St. Louis police officer survey her 'I Scream' truck for damage on Thursday.
"If this wasn't real life, it would be funny — 'kids steal an ice cream truck,'" she says. "But it is real life."
But as depressing as it is to think of kids dabbling in grand theft, what happened as a result is one of those heartwarming St. Louis stories.
Hundreds of people rallied on social media to help Soraci, spreading pictures of the missing SUV and its telltale "ICE CREAM" paint job to the masses. The owner of the neighboring Whiskey Ring bar scoured his surveillance video and found footage of a teen passing over the keys to the actual car thieves, who'd been lurking nearby. Soraci hadn't even seen the men.
Finally, shortly after 6 p.m. Thursday, a guitar-playing video editor living a block off Cherokee spotted the post and called Soraci with some good news: He'd seen her truck parked behind a vacant house in the 3300 block of Oregon. Soraci jumped in her rental car and set off to see for herself, steering into the alley between Utah and Cherokee. There it was, barely worse for the wear.
The crooks had stolen her front license plate, and they drained the battery by leaving the dome light on. Her keys were nowhere to be found. But the rest appeared just fine.
Matty Coonfield, who plays bass for local bands Bug Chaser and Black Panties, is the one who first contacted Soraci. He says he first saw the van this morning, but didn't realize it had been stolen until he saw the Facebook posts.
"I should have put two and two together," he says. "I've never seen a car there — let alone one that looks like it's from the circus."
Doyle Murphy
Kerry Soraci, owner of I Scream Cakes, found her stolen truck thanks to help from hundreds of Facebook friends and one friendly neighbor.
Police crime scene techs dusted the ice cream truck for prints, and Soraci gave them a thumb drive with the footage from the Whiskey Ring's cameras. She was thrilled to get the truck back, pissed at the guys who stole it, sad they used a kid to help them and proud of her neighborhood, all at once. It was quite a busy night.
Still, she can't help but wonder, "Who the fuck would've thought someone would take a truck like that?"
We welcome tips and feedback. Email the author at doyle.murphy@riverfronttimes.com or follow on Twitter at @DoyleMurphy.