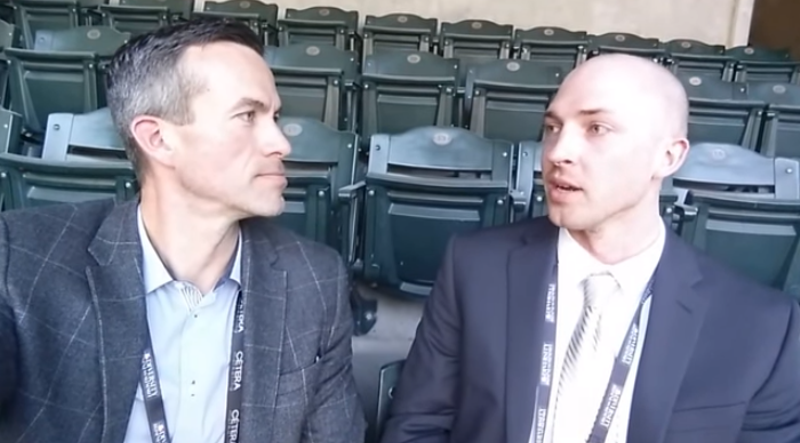 YouTube
Tyler Dunnington (right) left baseball because of the homophobia he encountered.
Throughout his career as a ballplayer, pitcher Tyler Dunnington suffered in silence whenever his coaches and teammates cracked jokes about violence against gay people. No one knew that he was a gay.
But it was only after being drafted by the Cardinals in 2014 that Dunnington, a pitcher, reached his breaking point and decided to leave baseball entirely.
"Each comment felt like a knife to my heart," recalled Dunnington
in a heartbreaking email
published to Outsports.com on Wednesday. "I was miserable in a sport that used to give me life, and ultimately I decided I needed to hang up my cleats for my own sanity."
Dunnington pitched eighteen games for the Gulf Coast League Cardinals, a minor-league affiliate of the St. Louis team. He was pretty good, too, finishing the 2014 season with a 4-2 record, two saves and an ERA of 3.09.
Off the field, however, Dunnington was falling apart.
"I was able to take most of it with a grain of salt but towards the end of my career I could tell it was affecting my relationships with people, my performance, and my overall happiness," he wrote.
His decision to leave baseball had been a long time coming. At Colorado Mesa College, he wrote, he overheard a coach remark, "We kill gay people in Wyoming." It wasn't a threat, but rather a boast about the 1998 torture and murder of a 21-year-old gay man named
Matthew Shepard
.
The homophobia continued when he joined the Cardinals minor-league team. As Outsports.com reports:
One teammate with the Cardinals mentioned that he has a gay brother. While there was some supportive talk, two teammates in particular questioned their straight teammate on how he could possibly be friends with a gay person, even his brother. They even mentioned ways to kill gay people.

In a filmed interview with Outsports.com's Cyd Zeigler, Dunnington said that he now believes the majority of his teammates would have accepted him as a gay man, if only they had known. And after leaving baseball, Dunnington finally came out to his friends and family.
"I haven't had a bad reaction yet," he said, although noting that some of his friends didn't believe him at first when he told them he was gay.
"It was just kind of funny. I was like, have you ever seen me with a girl? Have I ever had a girlfriend? No."
Looking back on it now, Dunnington regrets his decision to leave the game he loved. Last week, he attended the MLB Diversity Business Summit in Phoenix and is seeking a new home in baseball with a team's front office.
"After a little over a year of being gone from the game I've come to realize I thought I was choosing happiness over being miserable. That is not necessarily the case. My passion still lies in baseball, and removing myself from the game didn't change that. Most of the greatest memories I have are with this sport. After gaining acceptance from my friends and family I realized I didn't have to quit baseball to find happiness.
In an email to the
St. Louis Post-Dispatch
, Cardinals general manager general John Mozeliak wrote that the team is treating Dunnington's allegations "very seriously."
Cardinals manager Mike Matheny learned about Dunnington's story yesterday, and he seems troubled by the account.
"We care about all our guys," Matheny said. "And we will try to figure out ways so they can have an atmosphere where they can be as good as they can be."
That sounds like a good plan. But do you know what sounds better? Giving Dunnington another shot at playing the sport he dedicated his life to. It's not like the Cardinals can have too many good pitchers, right?
Put him in, coach. Dunnington deserves the chance.
<!—————StartFragment—————>
Follow Danny Wicentowski on Twitter at @D_
Towski. E-mail the author at Danny.Wicentowski@RiverfrontTimes.com