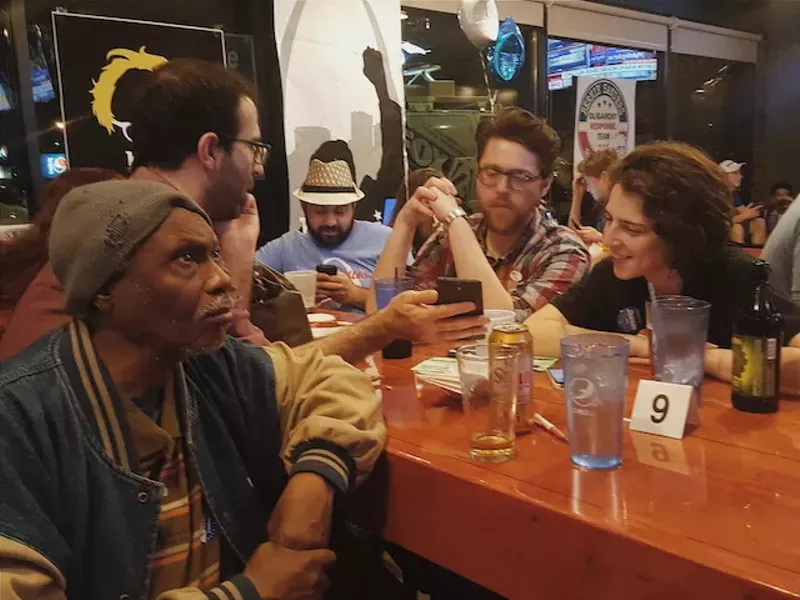 Photo by Danny Wicentowski
Supporters at Bernie Sanders' watch party in downtown St. Louis monitor election returns.
If you live in Missouri and didn't bother to vote in yesterday's primary, you're an idiot.
Less than 2,000 votes separated the first and second choices on both the Republican and Democratic ballots — fewer than 1,800 votes separating Donald Trump and Ted Cruz on one side and Hillary Clinton and Bernie Sanders on the other. That was less than one-half of one percent in both cases.
At this point,
Clinton and Trump are the Missouri winners
. Clinton took 49.6 of Democratic votes, compared to 49.3 percent for Sanders. Trump took 40.8 percent, with Cruz notching 40.6 percent.
But even CNN isn't calling it yet; there
will almost certainly be a recount
. While the state is not winner-takes-all, more delegates go to the winner, so it does matter who comes out on top. And this one is incredibly close.
How close? Well, let's put it this way: If just one-third of the people who cast their ballot for the seven no-names on the Democratic side had broken for Hillary or Bernie, we'd be looking at a different race. (Seriously, who are Henry Hewes, Roque "Rocky" De La Fuente, Keith Judd, Willie L. Wilson, John Wolfe and Jon Adams — and why would anyone vote them in a race with so much at stake? For that matter, what could possibly be going through the minds of the 440 Missourians who decided to cast a ballot for Martin O'Malley?)
And don't get us started on the 8,206 people in Missouri who cast a ballot for Ben Carson. Seriously? Dude suspended his campaign (after months on life support) nearly a week ago.
Overall, it was a huge night for both Clinton and Trump, with victories in nearly every state up for grabs (Ohio being a big exception). Both Clinton and Trump
also won the city of St. Louis
.
In the city's tiny Republican coalition, Trump took 5,006 votes to Cruz's 4,464. Kasich and Rubio took the rest, leaving Trump with 36.3 percent of the city GOP vote.
Trump also won the St. Louis suburbs, eking out another incredibly narrow victory with 35.7 percent of Republican ballots to Cruz's 35.5 percent. Kasich took 17.5 percent in St. Louis County and Rubio 10.2 percent.
Clinton won the city with 55 percent of the vote, and also took St. Louis County with 55.3 percent. Sanders beat her in both St. Charles County and Jefferson County.
We welcome tips and feedback. Email the author at sarah.fenske@riverfronttimes.com