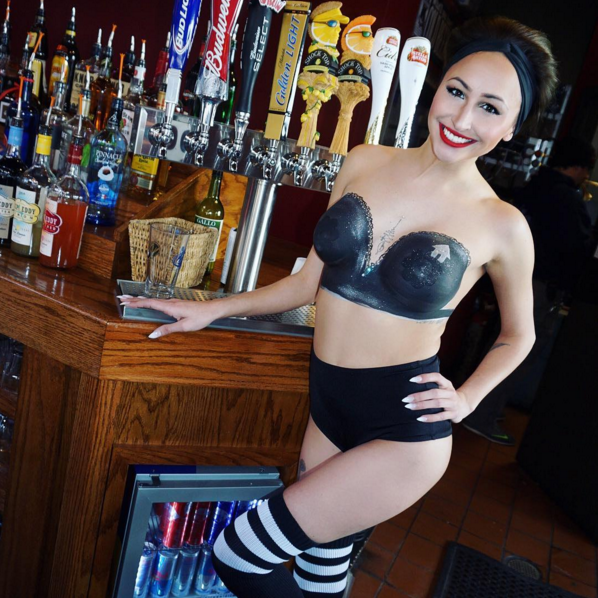 Photo courtesy of Instagram/Social House II
A server at Social House II. The bar's owner argues that it is still a sports bar, and substantially unchanged since its days as Market Pub House.
On Friday, University City stripped Social House II of its liquor license, saying the week-old bar in the Delmar Loop already famous for its pasty-and-paint-covered servers needed to stop serving booze immediately.
But now the bar is firing back, asking a judge to stay the order, reinstate the liquor license and award attorney's fees.
The matter is set for a hearing in St. Louis County Circuit Court at 9 a.m. Wednesday.
And, in the mean time, U. City appears to be taking preventative measures to make sure its revocation sticks — last night, it also approved
a new emergency zoning ordinance regulating "sexually oriented businesses."
According to the
Post-Dispatch
, "Mayor Shelley Welsch and council members indicated the ordinance language will likely be toughened when modifications are made in future legislation to address establishments that rely on nudity and suggestive behavior to attract customers."
That ordinance is theoretically the worst thing that could happen to Social House II — but it's also
exactly what the bar's attorney had suggested the city should do
. Objecting to the city's attempts to stop it from operating, attorney Albert Watkins had argued that the city should be frank about its objections.
"At the end of the day, what the city needs to do is pass a law saying you can't have body-painted women and men be servers," he told us last week. "They need to pass a law, and then everyone can challenge that law up to the Supreme Court of the state of Missouri. That's how it's done." Suffice it to say, we will almost certainly see a legal challenge on the new ordinance.
And in the mean time, the fight over Friday's liquor license revocation continues. In the bar's legal filing, attorney Watkins argues that the city was arbitrary and capricious in stripping the license. He also points to testimony from a hearing in St. Louis County Circuit Court just last week, when Judge Joseph Walsh III refused the city's request to cease the bar's operations.
In that hearing, the city's attorney, Kathryn Forster, acknowledged that the servers at Social House II were not in violation of state laws regarding nudity. University City's argument was rather that, by closing the sports bar operating on the premises, Market Pub House, and reopening as Social House II, owner John Racanelli had engaged in a "substantial change of use" and needed to go through the city's licensing process all over again.
Watkins argued the ownership was the same and the overall concept, a sports bar, was the same; the only problem was the servers' new uniforms.
And in that case, he argued, the city was singling out his client — making
past burlesque shows at Blueberry Hill's Duck Room Exhibit A in his argument
. If it was OK for performers to dance in pasties at the Duck Room, he asked, why not the bar right down the street?
Judge Walsh seemed to give the argument serious weight. "[I]f the city is picking on Social House II but not on other people that have similar or maybe even more tawdry events going on, that's [relevant] because we have a thing in the Constitution called equal protection."
He continued, "You got to treat everybody the same. You can't favor one person and say, 'Well, you get to have the girly show but these people don't,' so that's all I'm trying to do."
But while Walsh seemed amenable to that argument, he was less convinced that Social House II didn't present a substantial change of use from Market Pub House. Denying the city's request for a restraining order — a big victory for Social House II — he still indicated the matter needed further review.
Now it's Social House II asking for a restraining order and speedy action. And so the story we'll continues. For now, though, there's no booze to be had at 6665 Delmar Boulevard.
Editor's note: We updated this story after publication to include new details about the city council's push.
We welcome tips and feedback. Email the author at sarah.fenske@riverfronttimes.com