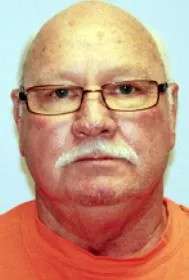 A thoroughly wild story out of southern Missouri has a local pastor accused of orchestrating a murder plot so convoluted — and so filled with drama, violence and sex — that it seems ripped from the pages of a Coen Brothers screenplay.
Last week
, a Scott County judge sentenced 71-year-old Donald Lafferty to 50 years in prison after a jury convicted him on charges of attempted murder, arson, armed criminal action and financial exploitation of the elderly.
Lafferty was the pastor of Beech Grove Church, a Baptist congregation in rural Bloomfield, Missouri.
His legal trouble began with a fire. Around 8:30 p.m. on January 12, 2013, the Bloomfield Fire Department was dispatched to Lafferty's home. His wife, Mildred, had called 911 to report the blaze after being woken by the heat of the flames. Firefighters extinguished the fire, but something smelled wrong about this inferno — specifically, it smelled like gas.
According to the Dexter Daily Statesman
,
a state fire marshal was called to the scene to investigate. He discovered a partially burnt gasoline can and a butane lighter on the floor near the fire's point of origin. This was no accident, the marshal determined, but arson.
The case stayed cold until April 2014. And in the meantime, Lafferty stayed busy by defrauding his 89-year-old mother of her life savings.
According to investigators, Lafferty lied to bank officials about possessing a Power of Attorney and even provided (presumably falsified) documents to make his case. The details of Lafferty's financial con are somewhat complex — and you should really read the
Daily Statesman's report
if you want the full rundown — but Lafferty was eventually able to drain his mother's CD account of some $86,000. He then opened a new checking account in his mother's name and started writing checks.
A concerned relative reported the missing funds to police, and Lafferty found himself under the microscope. On April 10, 2014, the Stoddard County Prosecutor's Office asked one its investigators to take another look at the mysterious fire that had gutted the Lafferty home in 2013.
Tim McCoy, the investigator, interviewed Mildred Lafferty about what she remembered the day of the fire. She said her husband had prepared breakfast that day, but the coffee tasted "horrible" and she wasn't able to enjoy her usual second cup. During a drive to Poplar Bluff, she said she felt dizzy and asked her husband to take her home, which he did. She went to sleep on the couch.
She awoke to see her husband acting suspiciously. As the
Daily Statesman
reports,
She awakened and noticed her husband moving a cedar chest from their bedroom that had been there for 16 years. It contained pillows, quilts and a blanket his daughter had made him for Christmas.

When she asked him why he was moving the trunk, he stated he was "tired of stumping his toe on it."

He then removed a desktop computer from the home, telling her it had been smoking and he didn't want to catch the house on fire.
Several months after the fire, Donald and Mildred Lafferty divorced.
Further digging by McCoy revealed that Donald Lafferty had been having an affair with a woman named Brandi Hicks, and that he drove to Pizza Hut to meet her on the night of the fire.
Brandi Hicks and her husband Christopher attended Lafferty's church. At trial, she testified that Lafferty had offered to pay her and her husband $15,000 for setting the fire — with a possible $5,000 bonus if Mildred Lafferty died.
In a chilling moment of testimony, Brandi Hicks described how her husband doused Mildred Lafferty in gasoline as she slept.
"Chris poured the gas around the couch, and poured some on Mildred,"
she said
. "I stood behind him and watched when he lit the fire."
The flames spread around the coffee table near the couch.
"Then we turned around and walked out."
To this day, Lafferty maintains his innocence. He insists that he never directed Brandi and Christopher Hicks to burn his home in Bloomfield while his wife slept fitfully on the couch.
Considering his age, he will almost certainly die in prison. Brandi and Christopher Hicks are due back in court this summer to face charges for attempted murder, arson, burglary and armed criminal action.
<!————StartFragment————>
Follow Danny Wicentowski on Twitter at @D_
Towski. E-mail the author at Danny.Wicentowski@RiverfrontTimes.com