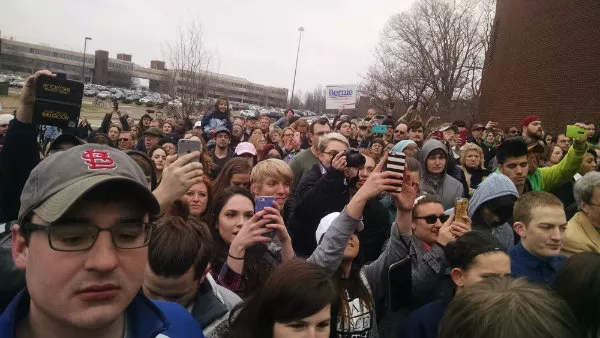 Photo by Anna Westhoff
People outside the Bernie Sanders rally on Friday. The line wrapped around the building to the right.
With the echoes of Thursday night's GOP debate still ringing through the land, I drove out to the SIU-Edwardsville campus Friday morning to study the Bernie Sanders effect in person. Since the defeats of Super Tuesday slashed the already-thin media coverage of the Sanders campaign, I was doubtful the crowd would even fill the venue.
Silly me. However you slice it, the attendance was remarkable.
Within 36 hours of SIUE announcing the event on Twitter, Sanders drew thousands of potential voters to hear his stump speech first-hand. I arrived at the Vadalabene Center around 8:45 am and had to walk a line more than a quarter-mile long, and generally four people wide, to take my place at the end. Behind me hundreds and hundreds more college kids, young-ish adults, grandparents and parents with young kids lined up, buzzing with anticipation. The official capacity of SIUE's gym is 4,700, as
Edwardsville Fire Chief Rick Welle told the Belleville-News Democrat
. I can confirm that the gym overflowed Friday morning, because I was among the hundreds who did not make it inside.
After they let in several thousand people, the doors closed; I was so close I had already surrendered my water bottle. Briefly the crowd issued a disappointed groan.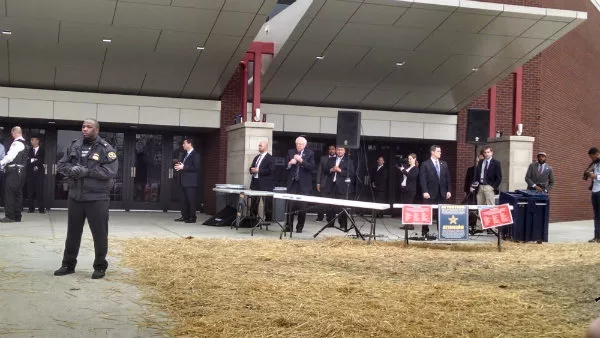 Photo by Anna Westhoff
Bernie Sanders addressing his outside supporters — we were so close, yet so far.
Before anyone could disperse, however, Secret Servicemen kindly asked us to form a semi-circle around three white tables flanked by black speakers. Suddenly Bernie appeared – tall, all-business, hair not-so-flyaway as it was before he started winning primaries. The outdoor crowd – which Sanders estimated at 1,500 – went wild, but quickly quieted down as it was obvious he was not there for the applause.
He spoke for several minutes, hitting his marks of free public university tuition (yooge cheer); pay equity for women (small cheer); criminal justice reform (big cheer); and the need to repeal the Citizens United decision (medium cheer), among others. He thanked the crowd, reminded us to vote March 15 and disappeared back inside, where he then gave his full 45-minute speech. Most of those outside, where the sound was being piped through the speakers, remained to the end, listening while losing the feeling in their toes.
Why did they stay? It sure wasn't for the weather (the high in Edwardsville was 39 on Friday, and at 10 a.m. it was close to freezing). Based on my conversations, what kept people there, even after they knew they were not going to see the main event, was the thing that brought them out in the first place.
Simply, this outsider (pun intended) candidate's message resonates. He's the rumpled face of a movement they feel compelled to support.
Because, contrary to what the pundits say, the race for the Democratic Party nomination is very much alive. Since its launch, the Sanders campaign has been pointedly ignored, led as it is by a small-state Independent who rejects big-money donors on principle. Sure, our political process has been hog-tied by big money, but they insist Sanders' gigantic, grass-roots, fundraising totals are a fluke. Electorally, he cannot win because of superdelegates committed to his opponent. Students are unreliable on election day, so his strong youth support must be a black mark.
But what I saw Friday – and, indeed, the results of the caucuses on Saturday – belies the brittleness of that reasoning. Sanders' online fundraising effort has brought in 5 million individual donations, more than any other candidate in history, totaling over $40 million in February alone. Superdelegates, who know what's good for them, will throw their votes to the candidate most popular among their constituents. And that is still a very open question in this race.
As for the youth, as I witnessed firsthand, for a candidate they can believe in, they won't just turn out to vote. They'll also turn out for a rally in droves – and arrive before 8:45 a.m.
If they don't make it in, well, they'll stand outside listening to a disembodied voice over a loudspeaker for nearly an hour. And freeze their socks off to do it.
Anna Westhoff is a guest contributor to the Riverfront Times.