Presumably, this is where Missouri government happens.
Come on. Did anyone actually believe that Robert Ross, a sitting Missouri legislator, would try to pass a bill giving himself a law license? Because that is not the case, says Ross, oh no — in fact, the Republican representative from Summersville claims he was merely trying teach us a lesson about the importance of education and maybe also that lawyers need to stop encroaching on professional territory that rightfully belongs land surveyors.
That last bit probably sounds confusing. Let's back up for a moment, because even by the
low standards
of the Missouri legislature, this is about to get
breathtakingly
dumb.
On February 23,
Ross filed a bill
that would give any lawmaker with at least two years in the Missouri General Assembly the ability "to practice law as an attorney or become an associate or a circuit court judge." Since Ross was elected to office in 2012, that means he could be hanging out his shingle for a law practice in no time.
Naturally the bill was met with resounding mockery. Jeremy LaFaver (D-Kansas City),
took to Twitter to ask
, "What are some other #molegdegrees we should get after 2 years? After the Boeing bill, I'd like to be a pilot."
The
hashtag
took off.
Now, you might assume that this is the end of the story, just another page in the
increasingly bizarre chronicles
of the Missouri legislature. But you would be wrong.
The first hint of an alternative motive for Ross' bill came from a Redditor and self-identified attorney posting the under the username Megamansdick. On February 25, two days after Ross filed his "Make me a lawyer!" bill, Megamansdick
suggested
that the bizarre legislation was actually connected to a petty argument simmering between Ross and fellow Republican State Representative Joe McGough (R-Carrollton).
According to the theory, Ross, who also works as a self-employed land surveyor, was pissed at McGough for
proposing legislation
that would allow attorneys to prepare real estate maps and drawings — tasks that presently fall under the purview of land surveyors. McGough, we should note, is a licensed attorney.
Ross did not respond to emails or calls requesting comment, so we reached out to McGough at his office at around 2 pm on February 25, several hours after Megamansdick's comment appeared on the Reddit sub-forum r/StLouis. We asked McGough if Ross' widely-lampooned lawyer bill had anything to do him.
"You'd have to ask Representative Ross; I have no idea. He has not talked to me about it," McGaugh said. "If he's upset because attorneys are trying to help their clients as they've done for the last 100 years, and that's his bill that he filed, I would assume that he'd done this in jest. But I'm not sure. Maybe it's something he really supports."
However, McGaugh wasn't finished: "I think most attorneys understand that in certain circumstances a survey is needed. The job of a surveyor is very important in the state. And we know when surveyors are needed. It shouldn't be a fight between surveyors and attorneys. It should be a mutually beneficial relationship. I have no angst against any surveyor whatsoever. I like surveyors. I enjoy when I can work with them."
So, McGaugh did not explicitly deny the rumor, but his elaborate remarks about respecting surveyors indicated that perhaps we were on the right trail.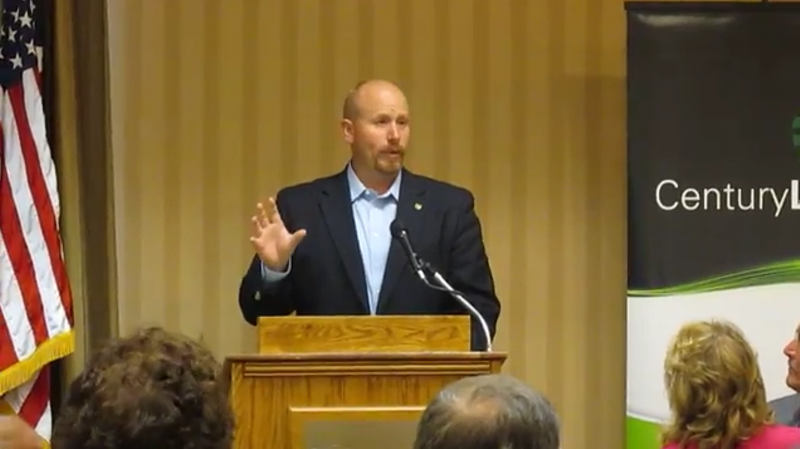 Rep. Robert Ross, speaking before the Waynesville-St. Robert Chamber of Commerce in 2015.
Then, around 6 p.m. that same night, Ross posted
a statement
to his Twitter and Facebook accounts. The bill, Ross revealed, "has fulfilled its intended purpose, and was filed to highlight an issue and subsequently prompt a conversation relative to the importance of education and experience necessary to operate as professional; within
any
given filed."
Basically, Ross claimed he'd filed the bill as a kind of educational gag, a bit of legislative theater designed to make us think about how jobs require experience and stuff.
But the next paragraph in Ross' statement appears to corroborate the alleged spat between himself and McGaugh, only without using anybody's name:
During a committee hearing on Professional Registration, an attorney recounted all of the functions that they could undertake (may of which would otherwise require years of specialized education and training), as a result of passing the Bar exam and becoming licensed as an attorney; nearly limitless professional functions (his words.) While disagreeing with the premise of this gentleman's argument, HB2610 underscores the training expected of professionals that we trust; while reversing the situation.
Ross added that he respects "the expense, effort and expertise required to become licensed and practice law." He concluded the statement by announcing he would not pursue further action on the bill.
Here's Ross' full statement:
Ross' statement, while somewhat ambiguously written, provides further evidence the he
did
file a waste-of-time bill just to get back at McGaugh. That "committee hearing" described in the statement? That's a reference to the
Professional Registration and Licensing committee, of which Ross is a member
. Last week, the committee held an executive session to debate various pieces of legislation,
including McGaugh's bill.
So, later that night, we emailed McGaugh again and asked if he would confirm that he is the "attorney" and "gentleman" that Ross referenced in the statement. McGaugh instead directed us to his own retweet of Ross' statement, to which he had added, inscrutably, "This cuts deep. #moleg."
So there you have it, the full story of how one ticked-off lawmaker probably wasted government resources to get back at a colleague. And, how after it blew up in his face, tried to spin his pettiness into an ad hoc after-school special about respecting people's jobs.
And some people still wonder why no one trusts the government.
Follow Danny Wicentowski on Twitter at @D_
Towski. E-mail the author at

[email protected]