Courtesy of Babyation
Samantha Rudolph, Jared Miller and Chief Baby Officer Exton.
Right now, as I sit here typing this, there is a plastic cup attached to a pump loudly sucking away at my tit. I use "tit" very specifically in this context, because "breast" or even "boob" might somehow imply that this is sexy. It isn't. I'm a production animal these days, and what I'm producing – thanks to my expensive, top-of-the-line breast pump – is milk.
I go through this fun at least twice a day five days a week, while I'm at work and my seven-month-old daughter is at home with her babysitter. It's noisy and it's uncomfortable; if you don't hunch over at precisely the right angle, the milk stops flowing. If someone knocks on my door – and, let's face it, someone is always knocking on my door – they can hear that tell-tale whirr and then my red-faced response: "Um, give me a minute." Because if they came in, God forbid, what they'd see is their boss hooked to a machine that hasn't much improved since its 1850s prototype. "It wasn't labor or delivery that took all the spark out of my marriage," a friend once confided. "It was my husband seeing me use that awful pump."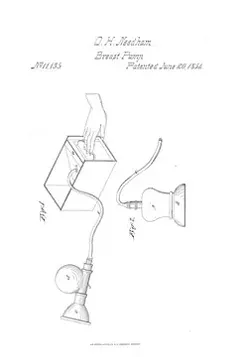 Courtesy of Babyation
The original 1854 drawings for a breast pump look remarkably like the ones we use today.
I've grown to resigned to the indignity and inconvenience of pumping; when you're trying to be a mom in 2016 America, so many ridiculous things are asked of you that you basically stop keeping track. But even though I've given up, other people have not. There is hope for the mothers of America, and it's coming from right here in St. Louis. That's because a startup called Babyation has built a better breast pump.
Husband and wife Samantha Rudolph and Jared Miller are the parents of seven-month-old Exton (a.k.a. Babyation's "Chief Baby Officer"). They started toying with the idea of designing a better pump even before little Exton's birth, inspired by a 2014 New York Times blog post that questioned, "
Shouldn't the Breast Pump Be as Elegant as an iPhone and as Quiet as a Prius by Now?
"
"I knew I wanted to be a working and breastfeeding mom," Rudolph says. "I was shocked and sad to learn that breast pumps were so out-of-date and so difficult." Detailing some of the horror stories she'd heard (seriously, don't let any moms who have to travel for work get started on this topic), she found a rapt audience in her engineer husband.
And why couldn't a breast pump be that elegant and quiet? "He said, 'I can build that,'" she recalls. "And I said, 'Congratulations, you're building a breast pump.'"
Unlike the bulky bag I've grown accustomed to using, Babyation's pump is quiet and sleek. You can control it with a smartphone; it's so discreet, you could employ from your airline seat and your fellow passengers would never even know. OK, maybe in coach, an eagle-eyed seatmate might have some clue. But in business class? Not a chance.
Indeed, there's a startling moment in
Babyation's Kickstarter video
that hits home what a game-changer this new contraption is. Rudolph and Miller are facing the camera, visible from the waist up in the classic documentary interview set-up. They're talking about just how discreet the pump is when Miller says, "In fact, Sam is pumping right now. You probably had no idea."
"It's true," Rudolph says. "I am." The camera pulls back and there it is – just one tube peeping out past the hem of her shirt, milk draining from it into a bottle. There is no noise, no bottles jutting out of her torso, no tell-tale breast pump hunch. It's positively revolutionary.
Rudolph and Miller tell me they've been fine-tuning the design using a 3-D printer, set up in their headquarters downtown, at the T-Rex incubator. They're trying to raise $50,000 via that Kickstarter; if they succeed, Babyation's pump will hit the market in early 2017.
That they're doing all this in St. Louis seems to surprise both of them.
Says Rudoph, "I grew up here, and I swore there was absolutely no way I was ever coming back. I was done." Miller is from the East Coast, she adds. "When we married, he said, 'Let's be clear; I'm never moving to St. Louis.' I agreed."
But then they heard about Arch Grants, the local non-profit that provides grants and support to startups that locate here. They found themselves contemplating the idea that had once been unthinkable. They flew in for a round of interviews and, Rudolph says, "we were just blown away. The two days we spent here were life-changing."
Miller says, "We got exposed to the entrepreneurial community St. Louis was building – and we realized we just didn't have that in Connecticut. Having the outpouring of support and the warm embrace of everyone here has been unbelievable."
He adds, "We made more connections in three weeks here than over eighteen months working on this in Connecticut."
The couple sees Babyation as expanding to include far more than breast pumps. If it's kid-related, and could benefit from modern design, they want to tackle it.
But as I – and tens of thousands of other mothers – can attest, they've picked the right product to kick things off. Who knows why breast pumps have languished even as phones have become tiny handheld computers and TVs have become as flat and sleek as books of poetry? Maybe the people who run tech startups just never realized how many women were dying for a product like this. Maybe helping working moms stay gainfully employed was too boring. Maybe (irony alert!) breasts just didn't seem sexy.
That Babyation thinks they've solved the problem couldn't be a more welcome announcement. It will be too late for me by the time they launch in earnest next spring, but there are plenty of other women leaning in and realizing their tits are in the way.
Production animals of the world, our salvation just might be here.
Sarah Fenske is the editor in chief of the Riverfront Times. Contact her via email at sarah.fenske@riverfronttimes.com or follow her on Twitter @sarahfenske.