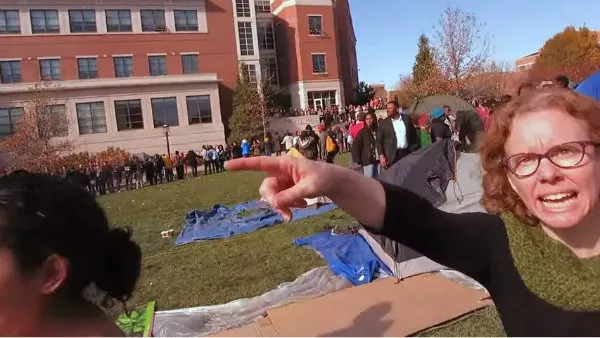 Image via Youtube.com
University of Missouri Assistant Professor Melissa Click has been fired.
As it turns out, Melissa Click is the one who needs to get out.
University of Missouri's leadership has voted to fire the assistant communications professor who famously called for "some muscle" to force a student journalist away from campus protests.
"You need to get out,"
Click told videographer Mark Schierbecker, grabbing his camera at one point
. "You need to get out."
When Schierbecker refused during the November 9 confrontation, Click called for reinforcements: "I need some muscle over here!"
The university's Board of Curators on Wednesday night voted 4-2 in executive session to fire Click for the showdown with Schierbecker, as well as a previous clash at Homecoming, in which she was accused of interfering with police officers trying to keep protesters from blocking a parade.
"The board believes that Dr. Click's conduct was not compatible with university policies and did not meet expectations for a university faculty member," Board Chair Pam Henrickson said in a statement. "The circumstances surrounding Dr. Click's behavior, both at a protest in October when she tried to interfere with police officers who were carrying out their duties, and at a rally in November, when she interfered with members of the media and students who were exercising their rights in a public space and called for intimidation against one of our students, we believe demands serious action."
More than
100 Missouri legislators signed a letter
calling for the university to fire Click, and a nearly equal number of university
faculty members signed a letter
in her defense.
In recent weeks, Click has been on a charm offensive. A public relations firm working on her behalf showered reporters with smiling headshots of the controversial instructor and landed her an
interview with the New York Times
.
"I love my job," she told the
Times
. "I'm good at it, and yeah, I think I have a lot of good left to do with the University of Missouri."
The board apparently disagreed, ousting her after nearly a month of investigations and back-and-forth with Click. She can appeal the board's decision.
We welcome tips and feedback. Email the author at doyle.murphy@riverfronttimes.com or follow on Twitter at @DoyleMurphy.