St. Clair County Sheriff's Department
Reggie Allen, 33, was sentenced to one year in prison for his role in a 2009 fatal confrontation.
The days are already ticking away until Reggie Allen is released from prison.
The 33-year-old Metro East man, a slippery criminal with an arrest record so long it's almost unimaginable, was sentenced to a single year for his role in a deadly showdown in the parking lot of his family's East St. Louis topless club.
Allen was originally accused of crushing 23-year-old Anthony Rice beneath the wheels of his pickup truck, charged with reckless homicide for the October 2009 killing. (The incident was the subject of a
2011 RFT cover story
.) Six long years later, he pleaded guilty to a lesser charge of mob action as part of a deal with prosecutors.
Rice's family would have preferred the homicide charge, but they were hopeful a thug like Allen would at least serve some serious time as part of the plea bargain. So it was with particular horror on Friday that they watched from inside a St. Clair County courtroom as Judge Jan Fiss sentenced Allen to a mere fraction of the six-year maximum.
A Belleville News-Democrat video
captures Aubrey Rice, who was there the night of his brother's death, as he paced the hallway afterward. He bends low and lets loose a heartrending scream.
His mother later told the paper
she'd forgiven Allen but didn't believe their family had received justice.
"I hold no malice in my heart for him," Annette Nash-Smith said. "I hold no malice in my heart for the judicial system. I think it's wrong, but who am I? I'm just another mother who lost a child to the system."
The
2011 Riverfront Times cover story
about the case revealed Allen's troubling history: arrests for 40 non-traffic offenses, including 20 felonies, half of which involved violence. Even after the deadly night, he was charged with brutally beating a dancer at one of his family's clubs.
Anthony Rice, by comparison had a clean record. The working father of two agreed to accompany his brother Aubrey and two friends to the East Side strip clubs for the younger brother's birthday in 2009. The celebrants, who are black, were turned away from the City Nights club about 4 a.m. and allegedly subjected to racist slurs from the white bouncers.
A video of the confrontation shows Allen scoop up a brick from the parking lot and wing it through their car window. A friend of Rice's pulled out a gun and fired two rounds into the air to scare off the bouncers.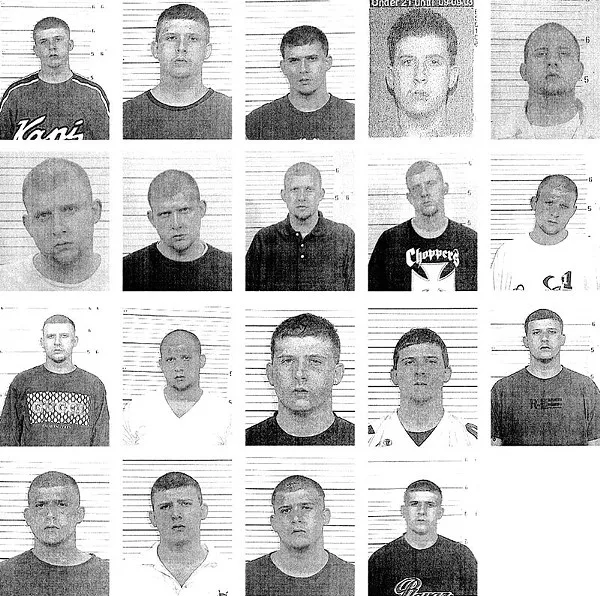 Reggie Allen's dozens of arrests span eight jurisdictions.
Allen, whose record includes using his vehicle to mash a motorcyclist's bike over a traffic dispute, jumped in his truck and sped through the parking lot. Investigators believe he then mowed down Anthony Rice, who had collapsed in the dirt.
His attorney and supporters on Friday argued Allen is really a good-hearted father who has matured from his criminal youth — this despite that 2012 arrest for attacking a stripper, a case that was dismissed as part of the plea agreement.
They were apparently persuasive, because Allen is due to be released by this time next year.
"This guy is a menace to society," St. Louis attorney Justin Meehan, a relative by marriage to the Rice brothers, told the
RFT
. "I was thinking the judge would finally flush it — flush the commode. But if they want him, they can have him, because he'll be back. He'll be back."
We welcome tips and feedback. Email the author at doyle.murphy@riverfronttimes.com or follow on Twitter at @DoyleMurphy.