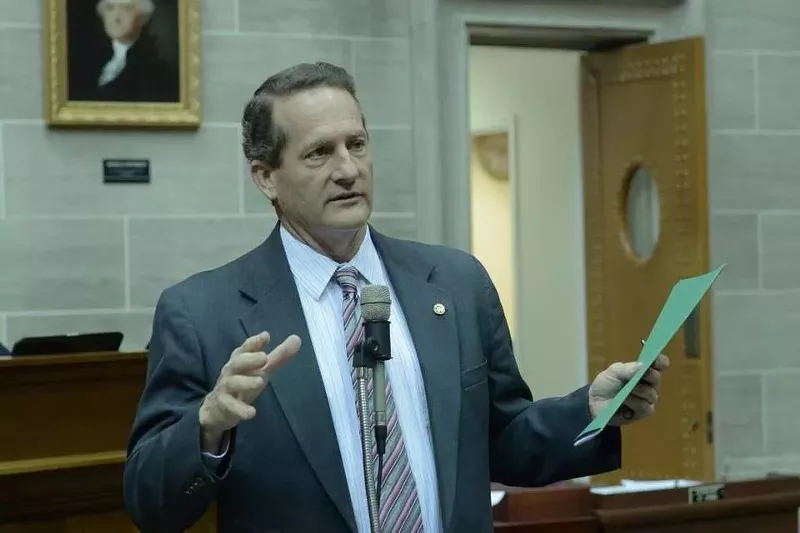 Photo by Tim Bommel of Missouri House Communications
Ex-State Rep. Don Gosen.
Days after announcing his resignation amid a flurry of rumors, ex-Republican State Representative Don Gosen has admitted to cheating on his wife. It seems like
Gosen is super bummed about it, too.
On Monday, details of the infidelity reached House Speaker Todd Richardson, who responded by telling the St. Louis County lawmaker to get the hell out of dodge, er, Jefferson City. Gosen obliged, announcing his resignation that same day. According to the
Post-Dispatch
's Tony Messenger, Gosen later contemplated his no-good-very-bad day while he "sat in his empty insurance office in the Wildwood Town Center and had a good cry."
We should point out that Gosen has only corroborated the fact that he had an affair, and not the salacious details offered by other anonymous sources.
For instance: Messenger writes that Gosen's paramour hails from southeastern Missouri and does not work for the Capitol. The two apparently met during an event outside the Capitol in 2014, and at some point the relationship "became sexual." Messenger also got his hands on a text Gosen sent the woman, which apparently includes "a photo of a sexual nature." Messenger's sources also claim the Gosen and woman filmed themselves having sex in the Capitol.
From Messenger's column:
Gosen lied to the woman, sources say, about many things, including his ultimate intentions, and that led to a bad breakup. It's unclear when that breakup took place.
Additional details of Gosen's wandering libido can be found in a
newsletter published today
from former reporter/cop/ John Hoffmann. Citing several anonymous sources, Hoffmann claims that Gosen has juggled "multiple girlfriends" since he joined the legislature in 2010, and that one of those girlfriends was an unnamed "elected state representative."
Hoffmann's sources also shed more light on Gosen's alleged deceptions. Hoffmann writes:
The newest girlfriend who reportedly believed Gosen was divorced was talking marriage with Gosen. She believed that he agreed to a destination wedding in an exotic location. When she pushed Gosen for a wedding date so she could get invitations printed and mailed to friends he had problems. At that point my main source claims Gosen broke off the relationship.

That did not end things. The girlfriend want to get back with Gosen and drove to his house which has the address listed on several websites connected with him being a state rep. The story goes she was wearing some sexy boots, an overcoat and nothing else when she rang the doorbell only to be greeted by Mrs. Gosen.
Running into the Missus apparently made the woman so mad that she went straight to the publisher of an "internet news website" that covers Jefferson City politics. Still citing his anonymous sources, Hoffmann writes that she handed over sexts and sex video, but the unidentified publisher instead made a deal with Richardson, promising that the material would not be released as long as Gosen resigned.
So.
On one hand, we're unapologetic lovers of statehouse drama, and this story has all the pearl-clutching drama of a checkout line gossip rag. And yet, Gosen's exit follows the shameful blueprint of
similar
scandals
that plagued the legislature in the past year, each involving older male lawmakers leveraging their positions to get into the pants of younger women. The power imbalance in some of these cases wasn't just gross or professionally inappropriate, but flat-out wrong. Some would call it immoral.
So sure, you might feel a twinge of sympathy imagining Gosen weeping in an empty office, contemplating the wreckage he's made of both his marriage and career as a public official. But those crocodile tears don't do much for the women working in Jefferson City.
They've been dealing with this garbage for too long
, and we're guessing they're getting pretty damn tired of waiting for their male counterparts to get their shit together. We certainly are.
<!————StartFragment————>
Follow Danny Wicentowski on Twitter at @D_
Towski. E-mail the author at Danny.Wicentowski@RiverfrontTimes.com
<!————EndFragment————>