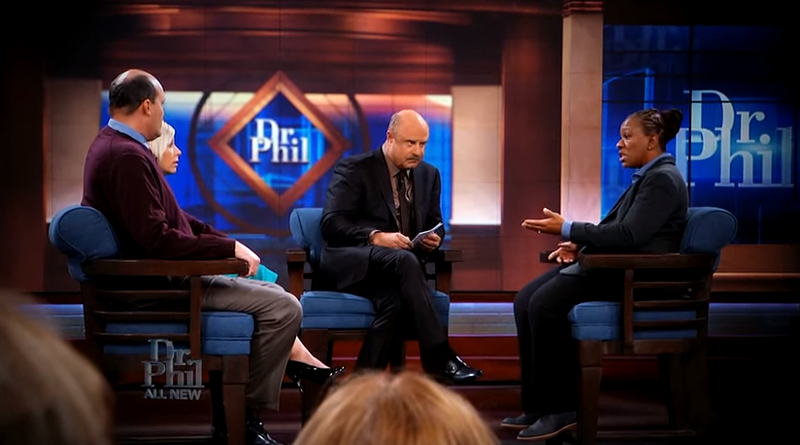 via YouTube
Dr. Phil took on a local controversy in Tuesday's episode.
Dr. Phil McGraw is probably America's most popular not-real-doctor
(sorry, Dr. Nick)
, a distinction he's earned after more than a decade of unvarnished moralizing and "let's talk it out" cry-fests. But there was no tearful catharsis on today's episode, which focused on a St. Charles subdivision where a neighbor-on-neighbor feud has sparked arguments, lawsuits and criminal charges linked to a dizzying array of alleged offenses.
At the center of this circus is Maritha Hunter-Butler, who butted heads with her new neighbors soon after moving into the Manors at Glen Brook subdivision last year. Disagreements about Hunter-Butler's dogs barking escalated to accusations of racism and a threatened protest from
soon-to-be-ex-cabbie Umar Lee
. Throw in separate criminal complaints for assault and mooning
(seriously, mooning)
, and it's obvious this story was destined for daytime television.
See also: Neighbor Calls Cops Because Black People "Don't Belong" In St. Charles Subdivision

"This quiet subdivision has become a battleground," Dr. Phil intoned as he opened the show, which was taped in November. "The fighting has gotten so bad that it even made the evening news."
The Tuesday episode featured Allen and Jana Chamblee, who are backyard neighbors to Hunter-Butler, while the other side was represented by Hunter-Butler herself, her partner, Melanie Anthony, and her adult son, Christopher.
"Our neighbors make our lives a living hell," Allen Chamblee told Dr. Phil, who seemed to grow increasingly dejected as the two sides bickered over things like an (allegedly) stolen cat and whether Hunter-Butler had (allegedly) told Jana Chamblee to "take her white ass back in the house" during an (alleged) argument. No detail was left undisputed.
At times, Dr. Phil looked like he was one outburst away from simply walking off the set, driving to the nearest airport and buying a ticket for the next flight to Mexico. Or Tahiti. Or Mars.
At one point, he asked Jana Chamblee, "Do you stand in your yard and meow like a cat to get under their skin?" (You can watch the moment in the episode's teaser.)
"Meow?" Jana Chamblee said, mimicking the feline utterance as the studio audience laughed in the background.
"You did it, you just did it," Hunter-Butler said triumphantly, to the audience's glee .... or maybe it was scorn? Everything about this episode was hard to read.
Later, Dr. Phil brought up comments that Anthony had posted on Twitter. One read, in part, "Too bad mama is drunk ling ling. Wanted some asian cuisine." Apparently, the Chamblees interpreted the tweet as mocking their adopted Asian daughter.
So, Dr. Phil inquired of Anthony, what were you talking about in that tweet?
"That's personal stuff, between ourselves and our friends," Anthony managed stutter.
Hunter-Butler, however, wasn't so restrained.
"Do you really want to know?" she said. "Because we have toys that we name. Honestly, I speak the truth. I'm not here to lie."
Dr. Phil, bless his heart, pushed forward despite the plot twist. "'Ling ling,' you're saying that has to do with a sex toy?"
"Yes, yes," Hunter-Butler replied.
After another segment of back-and-forth potshots and accusations, Dr. Phil concluded by essentially begging both sides to grow up and move on.
"For one reason or another, things got off to the wrong foot here. Being the incurable optimist here, I hope that it's not a racial issue and it doesn't feel like that to me. And I hope that at some point you can say, I'm going to hit the reset button here and decide that whatever has happened has happened."
Oh, Dr. Phil. You know just what to say when there's nothing to say. Never change.
Follow Danny Wicentowski on Twitter at @D_
Towski. E-mail the author at

[email protected]