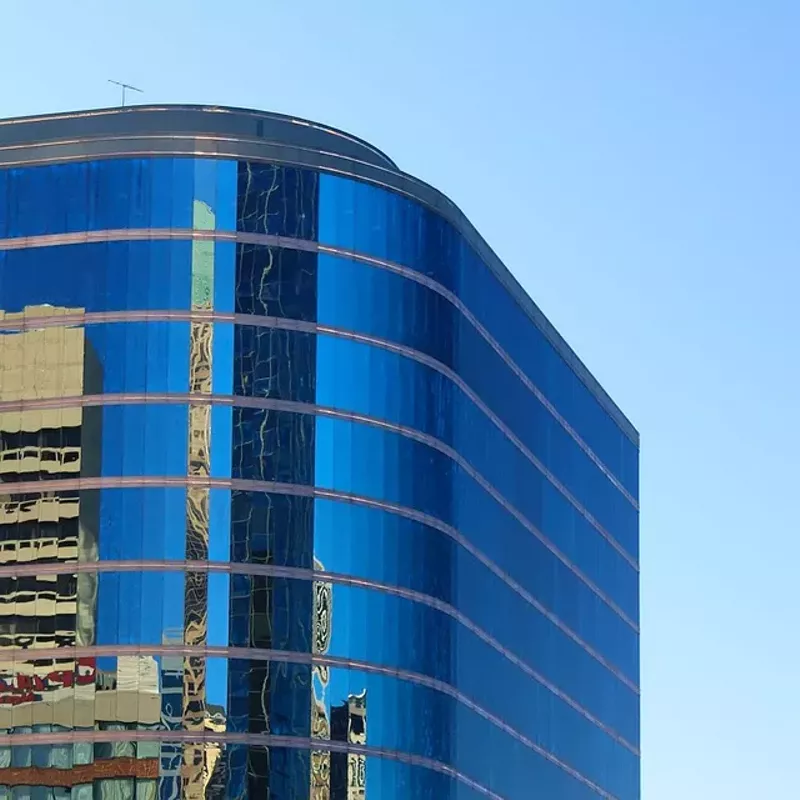 The Polsinelli law firm is on a roll. The Kansas City attorneys have been expanding their business across the U.S., with 21 offices and reported profits of
$650,000 per partner
. Starting salaries for first-year lawyers
are reportedly at $125,000
– near the tippy-top of the local legal market.
But here's the thing about rich people. They tend to just keep getting richer – and they do so by cutting deals that aren't available to working stiffs like you and me.
And so it is for Polsinelli, whose St. Louis office exists in a special situation unknown to the rest of us slobs. Namely, ever since 2010, when Polsinelli pays the city's half-percent payroll tax, and its workers pay the 1 percent earnings tax, the city kicks a chunk of that money right back to them. That $1,250 taken out of a first-year Polsinelli lawyer's salary doesn't go to subsidize police and fire and parks. Oh no. It goes right back to those partners.
It's a skunk deal – and it's not just Polsinelli. Turns out Anthem Companies, the insurance provider, has a similar arrangement with the city. They kick in payroll and earnings tax, and then the city kicks it right back.
These deals were cut a few years ago (2009 for Anthem,
2010 for Polsinelli
), and they don't continue indefinitely — only until the companies have been reimbursed for the costs of upgrading their offices. In Polsinelli's case, that's apparently about $3 million.
But $3 million is a lot of money. And beyond that, there are two reasons these deals are under the microscope now.
One is that a feisty libertarian lawyer with the improbable name of Bevis Schock filed a lawsuit last week to challenge the special tax deals as unconstitutional. Since Schock is the same lawyer who
got red-light cameras booted from the city
, you know this litigation has the attention of the powers that be.
Two is another thing that happened last week – the Board of Aldermen voted to put the earnings tax on the April ballot. State law requires that we voters get a chance to decide whether to retain the tax for another five years, and we're now due.
Schock swears that the timing is pure coincidence, but it couldn't be worse for the city. City leaders are going to be making an argument asking us all to pitch in – even as Schock's suit is Exhibit A in how not "all" of us are actually doing so.
Forget those welfare queens demonized in the Reagan era. In St. Louis in 2016, the people milking the system are corporate lawyers and insurance execs. The rest of us, of course, are still stuck with the bill.
If I sound a bit like Bernie Sanders
here, well, so be it. There's a reason Sanders is polling much better than Hillary Clinton among younger people, and even Republicans, and I'm convinced it's not because we're all secretly socialists or have a thing for Grandpa. I think it has far more to do with an increasing sense in America that the game is rigged, and that people like the Clintons (or the Bushes, or their friends, or their fancy law firms) are doing the rigging.
I write this as a supporter of the earnings tax — a person who just bought a house here and so has every motivation for St. Louis to succeed. And on a national level, I sincerely believe that most of us don't mind paying our fair share of taxes if that means a safe country with good national parks and a reasonable safety net. We just hate paying more while the smart people, the selfish people, are finding loopholes that allow them to cash in while we all just keep slaving away, waiting desperately for a cost-of-living increase that, in this economy, will never come. When Sanders rages against the big banks, they're standing in for every single entity that's found a way to raid the treasury, get big government contracts or nice fat tax refunds, while the rest of us work harder and harder to support them. "Only the little people pay taxes," sniffed Leona Helmsley — and increasingly, in the U.S., she's right.
It's not just taxes. Find me a regulation, and I'll find you someone who's hired a lobbyist to get around it. It's why the city's smoking ban is such a crock. They cracked down on the little bars, banking on the fact that they couldn't afford much of a fight, even while carving out a
big fat exemption for the deep-pocketed casinos
. Is there anything more infuriating than one set of rules for people with money, and another for small business owners just trying to stay afloat?
Which brings me back to Polsinelli. Ostensibly, the city cut a deal with Polsinelli because the KC firm was
consolidating offices
— moving 80 employees into downtown St. Louis from Clayton at a time when migration was flowing in a distinctly different direction. (Armstrong Teasdale had departed for the 'burbs, and hands were wrung with utter predictability — only it was too soon at that point to
blame Ballpark Village
.) Since Polsinelli was spending $3 million or so to fix up its offices, shouldn't St. Louis cut the firm a break, and remit taxes back to the firm in exchange for its troubles?
Except, well, if they get a break, why not everyone else? Why not the single mom struggling on a teacher's salary? Why not the clerk at Phillips 66? Why can't my salary go to fix up my piece-of-shit office?
And it's not like Polsinelli hasn't been enjoying the rewards of the money it funneled into its office space — check out those views! (Through a spokeswoman, Polsinelli declined comment. On behalf of the city, spokeswoman Maggie Crane said the city counselor was reserving comment since he has yet to be served with the lawsuit.) As the video below shows, it'd be worth paying for this kind of upgrade even if the city wasn't refunding a big portion of its taxes.
To some extent, Schock's suit is opportunistic. Special deals are in place all over the city. Real estate developers, for example, frequently get approval for Tax Increment Financing, or TIFFs. That allows them to get real estate taxes kicked back into their own coffers, in exchange for improvements to a property. One of these odious deals was recently responsible for driving
out one of St. Louis best-loved dive bars
(is nothing sacred?!?!)
But even if they're morally the same, legally, there's a difference between TIFFs and "refund" schemes like the ones granted to Polsinelli and Anthem — and that "legally" may be the difference between a fool's errand and a successful lawsuit.
"We ended up looking at a lot of these types of arrangements," Schock says. "And these are the only ones I found where I couldn't see any authorization at all under the state statutes or the Constitution." Either the city was just making things up to suit its purposes, or, he says, "I'm just a bad lawyer and I couldn't find any lawful authority for this." Based on how the red-light camera suit turned out, I'm guessing it's not the latter.
Schock is suing on behalf of a guy named Thomas Neuner, who owns a barge servicing company down on the riverfront. Neuner has five employees, Schock says, and they all pay the earnings tax, just as he pays the payroll tax. He's also made some upgrades to the space he rents for his business. Yet no one ever offered him a special deal.
Writes Schock, "The hundreds of businesses in the City of St. Louis which make improvements to their real estate each year, with the exception of [Polsinelli and Anthem], receive no refunds of their paid in Earnings Taxes and Payroll Taxes..."
While declining comment on the specific allegations in the suit, the city spokeswoman, Crane, says deals like the one offered to Polsinelli are part of a "toolbox" used both to attract new businesses and retain the ones we have.
To Schock, though, that's hogwash. "Whether people stay or go is primarily affected by the quality of the government," he says. "People want to be in a fair, honest environment. This is America."
Yes. Yes, it is America. And as it's become increasingly clear, for guys like you and me and Thomas Neuner, that's exactly the problem.
Sarah Fenske is editor in chief of the Riverfront Times. You can email her at sarah.fenske@riverfronttimes.com or follow her on Twitter @sarahfenske.