Missouri's death penalty runs on cold, hard cash.
A secretive circle of drug suppliers, doctors and nurses could be subverting U.S. tax law while carrying out state executions, but that's no problem as far as Missouri Department of Corrections director George Lombardi is concerned. In fact, during a tense budget hearing yesterday in Jefferson City, Lombardi admitted that his executioners wouldn't do their jobs if it meant getting a 1099 form accessible to the IRS.
And that would be a bad thing, presumably, because Missouri can't kill people without relying on anonymous executioners who get paid with cash-stuffed envelopes.
"It is my understanding that giving 1099s to these individuals would reveal who they were, and would mean the end of the death penalty, because these individuals wouldn't do it," Lombardi said, responding to questions from State Representative Rep. Jeremy LaFaver (D-Kansas City).
LaFaver's questions were triggered by a
Buzzfeed News investigation
from former St. Louis Public Radio reporter Chris McDaniel. McDaniel reported that the state corrections department had handed out more than $250,000 in cash to executioners since November 2013, all of it seemingly in violation of federal tax law.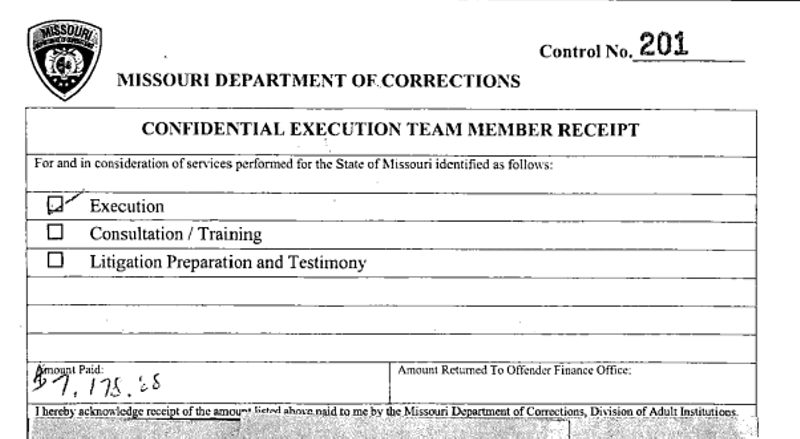 A receipt for a Confidential Execution Team shows $7,178.88 paid to an anonymous drug supplier.
Without vendors being issued 1099 forms, the IRS has no way of tracking recipients who'd be required to pay taxes on their payments — one reason just about every single business in America a) refuses to pay its contractors cash, and b) gives them a 1099. Not the Missouri DOC. Apparently, the people participating in executions insist on being paid under the table to avoid generating the type of public records that would make them identifiable to the public — and the state goes right along with it.
During the hearing, Lombardi explained that executioners are considered private contractors and paid in cash, but he could not identify a policy that allowed the department to ignore the 1099s. Lombardi added that his staff counsels executioners to report their cash payments to the IRS, but clarified that the practice is not reflected in any policy.
"It's just something we do," Lombardi said.
Granted, quibbling over tax law can often seem petty and pedantic. But at the same time, Monday's hearing showcased the kind of legal and moral contortions that keep Missouri's capital punishment machine chugging along. Many observers,
including some Missouri Republicans,
don't like what they see.
Toward the end of the hearing, LaFaver questioned Dave Dormire, the prison official whose name appears
on confidential memorandums
requesting cash payments for executioners. LaFaver asked why the payments aren't reflected in the department's budget.
"We don't include a whole lot of things that are expenses; we try to hit the highlights of the major items," Dormire said. Questioned further, Dormire couldn't identify another example of an expense not included in the budget.
"I respectfully submit and request that executing somebody, it's a big deal," LaFaver shot back. "If we're going to spend money to do that, I think it should be included in the description, that this is the area of the budget where money goes in envelopes in cash to kill people. Maybe worded differently, I understand you probably would. I probably wouldn't."
Follow Danny Wicentowski on Twitter at @D_
Towski. E-mail the author at Danny.Wicentowski@RiverfrontTimes.com