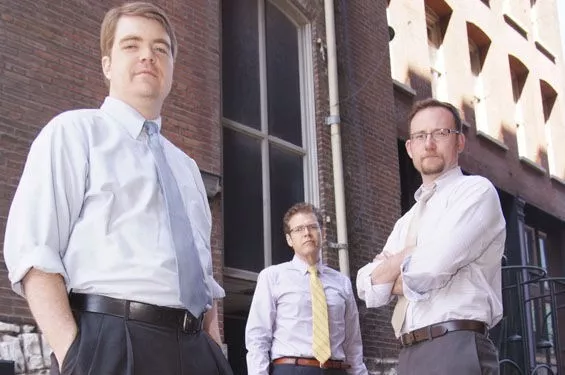 Photo courtesy of Eric Fogleman
Arch City Defenders' Thomas Harvey (center) and Michael-John Voss are among the lawyers fighting Florissant Municipal Court.
Last year, the legal beagles at Arch City Defenders
brought a host of class-action lawsuits against St. Louis-area municipalities
, alleging that the extra fees they tacked on to court cases were illegal — a way to raise revenue on the backs of lower-income residents.
Those suits have, for the most part, survived motions to dismiss and continue to be fought in the courts, says Michael-John Voss, the co-founder of Arch City Defenders and also an attorney there.
And now Voss and his colleagues have set their sites on a new target — Florissant. In a new suit filed last Friday, they're asking the court to grant their case class-action status so that anyone who's paid one of three extra fees charged by Florissant would be reimbursed.
The fees include a "letter fee," a "failure to appear fee," and a "warrant cancellation fee." For Voss' client Stanley Watkins, who serves as the plaintiff in the new case, standing in for all others in a similar situation, those fees ended up adding more than $150 to a $175 fine.
"We believe that these fees are in conflict with what's authorized in state law, and are assessed for the purpose of revenue generation," Voss says.
The suit seeks to represent anyone who's paid such fees in Florissant from 2009 to the present, Voss says.
Florissant passed new ordinances in the wake of Senate Bill 5 barring such fees, but it's not clear whether they continue to be charged to people who wind up in court, Voss says.

We welcome tips and feedback. Email the author at sarah.fenske@riverfronttimes.com

Editor's note: A previous version of this story indicated the wrong hurdle that these class-action suits have made it over. They survived motions to dismiss, not motions for summary judgment. We regret the error.