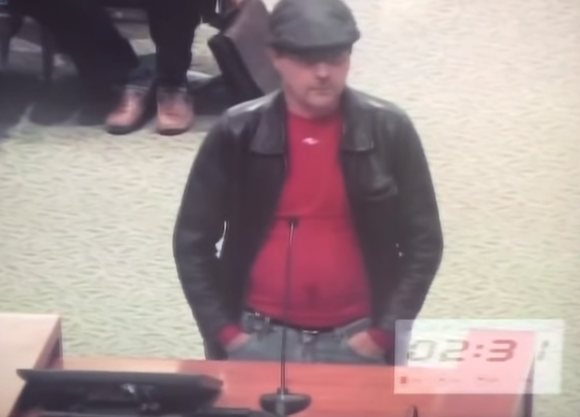 YouTube
A screenshot of Roy Bay's public confession to sex crimes.
A Florida man says he spent twenty years in St. Louis stalking restrooms and sexually abusing children.
The horrific revelations came during
a Tuesday city council meeting in Jacksonville, Florida,
which Roy Bay attended as part of a church group that opposes expanding the city's Human Rights Ordinance to LGBT people.
During the meeting's public comment session, Bay, 56, told the council that "I lived most of my life sexually assaulting kids" in St. Louis. Yet he'd never gone to jail for his crimes, he continued. He said that he himself had been assaulted "by the homosexual community" as as young boy, and for the next twenty years he "entered into a life of homosexuality and did the same thing, because that's what I thought life was all about, going into bathrooms in places and businesses and sexually assaulting kids."
(A St. Louis police spokesperson confirms that the department has no records under Bay's name. A search of federal court records also showed no criminal cases against him.)
Bay said his career as a pedophile ended in 1985, when he found out "that was not acceptable." Around that time, he said he became a "born-again child of God and God set me free from that lifestyle," a declaration that received a smattering of applause from the audience.
Bay ended his comments by declaring that he had "ministered to people, taught them that this is not an acceptable lifestyle, and if this bill does pass, it will become more acceptable than what is now."
Here's a video of Re's complete comments at the city council meeting.
Bay, we should note, clearly made the admission for political purposes. The idea of transgendered people in the restroom has been used as a conservative bugaboo to stop equal rights ordinances in cities from Houston to Springfield. Lance Berkman
even put himself in the middle of the debate
. By claiming he had been exactly the kind of predator that anti-LGBT activists fear, Bay was giving fodder to the right.
But he may have also put himself at the center of a police investigation.
The Jacksonville Sheriff's Office is reportedly investigating Bay's claims
. We imagine they might want to be in contact with St. Louis, too.
And considering Bay's timeline, it is possible that he could still be prosecuted for any sex crimes he alleges to have committed in St. Louis.
According to Missouri law
, "prosecutions for unlawful sexual offenses involving a person eighteen years of age or under must be commenced within thirty years after the victim reaches the age of eighteen." If Bay were to be charged for a more serious crime, like first degree rape, then prosecutors could go after him regardless of how much time had passed.
Putting aside the particulars of Ray's supposed confession, it's worth noting that his basic argument — that exposure to homosexuality leads to pedophilia — is a well-worn
and thoroughly debunked
tactic deployed by opponents of expanded LGBT rights. Similar arguments were made last year by Republican state lawmaker Jeffrey Pogue,
who wrote
on Facebook that a non-discrimination ordinance protecting LGBT people in Springfield "would open the door for predators to feign gender identity struggles to gain access into restrooms and locker rooms to prey upon our children."
But outing yourself as a pedophile? That's a new one — and it'll be interesting to see where this goes.
See also: Rep. Jeffrey Pogue Bill Would Ban Unisex Bathrooms
<!———StartFragment———>
Follow Danny Wicentowski on Twitter at @D_
Towski. E-mail the author at Danny.Wicentowski@RiverfrontTimes.com