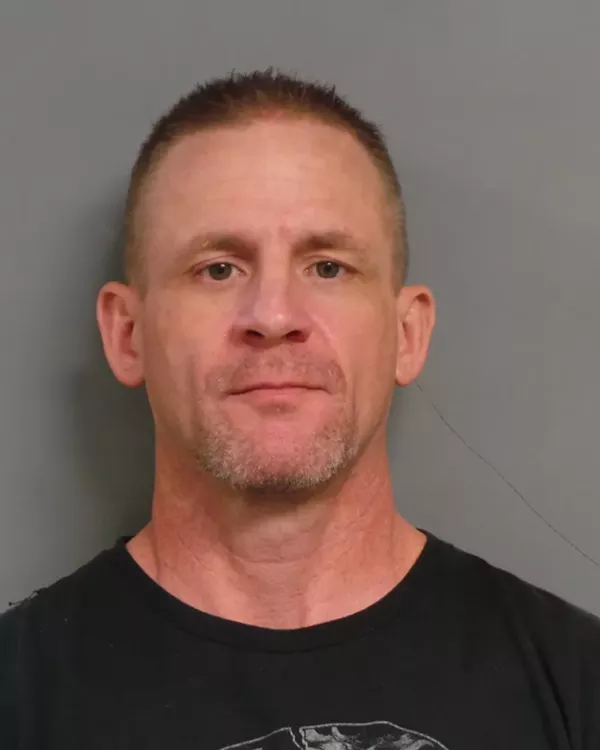 Courtesy of the St. Peters Police
Bryan Roberts' booking photo
Ick.
St. Peters Police say they have arrested a 47-year-old man from Troy, Missouri, after catching him videotaping women in the act of undressing in the fitting rooms at Mid Rivers Mall.
And here's the truly unsettling part: When police accessed Bryan Roberts' phone, they allegedly found images of at least 23 nude or partially clothed women, apparently taped without their consent. Only three of those women so far have been identified. Some of those women were also photographed in Chesterfield, according to a release from the police department.
The incident that led to Roberts' arrest in St. Peters sheds a little light on his apparent M.O. According to the St. Peters Police, a woman contacted them after noticing a shopping bag sitting outside the door of the dressing room where she was trying on clothing.
"The bag was removed prior to her exiting, but when she returned to the dressing room, the bag re-appeared in the same spot. She became suspicious and upon further inspection, she noticed a small hole in the bag. By the time she exited the dressing room, the bag was gone," the department reports. It was only later, after Roberts was picked up in Chesterfield and the images discovered on his phone, that police realized he might be their guy.
Roberts is currently being held on a $20,000 bond at the St. Charles County Jail. He faces two counts of Invasion of Privacy, though more charges may be coming.
If you used a changing room at Mid Rivers Mall from December 26 to January 8 and noticed a shopping bag that appeared to be out place, police are asking that you contact Detective Matt Halter at 636-278-2244 ext. 3546. Or, if you have any information about this case, you can call the Crime Solvers Hotline at 636-278-1000.
We welcome tips and feedback. Email the author at [email protected]