Photo courtesy of Kelly Manno
She actually did it.
St. Louis podcaster Kelly Manno has carried through with her campaign to send Stan Kroenke a pile of shit — $250 worth of shit, to be exact.
Even
getting shut down by the crowd-funding site GoFundMe
couldn't stop her.
"St. Louis is pissed off," Manno explained
on her podcast
, which dropped Monday. "And here's one thing that I have learned about St. Louis through this whole debacle. St. Louis is like having a crazy relative that you can talk bad about — but nobody else can talk bad about them, or you'll kill them. We can trash it all day long, but when Kroenke trashes it, you're getting poop."
The initial idea came on a whim. "I don't even have that much of a dog in the fight, because I'm not that big a football fan, but I still thought we should send Stan Kroenke some poop," she explained to her listeners. But rather than let the thought stop there, she went with it — and within hours, was placing a record-breaking order with ipoopyou.com.
"You are so far our biggest order," Guillermo of ipoopyou.com tells Manno.
Interesting tidbit: The poop actually comes from California (the Bay Area, to be specific). Which somehow seems fitting in this case.
You can listen to the show here.
Manno tells us that she had no difficulty raising the money, even when she had approach donors to let them know GoFundMe had shut down the campaign and she was moving to PayPal instead. Even Steve Ewing (of the Urge, and Steve's Hot Dog) kicked in, she reports.
The donors were all listed on the card sent along with the pungent offering. (And as for the "Francis Slay" on the note, no one seems to think that's really
the
Francis Slay. But who knows?)
The show tried to order ram shit, but Guillermo explained that was impossible. Still, it wasn't for lack of options. "We have a variety of cow, we have pig, we have horse, chicken," he said.
"You can send chicken shit?" one of Manno's co-hosts asked, excitedly.
But ultimately the show decided on a "poop cocktail" — a mix of all the nastiest stuff in the company's possession.
Doesn't it look pretty?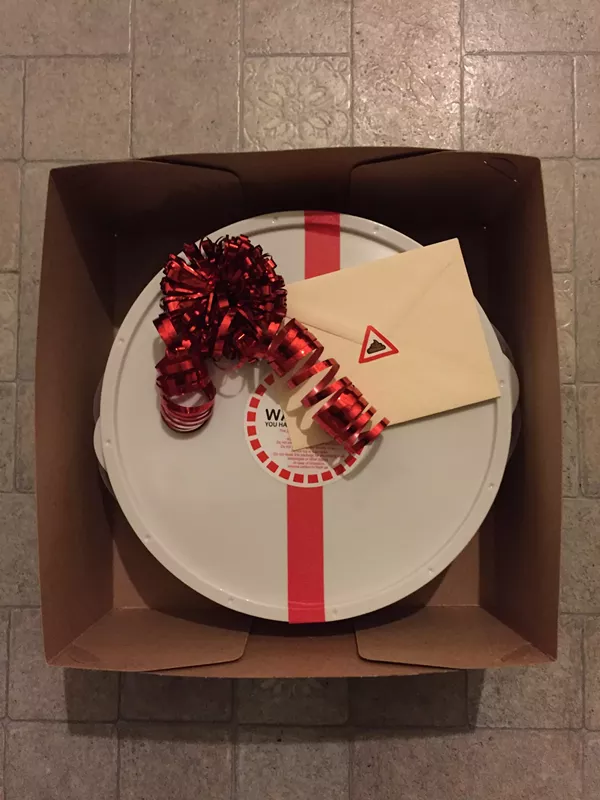 We welcome tips and feedback. Email the author at sarah.fenske@riverfronttimes.com