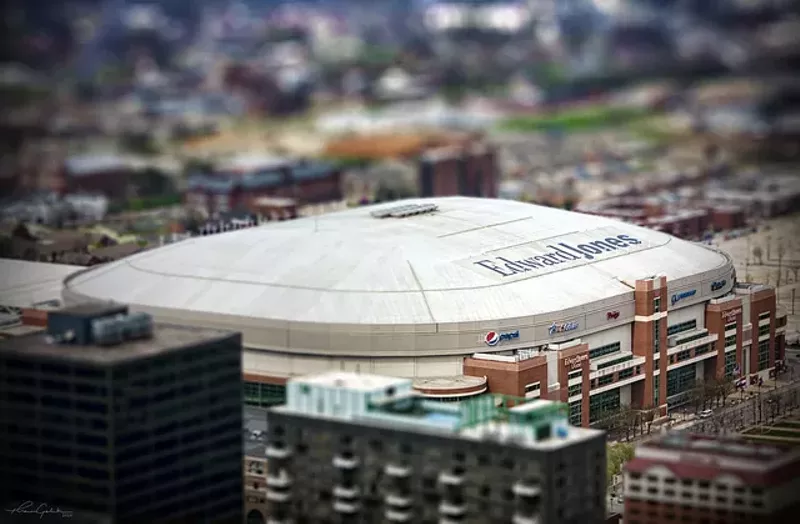 Flickr / Thomas Gehrke
Finally, the Rams ditched the dome. Now we can do something useful with it.
Peace out, Rams. Don't let the Arch hit you on the way out.
Now that we no longer have to breathe the same air as Stan Kroenke, it's time we get down to business — namely, decide what to do with that gigantic, dome-shaped home you lost so many games in.
So what are we to do with the Edward Jones Dome? A lot of things, that's what.
Here are 25 not-so-humble suggestions to turn our civic lemons into a tall cool glass of hard lemonade.
1. Turn the dome into a baseball stadium, and lure the Los Angeles Angels of Anaheim (blech!) to St. Louis. Albert Pujols knew he couldn't stay away forever.
2. Or turn it into a soccer stadium and get on Europe's level when it comes to what is defined as "football."
3. Make it a hands-on museum devoted to
Stan Kroenke hatred
, including Kroenke-themed punching bags, dart boards and a framed photo of his reaction upon
receiving shit (yes, literal shit) in the mail
.
4.Turn the stadium into refuge for Syrians fleeing that
other
totalitarian psychopath with bad hair. (Indeed, we are all one people.)
5. Flood it, and turn it into a free municipal pool.
<!—————EndFragment—————>6. Bumper cars. On all levels. Just picture it!
<!—————EndFragment—————>7. Create a downtown dog park, with complimentary chew toys that look like Kroenke's mustache.
8. Pull up that shitty turf and turn it into a combination roller rink/laser tag arena. #LaserSkate immediately trends on Twitter.
<!—————EndFragment—————>9. Ladies and gentlemen, the nation's first professional LARPing arena is now open.
10. Replace the roof with a clear plastic bubble and fill it with dice, like the old Trouble board game. All future decisions involving taxpayer money will be resolved by fiat of the giant dice popper.
<!—————EndFragment—————>11. Give it to Larry Rice.
<!—————EndFragment—————>12. Let Joe Edwards build as many trolley set-ups as he likes in there.
13. World's biggest wood-fired pizza oven? World's biggest wood-fired pizza oven. Empty dome problem + world hunger = solved.
Turn the page for more suggestions for dome use.
Photo by Nate "Igor" Smith
Juggalos! Boats! One giant Faygo lake. What could go wrong?
14. Fill the dome with Faygo and sell tickets for Juggalo Boat Fights.
15. Make our own Kitchen Stadium and stage
Iron Chef St. Louis
battles once a week.
<!—————EndFragment—————>16. Free daycare center.
17. Sow the turf with fertile soil, plant soybean, flax and berries. Return the stadium to its agrarian roots. <!—————EndFragment—————>
<!—————EndFragment—————>18.Turn it into a Roomba and let it roam downtown St. Louis tidying as needed.
<!—————EndFragment—————>19. Fill it with Jiffy-Pop.
20. We could just, like, store all our unwanted shit in there.
21. Make it into a David Bowie memorial. (Timely, right?)
22. Convert the dome into a Native American museum — there has to be a way to reverse a curse, right?<!—————EndFragment—————>
23. Revamp it into a massive, ritzy private event space. Just think of how many weddings you could shove in there in one evening.
24. Actually put our nation's capital in the middle of the country. We could paint it to look like the White House or something.
(Then again, maybe not?)
<!—————EndFragment—————>25. Let it rot where it stands as a public reminder that we should never again allow the city's leaders to mortgage the future in order the enrich out-of-town billionaires.
<!—————EndFragment—————>And to all the ex-fans out there, please do not hesitate to add to the list.
See also: Yes, a St. Louis Radio Host Just Sent Stan Kroenke a Huge Pile of Shit