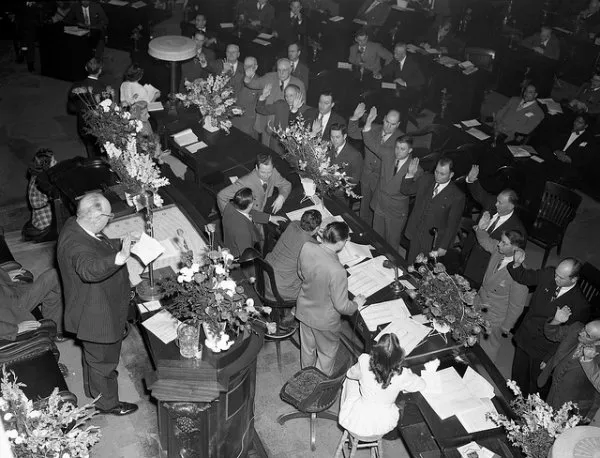 Image via Missouri State Archives
Missouri Senators voted to banish reporters from the Senate floor.
It's almost like all those politicians were only pretending to care about us.
Remember way back to Monday when the freedom fighters in the Missouri legislature were ready to scalp an assistant professor at Mizzou because she tried to "muscle" reporters off a public quad? More than 100 of them signed a letter telling university brass to fire Melissa Click.
See Also: Melissa Click Should Keep Her Job, Mizzou Faculty Supporters Say

"As a professor in the School of Journalism, Click's role should have been to remind students that we must respect the First Amendment rights of all individuals, and that the student reporters there were doing nothing more than their jobs; jobs which were are soundly protected by our Constitution," their letter read.
Whoa. Those dudes meant business. Better think twice about messing with the press while they're running Missouri.
Regardless of how you feel about Click's future employment prospects at Mizzou, the pols' defense of the First Amendment seemed to bode well for us ink-stained wretches. Yessiree, we were going to be such friends. Interviews that were always on the record. Sunshine Law requests filled in a flash. Jeff City float trips, even.
But then we decided to pop over to
St. Louis Post-Dispatch
and see what our new BFF's were up to on their second day back in session:
"Missouri Senate boots press corps off floor"
Son of a…
Seems our good buddies were pissed last year when a reporter tweeted a conversation between senators. So now they plan to ship journalists to some to-be-determined perch upstairs.
"Some of the press violated the code of ethics by tweeting out discussions between senators,"
Senate President Pro Tem Ron Richard told reporters
. "The Senate floor, that's our space. That's not your space."
A space that's safe from reporters. Sounds vaguely familiar.
Has someone come up with a term for that?
Maybe it's our paranoia, but it's starting to seem like all that "freedom of the press" talk was just a convenient way to hammer on a liberal target.
Richard knows what you're thinking, but you're wrong. This is nothing like when Click and another university employee, Janna Basler, were trying to eject journalists.
"I understand there's social media making me look like some of the ladies in the journalism school that turned away the press," Richard told reporters. "I don't think that's the case. I thought that was a breach of your responsibility."
Thought we were friends, bro.
Addendum, Jan. 14, 2016:
David Kurpius, dean of University of Missouri School of Journalism, wants to make it super clear Click was not a journalism professor, despite the comments/letter from state legislators.

Dr. Melissa Click is an assistant professor in the MU Department of Communication in the College of Arts and Science. Until Nov. 10 she held a courtesy appointment with the School of Journalism, which allowed her to work with a small number of graduate students on their master's or doctoral committees. She never taught a course in the journalism school.
The distinction about Dr. Click's academic home in the College of Arts and Science is an important one to make so that readers are not misled.
We request that this clarification be appended to your article in the digital archive so that the misrepresentation's harm to the reputation of the nation's first school of journalism can be minimized as soon as possible.
We welcome tips and feedback. Email the author at doyle.murphy@riverfronttimes.com or follow on Twitter at @DoyleMurphy.