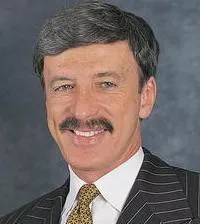 If this hairpiece could talk....
So, St. Louis is lagging, is it? Bold words coming from a man wearing a roofied caterpillar on his upper lip.

Your proposal to the NFL cites some statistics at least, e.g., we're "61st out of U.S. 64 cities in economic growth," and you believe the city's stadium proposal is so bad that "any NFL Club (sic) that signs on to this proposal in St. Louis will be well on the way to financial ruin." Motherfucker, you're
worth an estimated $7.7 billion
. You're so rich you bought
a goddamn professional lacrosse team
, which is dumber than leasing a sports car — what the hell are you worried about?
But consider this, Stanley: Maybe St. Louis is suffering economically because of you. The city (and the county) both pay $12 million a year in upkeep on the team's current home, and both governments will continue to pay it for years to come. How much have you invested in St. Louis? Certainly your development company THF has built quite a few Wal-Mart anchored strip malls, but you do that
with loads of our money
.
See also: Andy Cohen Asks St. Louis: Is It Just Me, or Is Stan Kroenke an Asshole?
And speaking of Wal-Mart, maybe St. Louis would be on sounder economical footing if your Wal-Mart heiress wife (who's worth $4.4 billion in her own right) would pay her employees a living wage. It's pretty easy to be economically viable when you use taxpayer money to build a business and then pay poverty wages to the employees.
I understand that moving the Rams isn't personal for you: It's all about making and hoarding money. No man who cared about anything other than money would walk around with that collection of fantasy fur hairpieces (but I wouldn't put it past you that you've never bought a mirror, either).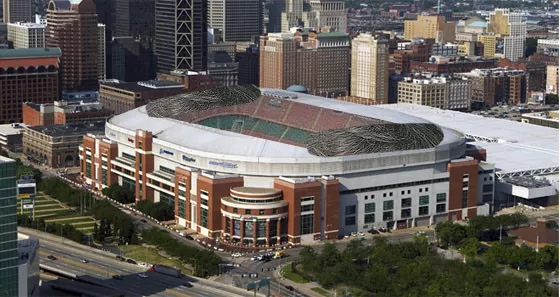 Talk about a retractable roof!
St. Louis can't help but take it personally, though. You said nothing to us when you bought the team, you never talked to us while you were here, and you couldn't even tell us to our faces why you were leaving. You're like a pissy teenage boy breaking up with his first girlfriend, leaving it to your dumb jock friend (the NFL) to tell us that you're taking someone else to prom.
Oh, but Stan? Prom ain't here yet. Your zazzy new girlfriend is courting two other teams at the moment. Maybe the Rams are in
Los Angeles
Inglewood next season, maybe they ain't. And if it turns out the Rams stay right here, I think last in the league in attendance is the best you can hope for.
Have fun counting your pennies. It's clearly your main joy in life, other than buying winning sports teams like the Avalanche and Arsenal and running them into the fucking ground. Look
at that
: You're hated on two continents. At least it pays well.
See also: 50 Things We'd Rather Keep in St. Louis Than the Rams
See also: 10 Things We Could Do with $1.1 Billion Other Than Build a New Rams Stadium