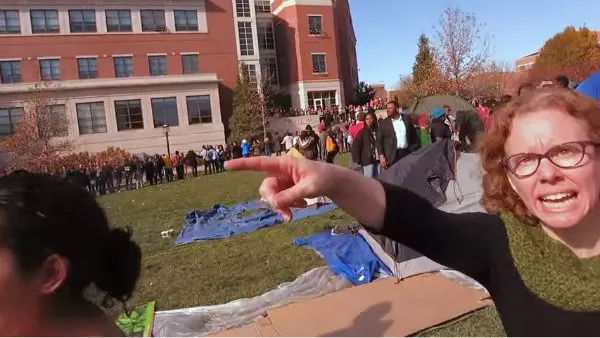 Image via YouTube
Melissa Click should be fired, more than 100 Missouri Republican legislators say.
Better call for that muscle.
More than 100 Republican legislators want a University of Missouri professor, Melissa Click, fired for trying to strongarm student journalists during campus protests.
The state lawmakers asked the university's interim chancellor and governing board to "take immediate action to address the inappropriate and criminal actions" taken by Click during the November demonstrations.
"As an academic professional, her first goal should have been to promote a safe and stable learning environment for all students, and to represent the University to the public in a way that strengthens the image of our flagship state institution of higher education," says the letter signed by more than 100 members of the House of Representatives and 18 state senators. "Instead Professor Click's comments served to inflame an already caustic situation that was clearly out of line."
Click, an assistant communications professor with an appointment in the journalism school, was
caught on film ordering student journalists to leave an outdoor quad
during demonstrations against racism at Mizzou that ultimately led to the resignation of the university president.
"Who wants to help me get this reporter out of here?" Click was recorded saying. "I need some muscle over here."
The footage, uploaded to YouTube, has been viewed more than 2.7 million times.
Click later apologized
and resigned her appointment with the journalism school but remained on staff in the communications department.
Sen. Kurt Schaefer, R-Columbia,
called on the university to fire Click back in November
. He was among those who signed onto the latest push for her ouster, calling her actions "unacceptable and inflammatory in nature."
Click's critics also questioned her research,
which delves into pop culture, such as 50 Shades of Gray, Lady Gaga and the Twilight series
.
"What is even more insulting is that Professor Click was on a research waiver from the University of Missouri so that she didn't have to teach classes," legislators wrote. "Rather, Professor Click spent her paid time off from teaching to assault students, harass citizens of Missouri, and work in contravention of the Constitution."
We welcome tips and feedback. Email the author at doyle.murphy@riverfronttimes.com or follow on Twitter at @DoyleMurphy.