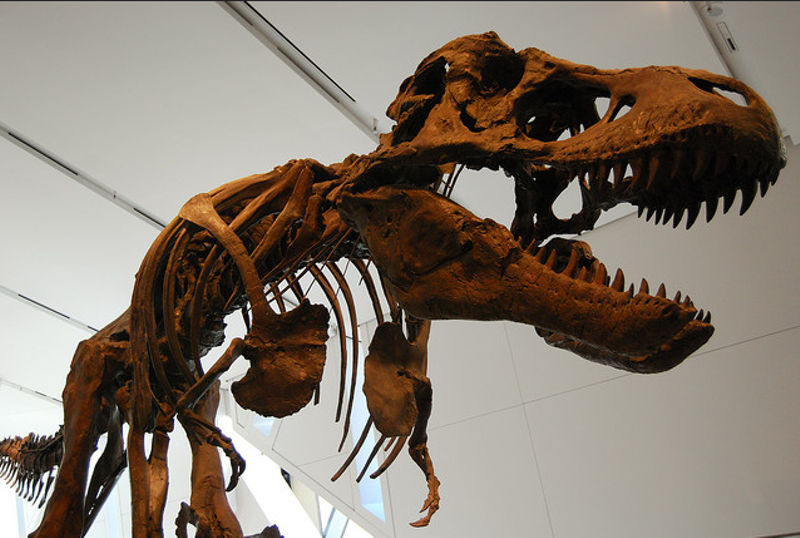 With one game left to play, the football season is essentially over for the St. Louis Rams. We can dutifully note another strong year for the defense, despite being paired with a slapstick offense whose only consistent highlight was sensational rookie Todd Gurley. No playoffs,
again
.
But instead of bemoaning the woeful, well,
everything
surrounding the Rams, let us divert our attention to dinosaurs.
Yes, this is the time of year when sports reporters dig into the dregs of their notebooks, which resulted in
this gem
from ESPN's Nick Wagoner chronicling the dinosaur-related doubts of Rams defensive end William Hayes, relayed by teammate Chris Long:
"He thinks archaeologists place bones underground like a parent would place Easter eggs," Long said earlier this season, laughing. "They just planted them. It's some large conspiracy. He does not believe that dinosaurs ever existed and he thinks that mermaids are real. I love dinosaurs, so we have a big point of contention."


Hayes, the story also notes, is something of the team prankster,
especially when it comes his teammates' cars
. But his quotes to ESPN make it sound like Hayes has some serious misgivings about the existence of reptilian beasts who allegedly stalked the earth for hundreds of millions of years.

"No, I don't believe dinosaurs existed," Hayes said last month. "Not even a little bit. With these bones, it's crazy because man has never seen a dinosaur, we can agree on that, right? But we know exactly how to put these bones together? I believe there is more of a chance you will find a mermaid than you will a dinosaur because we find different species in the water all the time.

"I don't understand how [Long] just believes in dinosaurs. That's just crazy to me. We know they died. We know what a T-Rex eats? That don't sound crazy to you? We have never seen a dinosaur before but we know exactly where every single rib [was] and which rib goes where. That's crazy to me."
See also: 50 Things We Would Rather Keep in St. Louis Than the Rams

Maybe you read those quotes and think,
yikes, that guy is so dumb!
But it's possible that Hayes, an admitted prankster, is just messing with us.
Then again, maybe his suspicion of a scientific conspiracy is connected to religious beliefs. Or, as
Deadspin
suggests, maybe Hayes is a straight-up Dinosaur Truther.
But Hayes actually makes a few good points. We don't actually know what dinosaurs looked like, and movies like
Jurassic Park
are,
at best
, presenting informed guess-work. In fact, the history of paleontology is filled with examples of scientists
incorrectly assembling dinosaurs
.
Regardless of how you feel about Hayes' scientific opinions, he's been an absolute beast on the defensive line this year,
especially during last week's beatdown of the Seattle Seahawks
. Plus, he told
Sports Illustrated
that "St. Louis has the nicest people I've ever been around," and in our book that counts for much more than his dinosaur opinions.
Follow Danny Wicentowski on Twitter at @D_
Towski. E-mail the author at Danny.Wicentowski@RiverfrontTimes.com