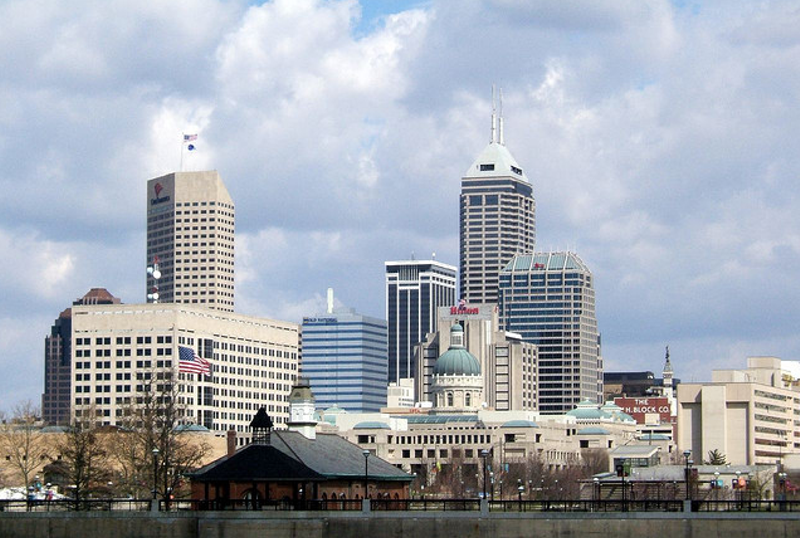 Indianapolis: are we better than them?
Hey, quick question: do you enjoy arguing about municipal finance data? How about debating the finer points of municipal achievement in ideology-tinted statistical showdowns? Getting excited yet?
Alright, maybe all of that sounds terribly boring. But thanks to the increasingly public quarrel between two rival organizations jockeying to influence a potential city-county merger, it's looking like we're all going to spend 2016 learning how St. Louis stacks up (or doesn't) to metro regions like Indianapolis.
In fact, Indianapolis factors prominently into the fight between Better Together, the pro-merger group backed by tax-hating multi-millionaire Rex Sinquefield, and CitiesStrong,
a recently established coalition
led by municipal officials who want preserve the current system of hyper-local control that splits St. Louis County into 91 municipalities.
See also:
St. Louis Spends More Per Capita on Police Than Just About Any Other Major U.S. City




On Monday, CitiesStrong launched its first salvo at Better Together, accusing the group of flubbing data in a 2014 study that compared the St. Louis region (i.e. city and county) to Indianapolis, which consolidated its city and county governance way back in 1970.
Better Together's study
had concluded that residents of St. Louis and St. Louis County paid nearly $600 more per year for municipal services than those in Marion County and Indianapolis. The findings seemed to bolster the evidence that the St. Louis region's fragmented system of governments creates bloated bureaucracies and needlessly duplicated services.
CitiesStrong, however, called bullshit on Better Together's study.
"We just can't believe that," said CitiesStrong president (and former Shrewsbury mayor) Bert Gates in an interview with the
St. Louis Post-Dispatch
last week
.
CitiesStrong turned to the Public Policy Research Center at the University of Missouri-St. Louis (UMSL), commissioning its own study to counter the one released by Better Together. Released Monday,
the CitiesStrong study
concluded that Better Together's research showed "both discrepancies and gaps" in its methodology and data, and that those gaps led Better Together to under-report Indianapolis' total governmental spending by a whopping $589 million.
By factoring in costs related to public health, sports venues and maintaining political subdivisions called townships, the CitiesStrong study concluded that St. Louisans actually spend $44
less
per year
than those in the Indianapolis region.
Not surprisingly, the CitiesStrong study has already yielded several rounds of rebuttals between the two groups. Better Together director
Dave Leipholtz told the Post-Dispatch
that the CitiesStrong study is merely "an effort to find some differences that just aren't there." He claimed that the group's members — which includes the current mayors of Webster Groves, Cool Valley, Frontenac and Clarkson Valley — are using the group to defend the existence of their wasteful fiefdoms.
CitiesStrong's Gates fired back in the same article, maintaining that he and his fellow members are fighting to preserve "responsive government with a local flavor," while Better Together's real purpose is to advance Rex Sinquefield's agenda.
So which side is right? Who has the right data? We sure as hell don't know, and even the author of CitiesStrong's study noted that Indianapolis' unified government is "perplexingly complex."
As it stands, the merger debate remains pretty much grounded in ideological grandstanding. But if we could offer one suggestion, maybe CitiesStrong's next study could be less about debunking data, and more about fixing the problematic "local flavor" of the county's municipal court system?
You know, that "Jim Crow" flavor?

Follow Danny Wicentowski on Twitter at
@D_Towski. E-mail the author at Danny.Wicentowski@RiverfrontTimes.com