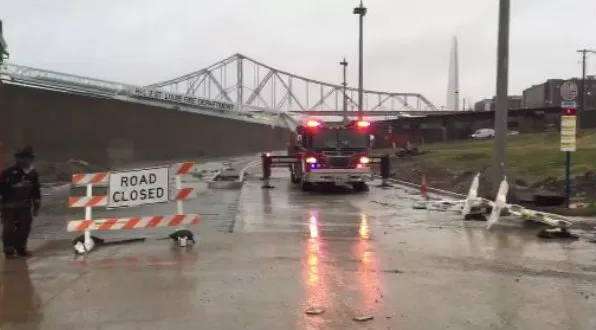 Image via St. Louis Fire Department
St. Louis firefighters had to rescue men on Monday from a tent encampment near a Leonore K. Sullivan Boulevard flood wall.
If you haven't noticed, it's frightening outside. Floods closed Manchester Road in Brentwood on Saturday, and parts of I-70 had to be shut down yesterday due to rising waters — even as cold rains are expected to overfill the Mississippi River to levels unseen in two decades.
St. Louis could use your help. The city needs volunteers to fill sandbags to hold off the rising waters. Street and Parks Department workers expect to go through about 20,000 bags as they try to shore up levies along the River Des Peres between Morgan Ford and Alabama.
Anybody who is interested should grab their boots and gloves and report to the river parking lot adjacent to Fultz Baseball Field east of Gravois Road, city officials said. Work begins at 7 a.m. tomorrow.
The flooding has killed at least 10 people across the state, authorities say. St. Louis firefighters and police have responded to 24 calls for people stranded in the water and 61 traffic accidents since the storm began.
On Monday morning, firefighters rescued two men from a homeless tent encampment below a flood wall along North Leonor K. Sullivan Boulevard near Biddle Street, east of the Edward Jones Dome. Firefighters raised an aerial ladder to the top of the wall during the dramatic operation and lowered a 28-foot ladder to the men, who climbed to safety.
Mayor Francis Slay has declared a city emergency, activating the Emergency Operations Center and a network of government and nonprofit agencies to fight the high water. City crews have closed 36 flood gates along the Mississippi as they maintain an around-the-clock watch there and along the River Des Peres for trouble.
Gov. Jay Nixon declared a state of emergency on Sunday and continued to urge caution as the storm raged on Monday across Missouri.
"It has been a very difficult number of days," Nixon told reporters on Monday, noting he expects the death toll to climb as authorities investigate reports of missing people. "And this threat is clearly not over."
The rainfall totals are supposed to reach 10 to 12 inches in some places by this afternoon, according to the National Weather Service.
"The biggest problems we're seeing are ones that can be avoided," St. Louis Fire Chief Dennis Jenkerson said in a statement. "We've responded to multiple accidents because people were speeding and lost control of their vehicles, and we've also had to rescue stranded drivers after they attempted to drive through flooded roadways."
Authorities warn drivers to avoid standing water and go slowly. Riverview Boulevard between Hall Street and Interstate 270 will be closed until the water recedes, and the city plans to close Alabama Avenue at the River Des Peres.
We welcome tips and feedback. Email the author at @doyle.murphy@riverfronttimes.com or follow on Twitter at @DoyleMurphy.