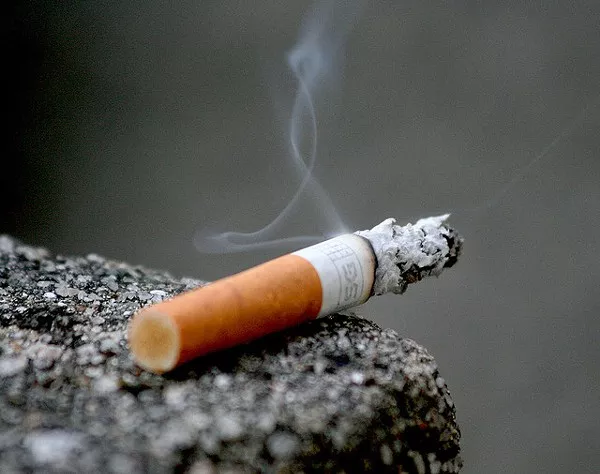 Don't put those cigarettes out just yet.
A St. Louis bar owner has filed a lawsuit challenging the city's smoking ban, which is set to go into law at midnight Thursday — arguing that because he has a state license to operate Keno games, he should qualify for the exception given to casinos.
The suit was filed on Christmas Eve in St. Louis City Circuit Court by Herbert Krischke and Trophy Room Inc., the bar he operates on Arsenal near the city's Hill neighborhood — but it could have wide implications across the city.
That's because a total of 99 bars in St. Louis have the same state license for Keno. If Krischke's lawsuit is successful, it could leave them open to allowing smoking as well.
As we
first reported earlier this month
, a different bar owner — Bob Hiscox, who owns the Bastille in Soulard — had realized that the city smoking ban carves out an exemption not only for casinos, but for "the area of a state-licensed gambling facility where gaming is allowed." As a lottery spokeswoman confirmed, the state does consider its Keno participants "licensed" through its office. Hiscox believes that sets him up — as well as any other of the 98 licensees in the city limits — for an exemption.
See also: Soulard Bar Owner Has a Novel Plan to Fight Smoking Ban — His Gaming License


Hiscox had no plans to file a lawsuit; he told us he'd wait to see if he got cited. But Krischke, who is backed by a wide coalition of bar owners organized by the group Keep St. Louis Free, is taking a more proactive approach.
His suit, filed by attorney John Steward of Meyerkord & Meyerkord, seeks a judgment stating that the Trophy Room is a state-licensed gambling facility — and therefore is exempted from the law. It also asks for a temporary restraining order barring the city from enforcing the ban until they get a day in court.
And finally, if the judge finds that the Trophy Room is not a state-licensed gambling facility, the suit asks that the city's ban be declared unconstitutional, as it "grants a special or exclusive right, privilege or immunity" to a subclass. In this case, that means the deep-pocketed casinos, which were given the exemption from the city's smaller bars were not.
Bill Hannegan, the founder of Keep St. Louis Free, contacted the bars in the city to see if anyone was interested in a challenge, and found broad buy-in. "The support is universal," he says. "Bars on the north side and the south side are supporting this effort." Many bars contributed to help hire Steward, he says. "A lot of people donated. We had 100 percent consensus, even from some of the bars that had already gone smoke-free."
The city voted on its smoking ban six years ago. But as it turns out, it's the last week here that could get really interesting.
We'll have more as this story develops.
UPDATE:
One important fact to note — the way the smoking ban is written, a facility would need to have a state license for gambling
and
be limited strictly to those 21 years and older. That means many of the city's Keno licensees would not qualify — just how many, though, is unclear,
We welcome tips and feedback. Email the author at sarah.fenske@riverfronttimes.com