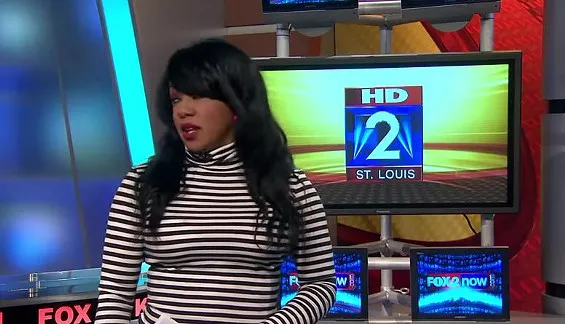 So it's not quite an Emmy — or even a local Emmy. But KTVI (Fox-2) still scored quite the honor this week: One of its clips was selected for the annual roundup of Best News Bloopers.
The star of our local cameo is April Simpson, then the morning anchor at the station. Simpson has since left under some mysterious circumstances — as the
Post-Dispatch reported last month
, the local favorite returned from a two-week suspension only to find herself in a "verbal exchange" that led to some sort of decision to part ways. (Whose decision, we don't know. ... Although, among the potential reasons was this bizarre tidbit in the
P-D
story: "Simpson admitted that she had taken to referring to an intern, who is part Asian and part black, as 'Bruce Leroy." So, we're just putting that out there.)
But before all that, the Fox-2 anchor she won attention from no less than Kevin Hart for what the RFT
would term her "epic side-eye."
It went down like this:
Colleague Tim Ezell tipped the camera to Simpson, saying, "For that, the Hamburglar." That's when Simpson, who was dressed in a turtleneck that did indeed bear a certain resemblance to the McDonald's villain, shot him a look. The look. She paused, then murmured, "It's your birthday. I'll let it pass." Then, changing her mind, she continued, "No I won't. I'll get you later." Hart posted video of the exchange to his Facebook page with a one-word lead-in: "WHOA."
You can see the incident right around the 1:30 mark. But why fast-forward ahead? The rest of the video ain't bad either.
We welcome tips and feedback. Email the author at [email protected]ttimes.com