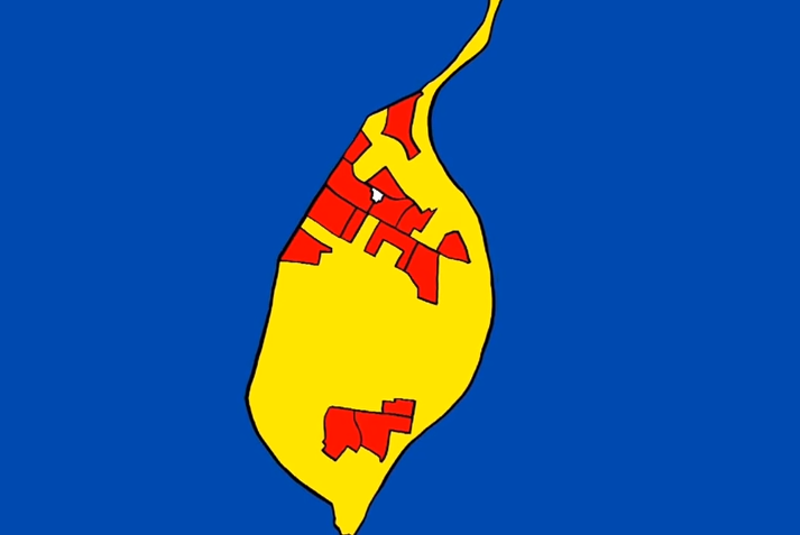 A map of the neighborhoods included in the city's new crime-reduction plan.
Over the next two years, fifteen St. Louis neighborhoods will see an influx services designed to reverse the years' long sway of violence and crime. Announced this morning by 21st Ward Alderman Antonio French, the "comprehensive plan" will roll out in January. It will affect the neighborhoods hardest hit by this 2015's surge in homicides.
"These fifteen neighborhoods is where the fight is," French said in
a video
outlining the plan. "This is where our city is going to get serious about combating crime and improving the conditions that lead to high crime in the first place."
See also: In 2015, St. Louis Is Headed Toward the Most Homicides in Decades. How Can We Stop the Bloodshed?
The targeted neighborhoods include Wells Goodfellow, JeffVanderLou, Baden, Greater Ville, Mark Twain and Dutchtown
Collectively, these six neighborhoods have accounted for around 300 homicides since 2008
. The other neighborhoods included in the plan are Bevo Mill, Gravois Park, Walnut Park West, Mark Twain 1-70 Industrial, Penrose, O'Fallon, Hyde Park, Kingsway West and West End.
According to the video released by French, the plan would place a dedicated police officer in each neighborhood to build long-term relationships and work with citizen groups. The police department will also increase the number of homicide detectives, while a park ranger will be assigned to each major park that falls within these neighborhoods to keep them safe for community use.
Other components of the plan include placing surveillance cameras on main streets in those fifteen target neighborhoods, and utilizing the city agencies to promote job training, economic development and youth services.
In an interview with
KMOX (1120 AM)
, French said that the mayor's office will be tasked with figuring out to pay for the plan.
French's announcement arrives after what he characterized as "weeks of talks and negotiations" with the administration of Mayor Francis Slay. Those lines of communication were at times contentious, reaching a somewhat embarrassing low in October when the two parties (with the help of local TV news)
publicly bungled
the scheduling of a simple meeting.
Update 10 a.m.:
In a blog post published this morning
, Slay went into further detail on the city's plan to bring the "focused attention of every department and resource" to the fifteen neighborhoods.
The full plan has also been posted to the city website
.
"What we are doing should not be taken as an experiment. It is the more thoughtful deployment of the thousand things the city already does, many of them well," Slay wrote. "The next two years will be hard. But we know where we are going."
Slay also called on the Board of Aldermen to pass the necessary spending bills to fund the recruitment, training, equipping, and deployment of additional police officers.
<!————————StartFragment————————>
Follow Danny Wicentowski on Twitter at @D_Towski. E-mail the author at Danny.Wicentowski@RiverfrontTimes.com
<!————————EndFragment————————>