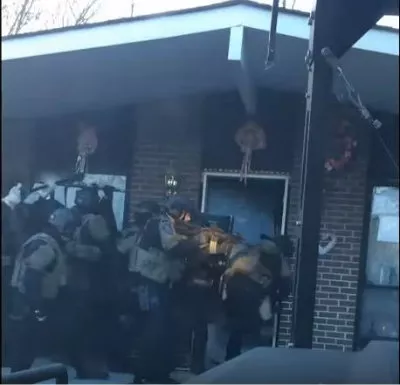 Image via YouTube
St. Louis County Police Officers gather at the door of Sheila Huck moments before the fatal shooting.
Newly released videos show the chaotic final showdown between a 61-year-old and a St. Louis County Police SWAT Team.
Heavily armed officers in tactical gear yanked the door out the entrance to Sheila Huck's North County home and began to creep toward the threshold when gunfire erupted. Huck, suspected of already having shot at a neighbor, fired the first shots, police said.
"Oh shit!" an officer said the initial blasts rang out. The first pops were followed by multiple rounds as officers opened fire into the darkened doorway.
"I saw her come out with that pistol," says one of the cops.
The incident had begun about noon on Saturday in the 6600 block of Foothills Court. Huck, who neighbors claimed was acting crazy, allegedly fired at her 35-year-old neighbor as the younger woman stood at her mailbox. The shooting was unprovoked, police said. The two were neighbors, but that's the only connection investigators found.
Other neighbors had filmed Huck earlier in the day as she marched along the street in a long black coat, boots and sunglasses. She paused, leaned back and screamed in the air. A woman out of the picture can be heard telling her not to come any closer, because her children are nearby.
"I live on this street," Huck says in one of the five videos released on Monday by police. "I own this street."
Huck barricaded herself inside her home four more than four hours as members of the county's Tactical Operations Unit tried to coax her out. "The longer you remain in there, the less we can guarantee your safety," an officer says. "Let's do the right thing, Sheila."
The officers eventually knocked the door down, but Huck wouldn't come out.
"She's got the gun," one officer says.
They continued to talk to Huck and backed off the doorway to the edge of the house for a time. About 4:20 p.m., a commander decided to send officers in to "take the armed and dangerous suspect into custody," police said. Huck shot at them with a pistol, and two officers returned fire, killing her, police said. Investigators later found .38-caliber bullets from her pistol embedded in the wall above the officers' heads, police said. She unloaded all five rounds from the pistol and had a second handgun, a .25-caliber, in her pocket, police say.
The two officers who fired their weapons haven't been publicly identified. They were both placed on administrative leave, pending an investigation.

We welcome feedback and tips. Email the author at @doyle.murphy@riverfronttimes.com or follow on Twitter at @DoyleMurphy.