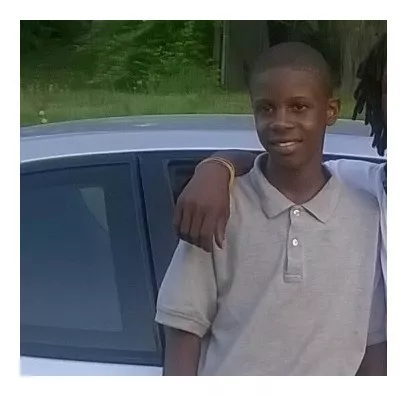 Yesterday, 13-year-old Martinez Smith-Payne was shot and killed in north St. Louis. Police say he and his friends
had broken into an unlocked car
; a 60-year-old man, ostensibly the car's owner, killed the boy. So far, the man has not been charged in the shooting.
See also: St. Louis Man Free — For Now — After Killing 13-Year-Old Boy Accused of Car Break-In
Leah Patriarco was Payne's homeroom teacher last year, when he attended South City Prep, a charter school. She saw news coverage of his death — and found herself drawn to the online comments. Predictably, she was horrified.
In response, she fired off a Facebook post that so far has been shared more than 130 times.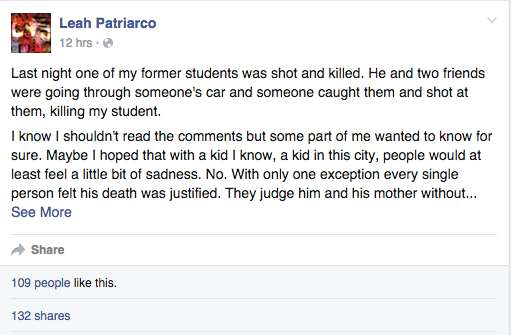 She agreed to let us share it with our readers:
Last night one of my former students was shot and killed. He and two friends were going through someone's car and someone caught them and shot at them, killing my student.

I know I shouldn't read the comments but some part of me wanted to know for sure. Maybe I hoped that with a kid I know, a kid in this city, people would at least feel a little bit of sadness.

No. With only one exception every single person felt his death was justified. They judge him and his mother without any attempt to see them as people or to see the broader context. They don't know that this child was a pretty tiny 13-year-old with fairly severe learning issues. They didn't see how excited he got when I solved a Rubik's cube for him. They didn't hear how sweet he was when you worked with him one-on-one. They didn't see his mom coming to meetings to help us figure out how best to help him and crying because she loved him and wanted the best for him.

Kids do things they shouldn't. Our job is to help them make better choices not to kill them when they make mistakes.
As we reported yesterday, Smith-Payne
reportedly suffered from ADHD and bipolar disorder
. He had also lost four fingers in a fireworks accident.
Circuit Attorney Jennifer Joyce is still weighing possible charges against the man who shot Smith-Payne, but notes that Missouri law grants homeowners broad rights to protect themselves.
We welcome tips and feedback. Email the author at sarah.fenske@riverfronttimes.com