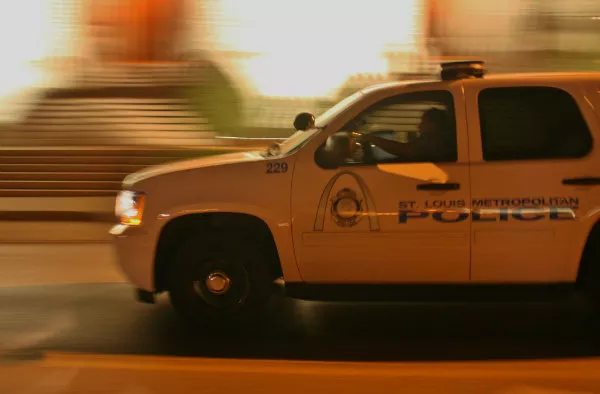 Image via Paul Sableman
Four teens have been arrested for a string of carjackings in south St. Louis.
Four teens are in police custody after a frightening weekend of gunpoint carjackings.
The young suspects, ages fourteen to sixteen, ambushed drivers across south city, even robbing one woman in front of her eight-year-old son, authorities said. Cops have already tied the boys to three robberies on Sunday and are still investigating to see if they were involved in earlier attacks.
In the first stickup, a 34-year-old mother told metro police she was parking about 6:30 a.m. on Sunday when a black SUV pulled alongside her in the 3100 block of Morgan Ford Road and a pistol-wielding assailant hopped out. The gunman — she thought he was in his 20s — let her collect her son from the 2015 Chevrolet Sonic before he climbed in and drove off, police said. The black SUV trailed the car out of sight to the south.
Just five hours later, the suspects allegedly struck again. This time they targeted a man unloading the trunk of his red 2008 Nissan Sentra on Tesson Ferry Road near I-270. He looked up to find a teen pointing a handgun at him.
"Gimme your stuff," the child robber told him.
The man handed over his keys as two other teens slipped up from behind, rifled through his pockets and took his wallet, police said. The three then sped off in the Sentra.
County police officers spotted the car about four miles north, near the intersection of Tesson Ferry and Gravois roads. The teens raced north across the city line before crashing into a parked car at the edge of Carondelet Park, near the intersection of Loughborough and Grand avenues, police said. Cops ran down two of the teens, ages fifteen and sixteen, on foot, but the third sprinted away.
The arrest of the two did little to end the mayhem, police say.
Shortly before 9 p.m. on Sunday, two young thieves followed two men into their garage in the city's Shaw neighborhood and ordered them at gunpoint to leave the keys and go, police said. The armed duo then tried to steal the car, but they apparently couldn't figure out how to operate it.
One of the victims told FOX 2
he thinks they didn't know how to drive a stick shift, so they bolted.
The terrified car owners fled too.
"I expected to be shot if they saw me a second time," he told FOX 2.
Police caught a break on Monday when officers spotted a couple of teens driving a red Chevy Sonic about 1:20 p.m. in Dutchtown. They quickly recognized it as the car stolen from the young mother early Sunday and gave chase. Two teens bailed out a few blocks away in the 4600 block of Gustine Avenue and were taken into custody, police said.
The suspects were fourteen and sixteen. They joined the other two teens in juvenile custody.
We welcome feedback and tips. Email the author at doyle.murphy@riverfronttimes.com or follow on Twitter at @DoyleMurphy.