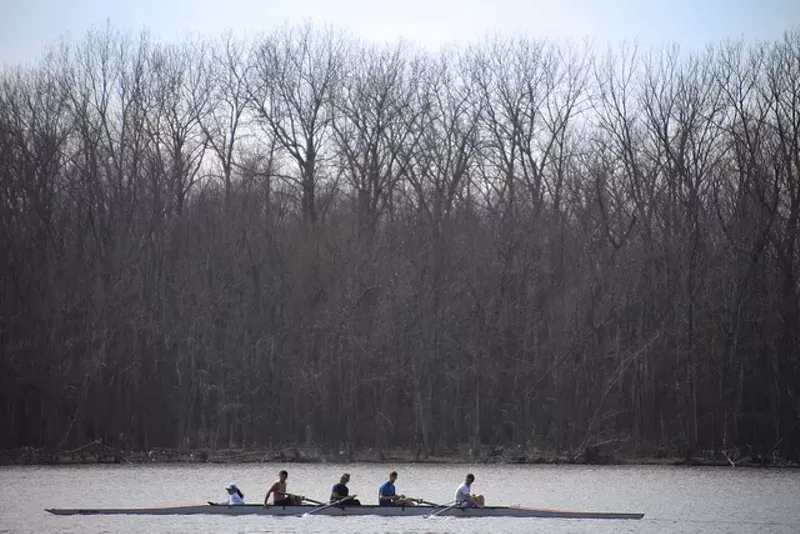 Photo Courtesy of Flickr/Paul Sableman
A rowing crew on Creve Coeur Lake.
Last week, attorney Al Watkins filed a bombshell of a case against the St. Louis Rowing Club and its officers — alleging that its president, Lisa Jones,
improperly accessed juvenile records at the St. Louis Prosecuting Attorney's Office
in order to smear a young club member who'd been investigated for sex crimes. (The young man was eventually cleared.)
See also: St. Louis Director of Victim Services Wrongly Accessed Info, Defamed Juvenile, Suit Says
This week, Watkins is at it again — this time filing suit on behalf of two club members alleging financial impropriety and a host of irregularities at the non-profit organization. Among other things, he claims that the club is violating its lease with St. Louis County and that scholarship funds are not being used to give scholarships.
Watkins' stake in the litigation this time is personal. His wife, Paige, is the plaintiff, along with fellow rowing club member Richard Kendrick. His children are rowers in the club.
And the lawsuit — filed by one of the St. Louis area's most colorful, and
media-friendly
, attorneys — has the potential to embroil some of St. Louis' more affluent, and politically connected, residents. The suit is asking for no money, just changes in operations. But the allegations it makes are incendiary.
Indeed, in addition to the claims of misconduct against Jones in last week's lawsuit, Watkins is in this second suit alleging impropriety on the part of Peggy Francis, who is both an examiner with the Federal Reserve Bank of St. Louis and the president of the rowing club's booster committee. In her role with the club, Watkins alleges, Francis solicited donations from club members — many of whom happen to be officers in banks regulated by the Federal Reserve. And that, he says, is a clear violation of the Federal Reserve's code of ethics.
A spokeswoman for the St. Louis Federal Reserve said this in a statement:
St. Louis Fed employees, including bank examiners are allowed to do volunteer work on their own time and in their personal capacity. The Bank's ethics rules prohibit all employees from soliciting donations for personal voluntary activities from entities or people they do business with at the bank.
Jones did not respond to a message seeking comment on behalf of the club.
"There has been a woeful deficiency of record-keeping with respect to the finances of this organization," Watkins says. "The great bulk of their revenue is generated through their junior rowing program. And the revenue is not being handled by their elected treasurer, but rather an unelected member of the booster committee," and that without the necessary paperwork or checks and balances, he says.
All the irregularities, he adds, "are jeopardizing a really dynamic program for these junior rowers — and they are putting this whole club at risk."
The squabble has the potential to affect more than just club members. One of Watkins' allegations is that the club is in violation of its lease with St. Louis County. In essence, the club has been given use of the boathouse at Creve Coeur Lake in exchange for hosting rowing classes open to the public six times a year — and then remitting a portion of the proceeds from the classes to the county.
That hasn't been done, at least not in recent years, Watkins says. (St. Louis County didn't get back to us with a comment by press time.)
Asked whether the dispute could get ugly, Watkins says, "It already has."
We welcome tips and feedback. Email the author at sarah.fenske@riverfronttimes.com