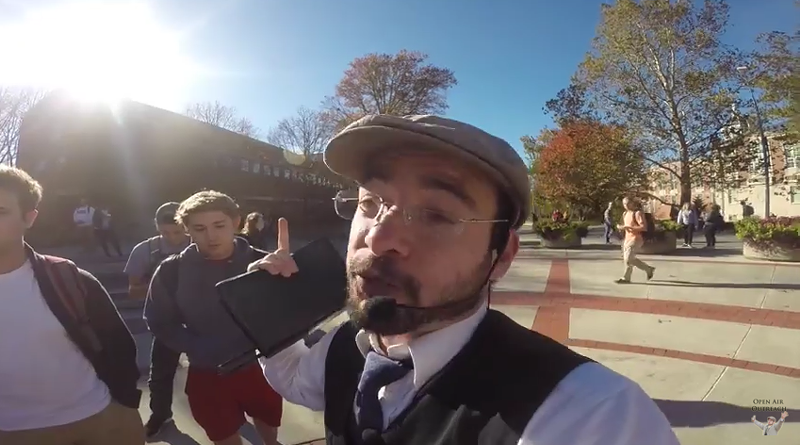 A "street preacher" ranting about how black people need more respect for authority managed to goad a Mizzou student into punching him last week.
The student swung after Jesse Morrell declared that "Michael Brown died because he had a disrespect for authority" — a provocation that followed a series of top-volume platitudes about how black people are more racist than whites, only racists would vote for Obama because they wanted to see the first black president in office, and "don't police lives matter?"
"The Bible says that God is calling all men everywhere to repent," he said. "And the black community needs to repent of their gangster rap music." (No word on what music the white community needs to repent of — we're guessing maybe One Direction?)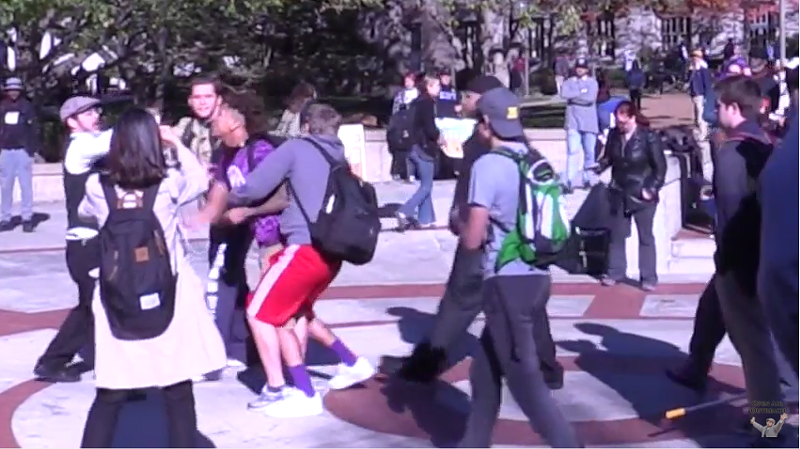 Jesse Morrell (far left, in cap) being confronted by a young man in a purple T-shirt.
Morrell is based in Texas and apparently flew into Missouri specifically to induce a confrontation, taking the center of Speaker's Circle at the University of Missouri in Columbia just days after protests on campus led to the resignation of the university's president. After several students were arrested for threats on social media, tensions on campus were running high — perfect conditions for a self-described "open air preacher" looking for attention and hoping to take on a mantle of victimhood.
And so a circle grew around Morrell as he ranted and raved into his headset microphone — until finally one young man had had enough and threw a series of punches.
It took several other students to pull the young man off Morrell — leaving the street preacher proudly boasting a busted lip.
You can see the punches in the video we've embedded below. Unless you're interested in a lecture about how black people need to give in to authority, we'd advise skipping ahead to the six-minute mark and just enjoying the part where Morrell gets clocked.
We welcome tips and feedback. Email the author at sarah.fenske@riverfronttimes.com