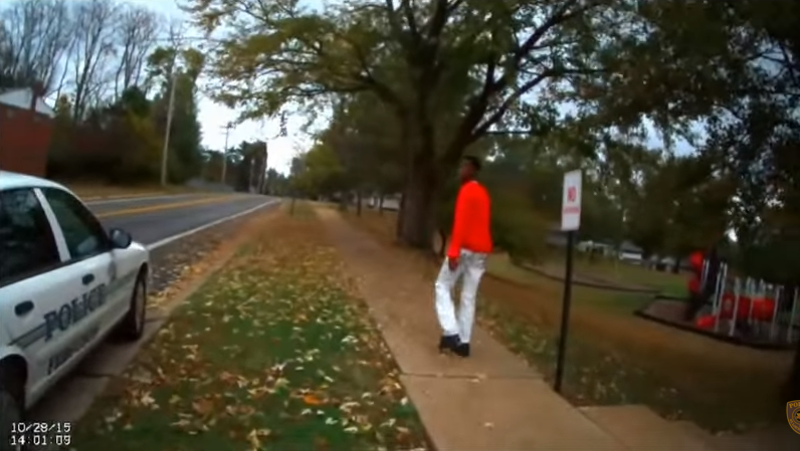 STLCOPD
Body camera footage shows Amonderez Green moments before police say he opened fire on officers.
St. Louis County police released body camera footage this afternoon from two Ferguson officers who were on the scene of last month's fatal shooting of eighteen-year-old Amonderez Green in Normandy.
Green's family had called 911 on October 28 because the teen was suicidal, but police say that when officers from the Normandy police department approached the young man, he pulled out a revolver and fired at them. After returning fire and giving chase, police say officers found Green's body in a nearby front lawn with a self-inflicted gunshot wound under his chin.
Green was taken to a hospital and pronounced dead the next day.
See also:
Normandy Teen Dies From What Police Say Are Self-Inflicted Injuries
The Normandy police department doesn't provide its officers with body cameras, which means that these clips come from two Ferguson officers who were on the scene as well. They do not show the alleged exchange of gunfire or foot-chase. St. Louis County police spokesman Brian Schellman tells
Riverfront Times
that these two clips represent the only body camera footage of the incident.
The first clip comes from a Ferguson officer who approached Green as the teen paced down a sidewalk on the 5800 block of Bermuda Drive, near the city line between Normandy and Ferguson.
The second clip cuts to officers surrounding Green's prone body. The officer wearing the body camera can be heard recounting the details of the gun-battle and chase. The video also shows a revolver on the grass near the body.
"Normandy and a couple of our guys got out and tried to get him into the car, family was right there, he pulled a gun out of his waistband, fired a couple shots at us," the officer says.
Green's family disputes the police account. In the hours after the shooting,
Green's distraught father was recorded saying that Ferguson officers shot and killed his son
. Reports from St. Louis County Medical Examiner and St. Louis County Police indicate that Green died of a self-inflicted gunshot wound, but the family arranged for an
independent autopsy
and is now awaiting the results.
Follow Danny Wicentowski on Twitter at @D_Towski. E-mail the author at Danny.Wicentowski@RiverfrontTimes.com