Image via SLMPD
Kilwa Jones was indicted on Wednesday on federal charges in the shooting of a Cardinals fan.
A St. Louis ex-con now faces federal charges in the vicious robbery of an Army veteran outside a Cardinals game.
Kilwa Jones, 31, was indicted on multiple felony counts of assault, robbery and weapons possession following the Sept. 25 shooting of Chris Sanna. He faces life in prison and fines of up to $250,000 per count if convicted.
Jones ambushed Sanna and is girlfriend as they walked to their car near the Jefferson National Expansion Memorial after a baseball game, blasting the 43-year-old former soldier in the back before rifling through his pockets, authorities said.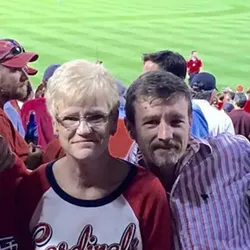 Image via Facebook
Chris Sanna was shot in September after celebrating the birthday of his mom, Candis Sanna, left, at a St. Louis Cardinals game.

See Also: Cardinals Fan Shot Downtown on Friday is Paralyzed, Mother Says
Prosecutors from the U.S. Attorney's Office picked up the case because the scene of the shooting is on federal park land. The brutal crime shocked the city, and police muscled up patrols around the stadium to reassure worried baseball fans preparing for the postseason.
Jones was eventually identified as the prime suspect after he was busted at his ex-girlfriend's home in Spanish Lake.
The ex, who has kids with Jones, told the Riverfront Times
in September he'd taken her children hostage inside her apartment during a standoff with police before officers were finally able to take him into custody. He faces state charges of domestic assault and unlawful possession of a weapon in that case.
Sanna, the manager of a South County Midas auto parts shop, was paralyzed in the attack near the stadium. His recovery has been slow and painful. On Monday, he returned to the hospital after developing an agonizing bacterial infection,
according to a message posted on an online fundraiser
.
Supporters from across the world have donated more than $120,000 toward his medical bills.
We welcome tips and feedback. Email the author at doyle.murphy@riverfronttimes.com or follow on Twitter at @DoyleMurphy.