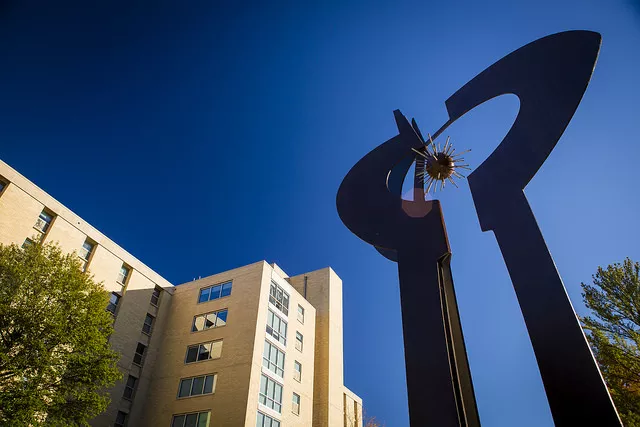 Photo courtesy of Flickr/CAFNR
In June 1935, a five and a half ton
rock was dedicated
at the University of Missouri-Columbia in what's now known as the "Speaker's Circle," a busy hub at the center of campus that is now known as a staging ground for demonstrators and sometimes petulant student groups looking for donations.
At that time, the message coming from the circle was loud and clear. A plaque accompanying the rock
simply read
: "To Honor The Valor And Patriotism Of The Confederate Soldiers Of Boone County."
The rock – a memorial to the fighters who gave their lives to protect slavery and institutionalized oppression of black people in America – remained highly visible for four decades on campus until a controversy broke out and area leaders moved the rock about six blocks away near the Boone County Courthouse.
But as Dr. LeeAnn Whites, a long-time history professor at the University of Missouri,
wrote in a book about Confederate memorialization following the Civil War
, "you can't change history by moving a rock."
Missouri, and particularly Boone County, where the state's flagship university sits, has a long and complicated history with race relations. The state was split down the middle during the Civil War, and for the more than 150 years since, has often found itself at the center of raw debates over racial issues.
I grew up in Webb City, Mo., a small town near Joplin in a region that is home to a predominantly poor and middle-income swath of mostly white Missourians. In high school, I don't remember many black students being in the honors courses in which I was enrolled. But I do remember the Confederate flag. It was on T-shirts and belt buckles, and flew from the back of a pick-up truck or two in the parking lot and outside trailers in an empty field where mobile homes had been parked.
When I left southwest Missouri to attend the University of Missouri in Columbia, I always joked with my friends that it would be my first real experience with diversity. Coming from a place that was as white as an eggshell – the most recent census found that 90 percent of Webb City was white – the joke seemed true. The student body at Mizzou was 77 percent white in 2014, much more diverse than where I was from, and 7 percent black.
Still, the diversity was sometimes hard to see. When I showed up as a student journalist to a meeting of the College Republicans or the College Democrats, the groups were mainly white. So were most of the students in the journalism and political science classes I took, as were the crowds at Harpos on Thursday, Booches for lunch on Friday and almost certainly at that great house party on Saturday night.
That is not to say that an active part of the student body did not try to include peers who had been marginalized. Last fall, a number of white student leaders stood arm-in-arm with black students
after the events in Ferguson
. For women, students took a lead with their "
Enough is Enough
" campaign to raise awareness about sexual assault and harassment. And the student body elected a gay black student its president —- all after some students
cheered on
a student in the process of a gender transition.
But, other than the cooler bars and the friends whose dads had cooler jobs than the ones I grew up with, the larger student culture at the University of Missouri, at least when I was there, was not all that unique from my hometown. It was quite welcoming to white guys like me and was mostly passively disinterested in those who were not.
And to be sure, it was not always passive. More than once this year, black students have been heckled by people who hurled the "n-word" at them on and around campus. At least twice, places there have been vandalized with a swastika. And a few years ago, cotton balls were infamously strewn on the lawn of the university's Black Culture Center.
During
an interview with Marc Maron earlier this year
, President Barack Obama said racism is a sickness of which this country is "not yet cured," adding, "It's not just a matter of it not being polite to say nigger in public."
The furor that erupted on campus that led to the ouster of University of Missouri Systems President Timothy Wolfe and Chancellor R. Bowen Loftin was not rooted only in the handful of overtly racist events that have been reported, but instead in the experience of marginalization felt by groups of students. Michael Middleton, the interim president of the University of Missouri System and a black man who received his undergrad and law degrees in Columbia, said the problem can be more subtle.
"I think women understand it. I think people with a sexual orientation [that is not straight] understand it. I think other people of color understand it," he said,
according to the Los Angeles Times
. "It is just the feeling of not being heard, not being respected, and being placed on the margins of what's happening in the world."
At least some students at the University of Missouri are trying to get this. For me, attending Mizzou expanded my understanding of the situation for people on the margins. I know I'm not alone in that: As we saw last Monday, it was not just marginalized students linking arms in solidarity when the university's leaders stepped down.
At the University of Missouri, new leadership might very well be a start. Demonstrators who had been marginalized for a long time finally had their voices heard in a big way. Perhaps new blood will shed new insight on how to bring people in from the margins at a sometimes stubborn institution. But as Columbia, which just moved the Confederate rock away from the courthouse to a Civil War battlefield about an hour's drive away from town this year, knows very well, "you can't change history by moving a rock."
Eli Yokley is a political reporter at Roll Call and a contributor to The Joplin Globe. He can be reached at EliYokley@RollCall.com and Twitter.com/EYokley.