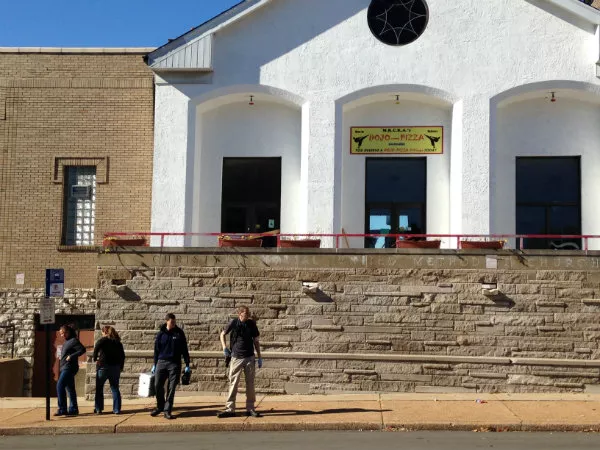 FBI agents carrying cameras and cardboard boxes returned on Thursday to Dojo Pizza, the non-profit restaurant/martial arts center that was allegedly also home to a human trafficking operation.
A St. Louis Metro Police officer posted up at the entrance of the former church on Morgan Ford Road in Bevo Mill while the feds swept through the building.
It was at least the second time in the past three weeks that law enforcement officers have raided Dojo, which is now closed. On Oct. 23, city cops and federal agents swarmed the center, hauling away computers and other items in boxes. Police at the initial raid claimed seven girls younger than 17 were being "housed" inside,
KMOV reported
.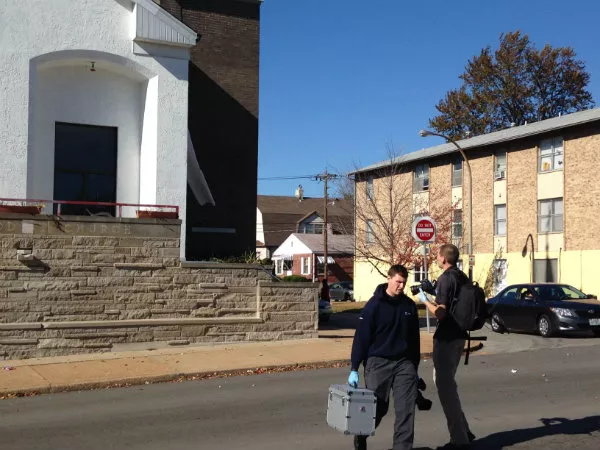 An FBI spokeswoman on Thursday declined to comment on the investigation, telling the
Riverfront Times
only that agents were there for a "law enforcement purpose."
A city building inspector was also on scene on Thursday. Dojo, which inhabited the former home of Memorial Methodist Church, has been condemned for dozens of code violations, including indications it was being used as a residence.
No criminal charges have been filed in the case. Dojo owner Loren Copp has previously denied abusing kids at the site.
"There is no human trafficking — there is no sex trafficking of children,"
Copp told Fox 2
last month. "I have not been charged with anything along those lines."
He claimed an earlier child endangerment call was tied to a gun kept in his bedroom.
FBI agents cleared out shortly before noon on Thursday. City workers refastened the doors after they left.
We welcome tips and feedback. Email the author at doyle.murphy@riverfronttimes.com or follow on Twitter at @DoyleMurphy.