Melissa Click muscled her way right to the front of this story.
Update: University of Missouri Assistant Communications Professor Melissa Click has apologized. Her full statement has been included at the bottom of the original post.
As University of Missouri student protesters celebrated a David-over-Goliath victory in a fight against racism and their own college president yesterday, the now-infamous assistant communications professor hijacked the narrative when she was filmed trying to strong-arm student photographers into leaving the public campus, even grabbing one videographer's lens.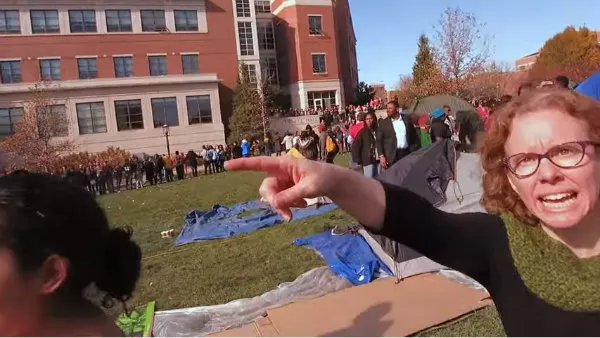 Image via Youtube.com
Melissa Click, a University of Missouri assistant communication professor, tells a cameraman to leave.
"Who wants to help me get this reporter out of here?" Click says when student cameraman Mark Schierbecker breaches the protesters' human barrier and asks for an interview. "I need some muscle over here."
Schierbecker posted a new, longer version of the confrontation this morning. It shows Click marching across Mizzou's Quad and mocking Schierbecker as he tries to explain he has a First Amendment right to record the historic day.
"I know, that's a really good one," Click sneers sarcastically. "I'm a communication faculty, and I really get that argument, but you need to go."
Earlier in the day,
University of Missouri Systems President Tim Wolfe resigned under pressure from the student protests
, which included a grad student's eight-day hunger strike and the football team's threat to boycott Saturday's game against Brigham Young University in Kansas City. Chancellor R. Bowen Loftin announced shortly thereafter that he'd move to a new role at the end of the year.
Journalists from across the country flocked to the campus where they were met by a ring of protesters, declaring part of the Carnahan Quad off-limits to media.
Click wasn't the only one to get heavy-handed with the journalists. Protesters pushed photographer Tim Tai, a student shooting freelance for ESPN, and Mizzou Assistant Director of Greek Life Janna Basler was front and center in efforts to force Tai to leave.
But Click became a lightning rod after she was identified as part of the university's acclaimed journalism school — presumably someone who should know a little something about freedom of the press.
<!———————StartFragment———————>The school's dean, David Kurpius, took to Twitter on Tuesday to put clarify that Click only had a "courtesy" title in the J-School — and only for as long as it would take him to rescind it. <!———————EndFragment———————>
Click, who'd previously solicited "national media" on Facebook to report on the protests, locked down her Twitter on Monday. She also removed a background photo that read "Media is Love. Everyone Welcome."
As for the students, they came back on Tuesday, admitted they'd made mistakes in trying to quash others' First Amendment rights as they fought for theirs and invited in the journalists they tried to oust the day before. The core protest group, Concerned Student 1950, called Monday's clash a "teachable moment" and recognized reporters were "important to tell our story."
They even handed out public service announcements to protesters, explaining their new stance. Here's hoping Click got the memo.
FULL STATEMENT FROM MELISSA CLICK:
"Yesterday was an historic day at MU — full of emotion and confusion. I have reviewed and reflected upon the video of me that is circulating, and have written this statement to offer both apology and context for my actions. I have reached out to the journalists involved to offer my sincere apologies and to express regret over my actions. I regret the language and strategies I used, and sincerely apologize to the MU campus community, and journalists at large, for my behavior, and also for the way my actions have shifted attention away from the students' campaign for justice.

From this experience I have learned about humanity and humility. When I apologized to one of the reporters in a phone call this afternoon, he accepted my apology. I believe he is doing a difficult job, and I am grateful to have had the opportunity to speak with him. His dignity also speaks well to the Journalism program at MU. Again, I wish to express my sincere apology for my actions on Carnahan Quad yesterday."
We welcome feedback and tips. Email the author at doyle.murphy@riverfronttimes.com or follow on Twitter at @DoyleMurphy.