Danny Wicentowski
With Weapon Safe Armory, Justin Hulsey wants to give Cardinals fans the ability to retrieve their guns after leaving the stadium.
In the weeks following the September 28 shooting outside Busch Stadium that left a veteran paralyzed, St. Louis residents and officials found themselves grappling with tragically familiar questions about their city's safety. Many wondered about the factors behind the spike in violent crime. Others pondered strategies to stop the bloodshed.
But one proposed solution attracted immediate attention.
After learning of the Busch Stadium shooting, Tim Fitch, former police chief of the St. Louis County Police Department,
tweeted a suggestion
for a "business start-up idea" inspired by food trucks. For Fitch, the business model that brings tacos to outdoor events seems uniquely suited to bringing
"gun-check trucks"
to stadiums and other gun-free venues. The trucks would allow gun owners to deposit their weapons at the entrance to a stadium, instead of being forced to leave them locked uselessly in their cars. After the game, as Fitch told KMOX's Charlie Brennan, they could retrieve their guns, allowing them to carry them for protection while walking back to their vehicles.
via Facebook
Weapon Safe Armory's logo.
As it turns out, Fitch wasn't the only person thinking along those lines. Justin Hulsey, a 32-year-old veteran who works at a lighting supply warehouse, had also watched news coverage of the shooting. He too wondered if the spread of violence downtown could be abated by helping lawfully armed citizens store their guns near sporting venues or other businesses.
"The idea just came to me, I had no idea who Tim Fitch was," says Hulsey, who upon completing a six-year stint with the National Guard settled in Herculaneum last year. "I went about it as a logistics problem. How can we do this?"
Hulsey says he bounced the idea off a few of his fellow veterans, and he eventually settled on
outfitting a truck with heavy armor and side ports
. He also decided to staff his business with veterans.
"There's crime down here, so who's working on that? I just want to address public safety and put veterans to work," he says. "Is it going to be a long mission? Yeah. Is there going to be some kickback? Absolutely."
Indeed, there are challenges to tackle before Husley's company, Weapon Safe Armory, can get rolling. While his partners work on upgrading the truck, Hulsey says he's been calling up city, state and federal officials. Their instructions haven't always been consistent. Nobody seems to know how the law will treat Hulsey's business.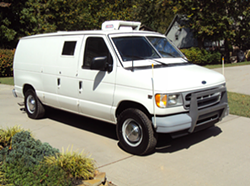 via Facebook
The unfinished Weapon Safe Armory van.
"I want to work with the city, I want to work with the state. But if I keep getting resistance, where they're tell me that they don't know if I can do it or I can't do it, then I'll just have to keep going," he says.
Hulsey wants to officially launch Weapon Safe Armory service by January. He's also planning on splitting the company into a two sections: one to handle gun storage and one to handle other valuables like laptops.
The young entrepreneur even connected with Fitch by phone. The former police chief says he was impressed with the veteran's ambition and the work he's put in.
"Most of the people I've spoken to want me to run the business for them, and I have no interest in that," Fitch says. "Justin is a little different. Of all the people I've talked to about this idea, he's certainly farther along than anyone else. He seems like he's headed in the right direction."
The success or failure of Weapon Safe Armonry may come down to pricing and convenience, says Fitch. But if the kinks can be ironed out, he thinks the business could go nationwide.
"If this takes off in St. Louis, I could see it expanding to other cities," Fitch says. "I can't find anybody else doing something like this, but St. Louis isn't the only downtown that has a crime issues. I have to think there's a need out there."
<!———————————StartFragment———————————>Follow Danny Wicentowski on Twitter at
@D_Towski
. E-mail the author at
Danny.Wicentowski@RiverfrontTimes.com