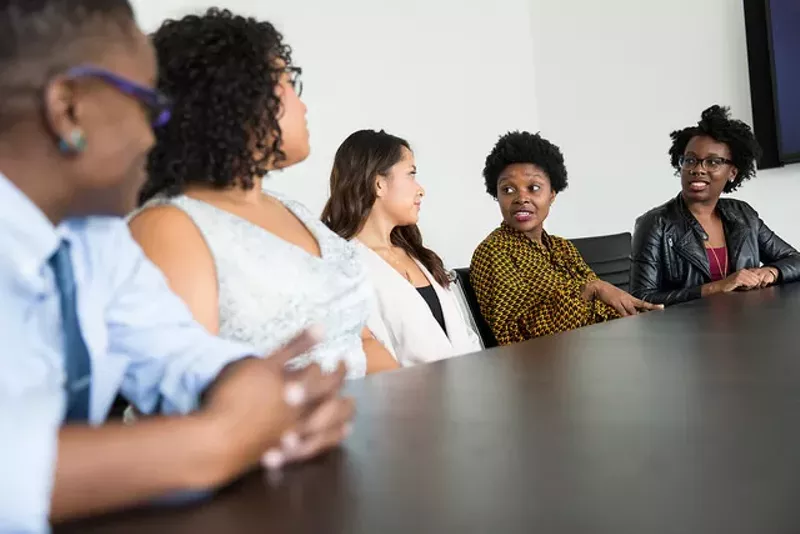 Photo courtesy of Flickr/WOCinTechChat
Women in tech discuss their experiences. In St. Louis, the news isn't always good.
St. Louis is hard on professional women.
That's the conclusion of a
new study
by the Seattle company PayScale,
which compiles salary data
. It analyzed salaries for 1.4 million full-time workers in the U.S. — and found that St. Louis men and women have the greatest pay disparity of any metro area in the U.S. when controlled for key factors such as company size, industry and job title.
Previous studies alleging that women make 77 cents for every dollar earned by men have been criticized because they don't factor in things like experience or job title. Of course a neurosurgeon is going to make more than a daycare employee — and someone with 20 years experience will make more than someone just out of college. Since many women drop out of the workforce, or have to scale back after having children, the comparison seemed off-kilter.
But the Payscale study is different.
Instead, it compares apples to apples: female attorneys at large firms with male attorneys at large firms, female engineers with male engineers — and even controls for experience. And once you factor in those controls, St. Louis is doing worse than the 19 other biggest metro areas in the country.
The city had a 4.3 percent pay gap — meaning, roughly, that a female employee here making $50,000 would make $52,150 if she were a man, says Aubrey Bach, senior editorial manager at Payscale.com. That's significantly higher than relatively equal cities like Minneapolis, L.A. and D.C., and even worse than other struggling areas like Detroit and Seattle.
From best to worst, here are how other metropolitan areas across the U.S. did in Payscale's controlled study:
1. Baltimore, MD: 0.6 percent
2. Tampa, FL: 1.2 percent
3. Minneapolis, MN: 1.3 percent
4. Los Angeles, CA: 1.5 percent
5. Washington, D.C.: 1.6 percent
6. Miami, FL: 1.7 percent
7. Philadelphia, PA: 1.8 percent
8. San Diego, CA: 1.9 percent
9. New York, NY: 2.2 percent
10. Boston, MA: 2.2 percent
11. Phoenix, AZ: 2.2 percent
12. Riverside, CA: 2.6 percent
13. San Francisco, CA: 2.7 percent
14. Dallas, TX: 2.8 percent
15. Atlanta, GA: 2.9 percent
16. Chicago, IL: 3.3 percent
17. Houston, TX: 3.7 percent
18. Seattle, WA: 3.7 percent
19. Detroit, MI: 3.8 percent
20. St. Louis, MO: 4.3 percent
The gap is even higher in St. Louis among those who are single with kids — in those cases, there's a 9.7 percent pay gap between how men and women are compensated, more than twice as high as anywhere else in the country.
But the pay gap holds true across the board in St. Louis — whether a woman is married or single, has kids or doesn't, she earns less than a similarly situated man.
For the record, PayScale shows the male median pay in St. Louis as $58,700. Only Miami, Florida; Riverside, California; and Tampa, Florida have lower medians. But females here are still lower, at $56,200, and only Tampa and Riverside are lower than that.
Does that feel like a wake-up call, women of St. Louis? It should.
We welcome tips and feedback. Email the author at sarah.fenske@riverfronttimes.com