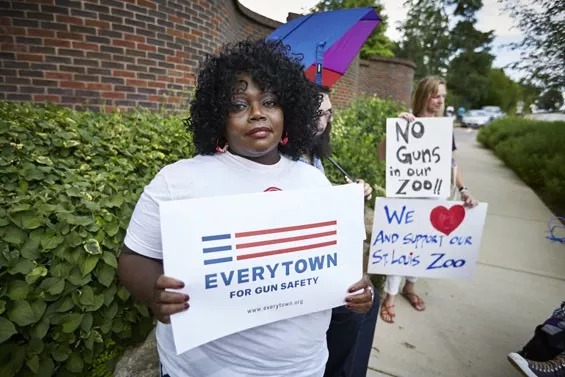 Photo by Theo Welling
Gun opponents may be out of luck, depending on how the Missouri Supreme Court handles three cases tomorrow.
More than a year after voters overwhelmingly approved a constitutional amendment to strengthen gun rights in Missouri, it's still unclear what that measure, known as Amendment 5, actually does.
Supporters say that
Amendment 5's language
makes its goals perfectly clear: to ensure "the right to keep and bear arms is a unalienable right," and to obligate the state to defend that right. But since its passage in August 2014, the amendment has sparked disagreement. Some have argued that the amendment's protections extend even to felons, making the state's broad felon-in-possession law unconstitutional.
On Tuesday, October 27, the Missouri Supreme Court will hear three Amendment 5 cases dealing with that very issue. Each case involves a convicted felon who cited Amendment 5 during trial or appeal.
See also: Missouri Voters Approved Amendment 5 — But It Took Jeffry Smith to Test Its Limits
Dave Roland, an attorney and co-director of the Freedom Center of Missouri, will be making oral arguments in one of those cases,
State of Missouri v. Pierre Clay
. One of the key topics, says Roland, is the amendment's use of the technical term "strict scrutiny." In a legal context, applying "strict scrutiny" to something (like the right to free speech) means the government must not only prove that it has a compelling interest to regulate it, but also that the regulation itself is narrowly tailored.
"The language of Amendment 5 is much more sweeping and restricting on the government than the Second Amendment," Roland says.
So, instead of a law that
bans all felons from possessing firearms
, Roland believes Missouri now needs a more tailored law — say, a law that would only target felons who pose a danger to the public.
"What the legislature needs to do is rewrite the felon-in-possession law and make it a
violent
felon-in-possession law," he says. "That would let the legislature be more thoughtful about what kinds of crimes would strip someone of their constitutional right."
<!————StartFragment————>But even if there is a legislative fix, the court siding with Roland and other gun rights supporters could mean a nightmare for prosecutors and police. If the state Supreme Court agrees that Amendment 5 allows felons to bear arms, expect to see numerous ex-cons exercising their right to bear arms — and the circuit attorney being forced to fight them on a
case-by-case basis
.
Regardless, Roland says that politicians who supported Amendment 5 need to stop soft-pedaling what it means. He points to statements from the amendment's sponsor, Republican State Senator Kurt Schaefer,
who claims
it was intended to merely bring the state's gun laws to equal footing with the Second Amendment, not put guns in the hands of felons.
But neither Schaefer or Supreme Court judges should be allowed to retroactively adjust the meaning of Amendment 5, Roland says.
"Under the traditional understanding of constitutional interpretation, it's what the voters believed that matters," he says. "The court cannot presume that the people adopted these words without them having any meaning."
Follow Danny Wicentowski on Twitter at @D_Towski. E-mail the author at Danny.Wicentowski@RiverfrontTimes.com