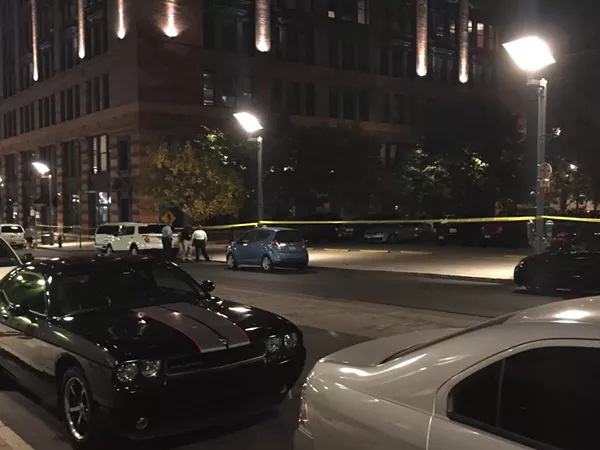 Photo by Jeremy Essig
Police cordoned off a section of Washington.
A section of Washington Avenue between 16th and 17th streets was closed for a few hours as police investigated two explosions that occurred in the parking lot north of the the Eli Walker Lofts.
Around 6 p.m. the St. Louis Metropolitan Police Department's 4th District was alerted to the sounds, which Captain Renee Kriesmann said were a result of what she described as "soda" or "Drano" bombs.
"They are in plastic bottles, there's ingredients inside," she said of the explosives. "It at some point could explode in five minutes, ten minutes, fifteen minutes, and hour. So, the first two exploded; the third one never exploded."
Following the arrival of initial officers to the scene, the bomb and arson squad was dispatched. They detonated the third bomb by firing a pellet gun at the bottle, a process she described as "venting."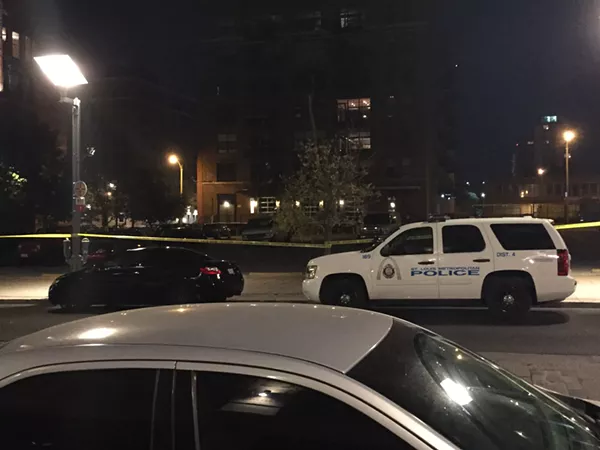 "We've done a search of the area and haven't seen any other ones," Kriesmann said. "I don't believe there are any more in the parking lot, we haven't seen any more downtown anywhere."
No injuries were reported and police found no damage to any of the vehicles in the parking lot. Residents of the Eli Walker Lofts, who use the alley between the building and the lot to access underground parking, were sent to a different lot behind their building on Locust Street until the scene could be cleared. An officer working the scene took the names and numbers of those parking in the lot and said he would call them when the scene was clear.
By 9 p.m., cars could begin driving through the area again, though the lot was still cordoned off with police tape. An investigation into who left the bombs had begun, the captain said, with police looking at video taken from cameras on buildings adjacent to the area.
We'll update this story if we learn more.