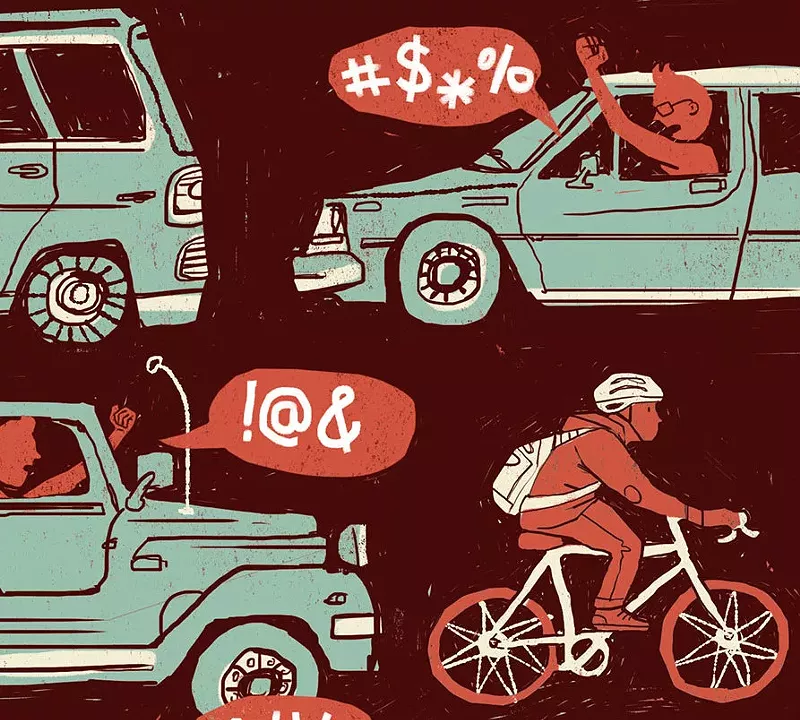 Illustration by Noah MacMillan
There are so many days when riding a bike in this city starts to seem like some twisted version of
American Ninja Warrior
. Obstacle 1: dodge glass, branches, and potholes in the bike lane. Obstacle 2: navigate four-way intersections at 5 p.m. Obstacle 3: Don't get dead.
I started commuting by bike at the age of 16 – a 14-mile round-trip expedition to my part-time job, often made embarrassing by my mother tailing me in the car. When I moved to south city in 2006, I had no car, no money for the bus, and for the next five years my main mode of transportation was my bike.
See also:
In Car-Loving St. Louis, Pedestrians, Cyclists and Transit Riders Still Have Many Miles to Go
These days, I try to bike to work, to complete errands, or to visit friends as much as possible, but I find myself using the car more than I'd like. Riding a bike takes immense energy – and I'm not just talking about the pedaling. I'm constantly on alert for bad drivers, major potholes or debris, and the occasional vehicle that can't seem to differentiate between car and bike lane. By the time I complete my five-mile commute home from work, the exercise high I should have achieved is replaced by anger and mental fatigue.
After riding out of necessity, pleasure or exercise for more than 10 years, you would think it would be getting easier. Yet despite the time spent doing this familiar, deeply ingrained activity, I still have days when a nervous sense of dread flutters up from the pit of my stomach right before I haul my bike out the door. This impending feeling of doom is likely due to continuous negative interactions with motorists, which are stressful both mentally and sometimes physically.
Real things I have witnessed:
A driver watching YouTube on his cellphone.
A man with important places to be creating a second westbound lane on a one-lane road.
School and city buses running lights that are clearly red.
A woman with two great danes riding shotgun in a small vehicle.
Emergency responders glued to their phones.
All are potentially dangerous to those around them – in cars, on bike, or foot.
Last week I was riding down a familiar south city street, armed with my 500-lumen headlight, two taillights, a helmet, a reflective backpack, and a fat can of mace. A man ran a stop sign, I swerved, he honked and then he immediately yelled, "I almost hit you bitch!" To which I replied,
I will follow you home, drain your fish tank and feed those plump morsels to my cats as you watch in horror, you old assblood. I did not have a stop sign.
Of course I didn't actually say that. Instead I rode off quickly, wondering what he may have done to me if I'd have made that ridiculous threat or challenged him to step out of his car. Playing the humanity card often seems pointless –- after a 10-hour workday sitting under fluorescent lights, the person I'm arguing with doesn't give two shits that I'm a daughter, an aunt, a girlfriend, a fellow laborer. They just want to take off their shoes and click on the TV, and a 30-second delay taking off from the light is postponing that.
There's an undeniably real battle out there between bikes and cars. The answers, political or personal, won't come from me. But perhaps, if there were more of us out there on bikes, we'd all be a bit better off – studies show that intersections frequently used as bicycle thoroughfares have reduced rates of motorist/cyclist conflict. More bikes, fewer problems – the theory being that motorists get accustomed to seeing people like me and adjust their behavior accordingly.
Beyond that, I believe that the more people who ride, the happier we'll be as a society. (Endorphins, right?) With enough cyclists on the road, perhaps, St. Louis will be forced to become the type of city where cars aren't the only choice mode of transportation.
Molly Brady wrote this piece from the seat of her mountain bike in the middle of the Mark Twain Forest. Send a note via carrier pidgeon – she might get back to you if she doesn't get lost.