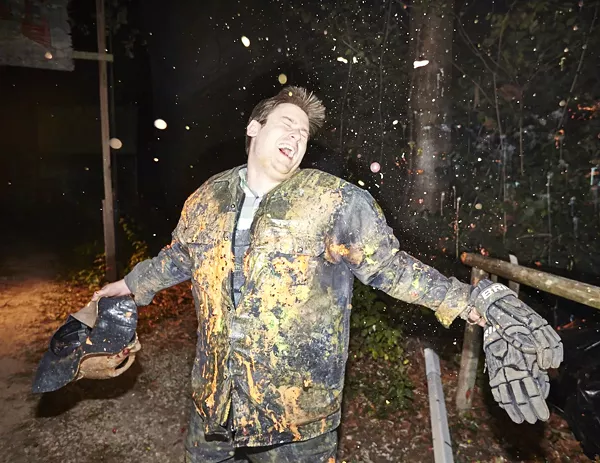 The life of a paintball zombie — you're going to get shot. A lot.
To an observer, I looked like the stuff of nightmares — a howling, paint-splattered monster lurching from a doorway at the edge of town. I was supposed to be a zombie, an ogre starving for the taste of human flesh. I was supposed to be the thing that goes bump in the night.
But beneath the latex mask and bulky protective gear, I was sweating and anxious. I strained to listen for the telltale roar of a diesel engine coming around the bend, but the night air was crowded with mechanical clanking and pneumatic hisses, not to mention screams.
The truth was, inside the suit, I was suddenly afraid. I knew that I would be shot in a few minutes. And then it would happen again. And again. And I would just have to take it. That's the life of a Creepyworld paintball zombie.
See also: 46 Behind-the-Scenes Photos from Creepyworld's Zombie Paintball
Billed as "The World's Largest Haunted Screampark," Creepyworld opens its doors every fall as tens of thousands of paying customers descend on Fenton to wander its five-acre horror showcase. The main attractions, thirteen in all, are organized into zones inspired by classic horror tropes: a Gothic mansion, a hillbilly hideaway and a military base, among others. Along with makeup artists, costumers and maintenance crews, the park also employs between 80 and 100 actors. The scale of the operation is stunning.
And then there's something called "zombie paintball," an assignment that is arguably the most unpopular job at Creepyworld. It requires becoming a target for the night's trigger-happy patrons. Only a few Creepyworld employees are masochistic enough to volunteer for that one.
But that's why I made the trip to Fenton on Friday: to try the job out for myself. I wanted to meet these unheralded workers who, night after night, put their bodies on the line. Who are these costumed bullet-sponges, I wondered? Could I become one of them?
Creepyworld actors waiting outside the entrance, ready for the night's work.

Two hours before Creepyworld opened
, I found myself walking past half-costumed actors near the entrance. Several were gathered around a food truck, "Big Dick's BBQ," to grab a bite before the long hours of terror-making to come.
My handler for the night, one of Creepyworld's managers, barked into a walkie-talkie as we entered a kind of "backstage" area, a corridor linking many of park's attractions. Here, actors can scoot in and out of their designated haunts by using cleverly hidden flaps and doorways, which also comes in handy when surprising customers. It's also a break area, a place where actors can have a smoke and schmooze while waiting on their costumes and makeup.
In the makeup trailer, bloodied inmates rubbed shoulders with homicidal clowns. I told one of the three makeup artists about my plan to join zombie paintball for the night.
"Oh, fun
for you
," she said, smirking. The other actors erupted in knowing laughter.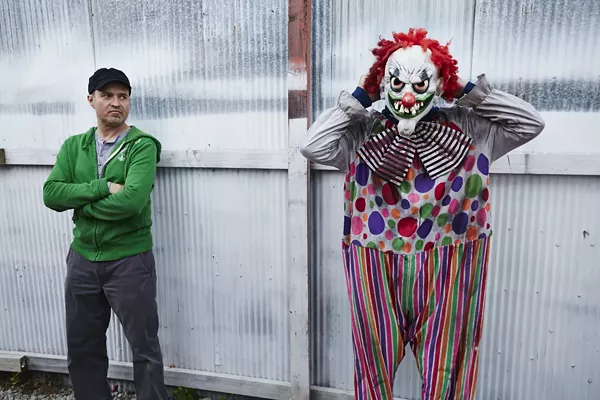 Past the makeup trailer lies the enclosed zone where zombie paintball takes place. Chelsie Kurschinske, the section leader, gave me a brief walking tour of Zombie City, a fairly small circuit of crumbling structures and rusted cars that loops around to a starting point. Everything is encircled by heavy duty netting. Zombie mannequins rigged with pneumatic lifts peek in and out of corners.
What should I expect when I get out here tonight, I asked?
"Chaos, and I'm not kidding," said Kurschinske. Friday nights are among the busiest times for the park, she explained, and this particular Friday, just two weeks before Halloween, would be no different.
At the loading dock, I watched as other staffers busied themselves repairing dozens of paintball guns and prepping two 20-seat wagons for action. Mechanical breakdowns are common, Kurchinske warned, but this weekend would be the first time this year that two wagons would run concurrently.
"Back here, it's kind of whoever we can fit in and whoever volunteers," she told me. "A lot of people fear getting shot. It's not so bad now with all the new padding. Thank god we got new padding."
It was at that point that I met Joshua and Rachel Clinton, cousins from Jefferson County. Joshua is 21 and Rachel is 28. Both are first-time workers at Creepyworld, and they were to be my co-zombies for the night.
They did their best to prepare me for the rigors of the role.
"Keep your mouth closed and your head down," Rachel Clinton stressed. "You want your forehead facing where the paintballs are coming, because if they hit you in the top of the head it don't hurt. If they hit you in the mouth, that sucks."
"He ate paint a couple weekends ago," Kurschinske added, gesturing at Joshua. "What we need to do is put tape on the inside of the mask."
Joshua interjected. "Yeah, but then we can't breathe."
Paint-proofing the masks will be a challenge for another day, and it's just another item in a long list of possible fixes and improvements. Kurschinske said that the current incarnation of zombie paintball is far improved from its debut several years ago. Now, staffers have learned to lower the air pressure in the paintball guns to reduce the force of impact. And in order to prevent customers from blasting the staff members (or themselves), the guns are locked to the sides of the wagon. For my own protection, Kurschinske handed me a pair of foam-lined pants, a similarly protected jacket, a rigid chest plate and a pair of thick hockey gloves.
Chelsie Kurschinske, right, describes how a padded vest and hockey pants will protect me from paintball assault.
However, to my embarrassment, I couldn't cinch the pants around my belly and the chest plate. (My 5'10" frame was apparently a bit too big for the costumes; the Clintons were both much smaller.) Instead, Kurschinske had to give me a baseball catcher's chest protector. As long as I made sure to properly Velcro the jacket, she said it would protect my crotch from being obliterated.
I was very concerned about crotch obliteration.
I got suited up, and Kurschinske walked me to my designated spot at a church-like building near the end of the course. Just stand here, she said, and wait for the wagons to come around.
"I hope you can handle it," she added as she disappeared into the creeping darkness. "Don't worry. It's not too bad."
Next: Our hero becomes the stuff of nightmares ... his own, that is.

My zombie head was simple but effective
. It had been constructed by basically shoving a paintball helmet and eye protection into a latex Halloween mask. But while that meant my eyes and face would avoid damage, there was a cost. I could barely see through the stretched-out eye-holes.
While waiting for the first wave of customers to arrive, I waddled over to where Rachel and Joshua were smoking some pre-paintball cigarettes. They told me their story while they puffed away.
As it turned out, they work in the same family-friendly pizza shop, the kind of restaurant that hosts children's birthday parties and the like. Hoping to make extra cash during the Halloween season, the cousins put in applications for Creepyworld. At orientation, Kurschinske put out a call for zombie volunteers — and they were the only new fish to sign up.
Rachel concedes that she had initially hoped to land a position in one of the thirteen main haunts. That would have been welcome bit of revenge for the aggravation of dealing with tykes in the pizza shop, she said.
"I thought, yeah, I'm going to scare them, I'll make the kids pee their pants. Then we signed up for this and they just get to shoot us. It's kind of the opposite, but it's still fun."
Granted, there's nothing keeping Rachel and Joshua from requesting a transfer to another assignment. But they seem to have settled here in zombie paintball.
"It's pretty fun, pretty easy, we like it back here," said Joshua. "You might taste some paint, but that's about it."
With the appointed hour nearly upon us, I wished Rachel and Joshua good luck and made my way back to my spot. The padded suit was already hot around my shoulders, and I'd somehow managed to cut my left ear on a part of the zombie mask.
I waited in the dark. I heard the tractor engine sputter and roar somewhere behind me, signalling that the first group of the night was about to embark. Soon came the sound of paintballs striking the metal walls and zombie mannequins near Joshua's position. The sound — "thock-thock-thock-thock-thock" — moved closer, to the set of boxes where Rachel was crouched behind. Then I saw the tractor's headlights coming around the bend.
I tried my best to follow Rachel and Joshua's advice, and, to my surprise, the first volley only landed a few direct hits to the padding of my left arm. That was pretty easy, I thought.
The next five or six rounds, however, proved more difficult. I took a paintball to an unpadded portion of my left index finger. Paint and dust crept into my mouth. As the night dragged on, the crowds grew more dense and their aim seemed to get better. Their paintballs seemed to seek out the uncovered portions of my thighs and palms. Paint covered the mask's eye-protection, restricting my sight to virtually nothing. I nearly fell on my ass when my clumsy zombie shuffling took me over a five-inch drop.
The real pain, however, was yet to come. After 90 minutes of paintball torture, I shuffled back to the loading dock. Sweaty and sore, I struck up a conversation with a former paintball zombie named Matt, who was cleaning out one of the guns affixed to a wagon. I showed him a newly obtained welt on my left arm.
"You think that's bad?" he scoffed. "When I worked here, one night we went through one million paintballs. Here, let me show you."
And with that, Matt turned the gun on me and unloaded directly into my chest. Paintball shrapnel sprayed over my face, but, to my happy wonderment, the impact was deadened by the padding. I laughed off the withering spray of munition. I felt invincible, even euphoric. In my glee, I shouted something about how I'd always wanted to reenact
that one scene in Platoon.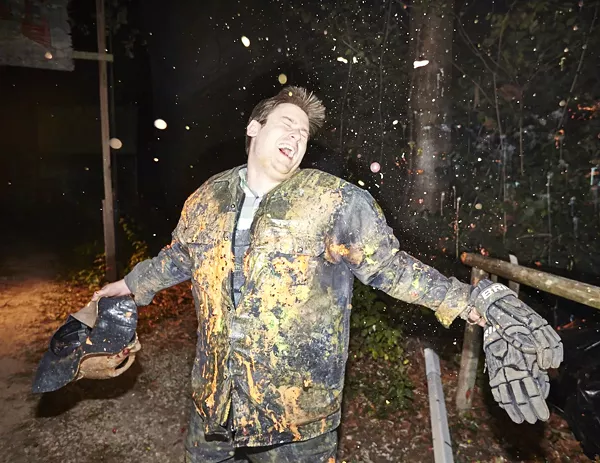 The life of a paintball zombie — you're going to get shot. A lot.
The feeling lasted until Matt turned the stream of paintballs from my chest and traced a path down my left arm. Suddenly it felt like someone whacking my forearm with a crowbar. I now have some nice bruising to commemorate the moment.
The night was almost done, but there was one more thing I had to do.
When the next group came through, I climbed onto the back of the wagon with them. I clutched the paintball gun in my gloved hands and tried to see out of the mask's eyeholes.
The wagon grunted to a start, and as we approached Joshua's position I ripped off my mask to get a better shot. I jammed on the trigger, and I think I hit him in the shoulder. By the time the wagon approached Rachel, I didn't have a single ball of paint-ammo left.
Sweet, sweet betrayal. Sorry, Joshua.
I left Creepyworld that night bruised and satisfied, but also somewhat in awe of Rachel and Joshua. Haunted attractions are generally designed to break down its customers, not its actors. In a way, Creepyworld's zombie paintball is a kind of upside-down horror story: Here, it is the monsters, not teenagers in a summer cabin, who tremble at the noises out there in the night.
Follow Danny Wicentowski on Twitter at @D_Towski. E-mail the author at Danny.Wicentowski@RiverfrontTimes.com
<!———————StartFragment———————>
See also: 46 Behind-the-Scenes Photos from Creepyworld's Zombie Paintball
<!———————EndFragment———————>