Photo courtesy of Flickr/bluesbby
Places for People has to turn away approximately five people every week simply because they don't have enough resources for everyone who needs them.
You know your quick, avert-your-eyes strategy for dealing with mentally ill people on the street? Yeah, don't do that.
We spent a recent evening with a room full of people who work on a daily basis with people suffering from mental illness, and they suggested what we're going to call the "Otis Redding Approach" — Try a Little Tenderness. (Note: Try a Little Kindness, aka "the Glen Campbell Approach" would also work here.)
"Probably the most powerful tool we have in our toolbox as mental health providers is human interaction," said Joe Yancey, executive director of
Places for People
. "Simple human interaction."
Yancey was part of a panel on Thursday night for a symposium on mental health backed by his organization. The event, held beneath the stunning, curved-beam roof of the Ethical Society of St. Louis' auditorium, targeted the social stigmas that make people turn away from people with brain diseases even as they pin ribbons to their chests and gather in the thousands to fight formerly shunned illnesses, such as cancer.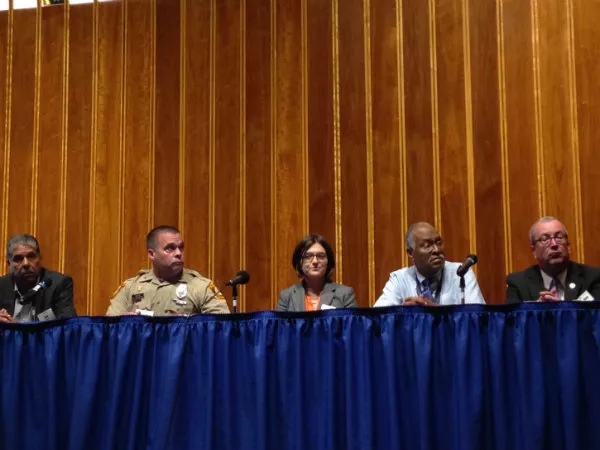 Doyle Murphy
We can't turn away from the mentally ill, panelists say. From left: Places for People Executive Director Joe Yancey, St. Louis County Police Officer Chris Koester, Ashlyn Brewer of St. Louis Social Media Club, Dr. Collins Lewis and Sen. Joe Keaveny.
"It's real easy to close your eyes to it," State Sen. Joe Keaveny (D-St. Louis) said. He and other panelists urged the crowd — comprised mostly of health workers — to push for expanded Medicaid coverage to beef up the available services. Places for People, which serves people with serious mental illness and other challenges, such as homelessness, has to turn away about five people each week because the organization doesn't have the resources, Yancey said.
A key part of getting the needed help is to demystify the problem, and that starts with recognizing the people behind it, panelists said.
Police officers who regularly deal with the mentally ill begin encounters with a few simple steps: assess the situation, determine if there are safety risks and then figure out how to help. Patience and conversation usually work wonders, said St. Louis County Police Officer Chris Koester, who is part of the department's specially trained Crisis Intervention Team.
Koester is one of a growing number of cops trained in Mental Health First Aid. Anyone can take the eight-hour course (
find nearby offerings here
) to learn how to identify and respond to a mental health crisis.
The vast majority of people with mental illness are non-violent, statistics show. Mass shootings by "unhinged" gunmen and random attacks by "crazed madmen" are irresistible story lines for reporters (guilty) but they skew public perception and make people afraid even to make eye contact with people who are obviously suffering, experts say.
"We want to start to take the mystery out of mental illness," Yancey said.
Schizophrenia and other brain diseases should be talked about in the same way as other chronic conditions, such as hypertension and diabetes, he said. If you saw someone having a heart attack on the street, you wouldn't just look away, Yancey said. Whether you'd attempt CPR yourself or just call 911, you'd probably try to help. So why not do that here, too? We like to think that's what Otis Redding would do.
We welcome feedback. Contact the author at Doyle.Murphy@RiverfrontTimes.com or follow on Twitter @DoyleMurphy.